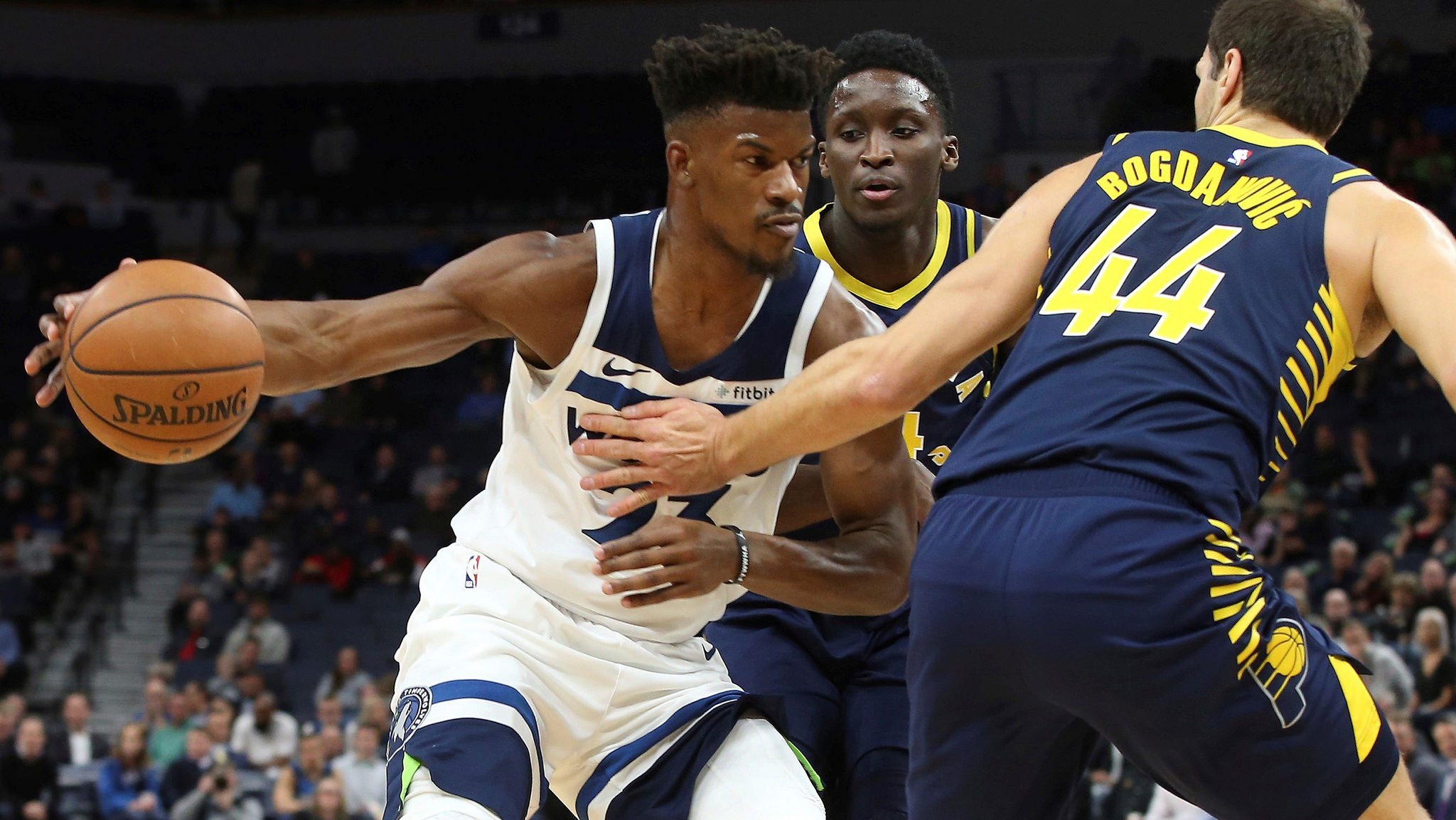 Minnesota Timberwolves Out Pace Indiana Pacers
The Minnesota Timberwolves played the Indiana Pacers in Minneapolis Monday night. Minnesota bounced back after dealing with a close loss to the Dallas Mavericks on Saturday. Meanwhile, Indiana trying to build off a win against the Brooklyn Nets. Jimmy Butler also returned to the team after missing the last game due to coaching decisions.
Game Recap
First quarter started solid for Minnesota right away. Tempo was great for them and things were moving. Shots just were not dropping for them. Indiana started off trying to figure out the offense. About eight minutes in though Minnesota lost Andrew Wiggins due to a thigh contusion and never returned. Victor Oladipo took advantage of the Wiggins absence by scoring most of his game total 20 points in the first. Indiana finished the quarter up though 28-25.
Second quarter began, and the Timberwolves put a defensive clamp down led by rookie Josh Okogie. It halted the three-point shot for the Pacers, which kept the scoring low for them. Lots of forced turnovers and blocks got Minnesota running the court. Smoothing out the offense in the process. To counter act the defensive success though, Timberwolves still struggled a little with their half-court offense. Lots of missed open three-point woes still plaguing them. Minnesota wrapped up the half leading 50-49.
Second Half
Beginning of the second half started sluggish for Minnesota, a common occurrence stemming from last year. Indiana tried to take advantage of it, especially Bojan Bogdanovic who got real comfy that quarter finishing the game with 20 points. Minnesota kept hoisting threes as well that was causing offense to slow up. Indiana went back up 73-72 at the end of the third.
Fourth quarter came around and everything for Minnesota clicked. The three-point shot started to drop for them where they shot 4-7 in the quarter. Contribution was coming from all places since Timberwolves head coach Tom Thibodeau decided to distribute the minutes from the Wiggins injury to the bench instead of loading up more on the starters like usual. Indiana started to fully crumble then. the fast pace offense that the Timberwolves had been running was making them tired. Never allowing the defense to set up. Minnesota closed out the quarter scoring 29 to Indiana's 18 giving them the ten-point win 101-91.
Notable Performances
Victor Oladipo and Bojan Bogdanovic both scored 20 apiece. Oladipo had a rough shooting night though to get his 20 by shooting 8-23. Myles Turner also pitched in with 16 points and 6 rebounds for Indiana. Jimmy Butler quietly led Minnesota scorers with 20 points. While Karl Anthony-Towns had his most complete game in this very young season with 17 points, 15 rebounds, and 2 blocks. Rookie Josh Okogie also registered 12 points to go along with 3 steals as he took a bulk of the Wiggins minutes.
Upcoming Games
Indiana Pacers play San Antonio Spurs on Wednesday.
Minnesota Timberwolves play Toronto Raptors on Wednesday.
Follow us on Twitter and YouTube
Photo credit to Highlight Store via Flickr