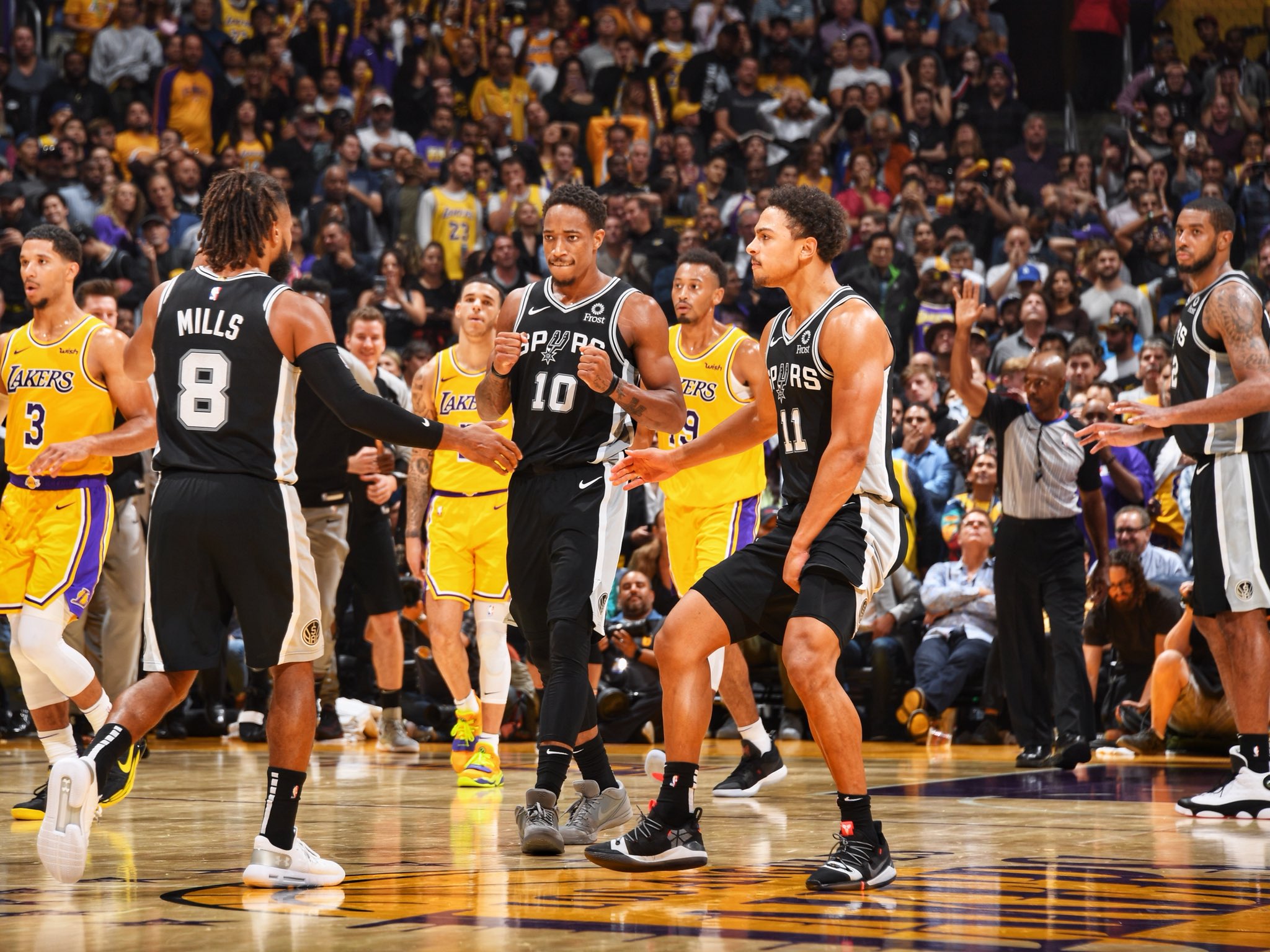 Lakers Lose Overtime Heartbreaker To Spurs 143-142
The Lakers lost an overtime heartbreaker last night to the Spurs 143-142. The 142 points are the most any LeBron James led team has scored in a game. The Lakers were down by eight with less than a minute to go. This young squad rallied back and fought to the end. James hit a deep three at the end of the 4th quarter to send the game to overtime.
Overtime started off great for the Lakers. In fact, the Lakers were up by six with less than a minute to go. The game was the Lakers' to lose at this point sand unfortunately they did. Up by one point with James at the free throw line the Lakers look poised to close the game out. James missed two clutch free throws which led to a Patty Mills game winner. This game was a heartbreaker for all Laker fans.
Defensively this team is absolutely atrocious. The Lakers are giving up 131.6 points per game. No team is going to consistently win games in the NBA giving up that many points. Interior defense was a struggle. LaMarcus Aldridge had 37 points and 10 rebounds. For a team with expectations like the Lakers, an 0-3 start is not ideal. Defensively this team must, and I believe will improve over time. With so many new faces, chemistry may take as much as a couple of months to fully develop.
Player of the Game: Kyle Kuzma
Kyle Kuzma made his first start of the season and was impressive. Kuzma had 37 points and 8 rebounds. With Ingram being suspended the Lakers desperately need a new scoring option outside of James. Kuzma has answered that call.
Looking Ahead
The Lakers will be taking on the Suns in Phoenix on Wednesday and will play Denver at home Thursday. It's rare to say a team has a must win game this early in the season, but Wednesday's game is a must win for the Lakers. Fans like myself are starting to get antsy and anxious. Last night was a heartbreaker in the Staples Center. Luke Walton could be on the hot seat before we know it. The pressure is on and the lights are bright. This Lakers season was supposed to be a dream but is now looking like a nightmare.
Follow us on Twitter and YouTube
Photo credit to San Antonio Spurs via Twitter