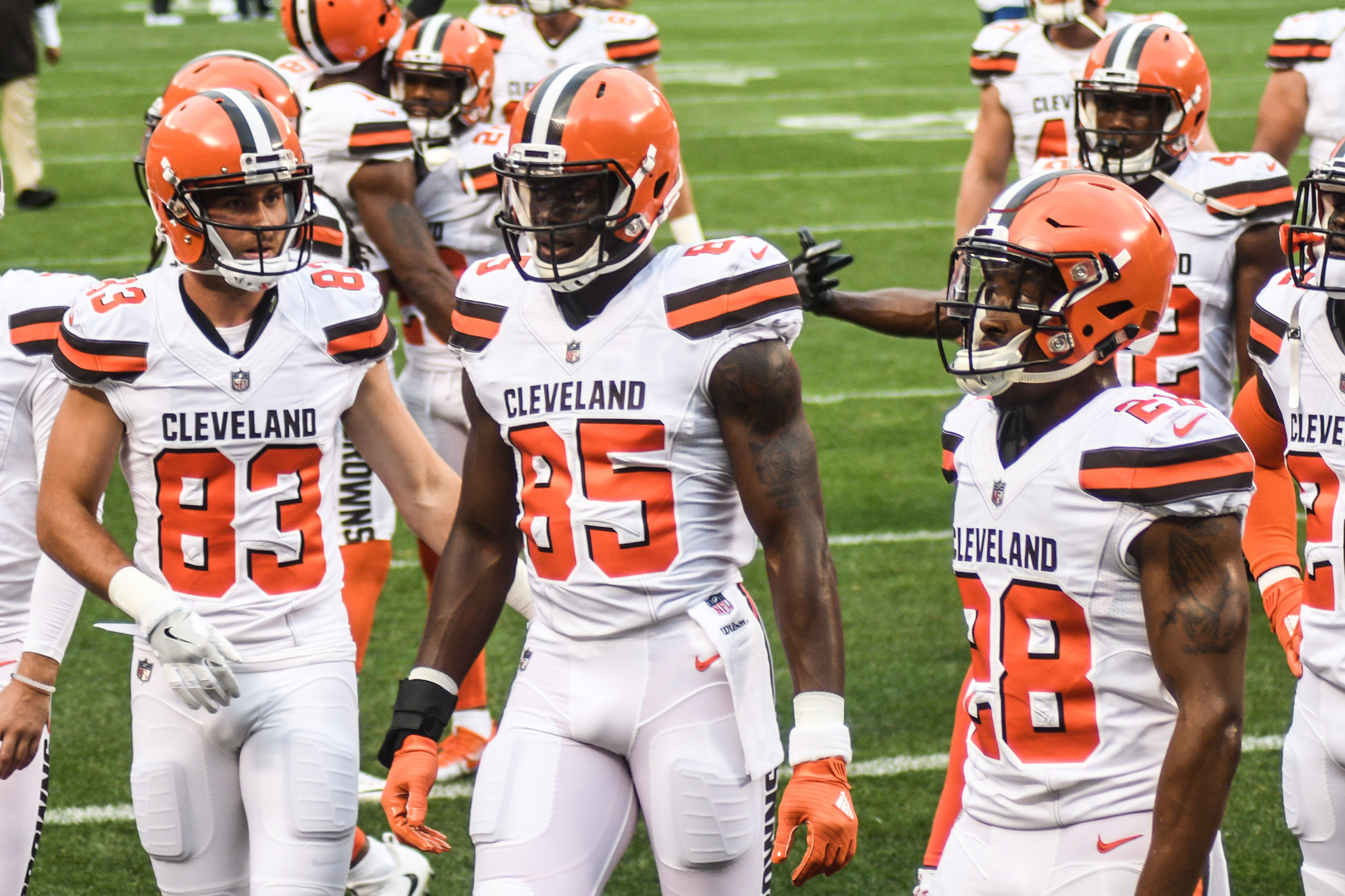 Fantasy Football Stud or Dud: Week 7
Week 6, notably, delivered some memorable performances from running backs Todd Gurley and Saquon Barkley. Gurley racked up over 200 yards rushing, while Barkley topped 220 scrimmage yards. The Patriots and Chiefs, meanwhile, had the most memorable game of the season thus far. The Patriots finally ended the Chiefs undefeated streak, winning the close matchup with a last-second field goal. The Rams are the NFL's only remaining undefeated team and will surely look to reach 7-0 as they face the 49ers. Friday, especially, brought several impactful fantasy stories. The Browns traded Carlos Hyde to Jacksonville — a move that's greatly altered the fantasy rankings of both teams' backfields. It was also revealed that Raiders backfield veteran Marshawn Lynch is set to miss a month with injury. With plenty of good matchups upon us, here's Stud or Dud: Week 7 to help you choose your lineups before kickoff!
Quarterback
Stud
Jared Goff, Los Angeles Rams: The Rams travel to San Fransisco this week for a showdown with the 49ers. Goff had a below-average showing last week, as the Rams committed to running Todd Gurley for most of the contest. Gurley, of course, pulled off huge runs seemingly every other play. However, the Rams should be able to get back to a more balanced offense this week. The 49ers boast a top-ten run defense, yet remain in the bottom seven for pass defense. Head coach Sean McVay should recognize this and will likely commit more to throwing the ball.
The Rams will miss WR Cooper Kupp, which does hurt, but not substantially. Goff still has two reliable targets in Brandin Cooks and Robert Woods — both of whom are top 15 plays for me this week. Jared Goff has actually been a top-ten fantasy QB this season, showing a tendency for big games now and then. All things considered, Goff is a solid QB1 with massive upside this week.
Matt Ryan, Atlanta Falcons: Matt Ryan has been showing out these past few weeks. He has almost single-handedly carried his battered Falcons side to several wins. More bad news emerged from the team this week, though, with Devonta Freeman placed on IR. With Freeman out for the foreseeable future, Ryan and star receiver Julio Jones now bear immense pressure to carry the offense. This is far from an impossible task, however. Ryan has some additional solid weapons, including a solid pass catcher in Tevin Coleman from the backfield. He also has standout rookie receiver Calvin Ridley for good looks, particularly when Jones attracts double coverage. The Falcons will face the Giants, who were beaten down by the Eagles last week and don't seem particularly motivated. Look for Ryan to put up top-five QB numbers this week.
Dud
Deshaun Watson, Houston Texans: Watson is coming off his worst game of the season against the Bills. It won't get much better for fantasy owners, as the Texans are facing the Jaguars defense. While the Jaguars were bludgeoned by the Cowboys to the tune of 40 points, the defense should be motivated to bounce back this week. Watson also did not look like himself against Buffalo and takes far too many hits behind a very leaky Houston O-line.
The Jaguars are still number one in pass defense on the season and that should continue this week. With Watson being hampered with some type of injury, it limits his rushing upside — one of his biggest assets in terms of fantasy value. If you plan on starting him, don't expect the usual 30-40 yards on the ground as the team looks to keep him healthy. Watson is unlikely to exceed a mid-to-high end QB2 performance.
Running Back
Stud
Saquon Barkley, New York Giants: As mentioned before, Saquon Barkley went off last week. He put up 130 rushing yards on only 13 carries, including a stunning 50 yard touchdown run. Barkley also showed off his receiving prowess, grabbing 9 receptions for 99 yards. Saquon Barkley has continued to show exactly why he was worth the second overall pick in the draft. He will now turn his attention to one of the league's worst defenses in Atlanta for Week 7. The Falcons have lost Pro Bowl linebacker Deion Jones and both of their starting safeties to extended injuries.
Atlanta's struggles against pass-catching running backs have also been well-documented. They've allowed almost nine receptions and 70+ yards per game on average to running backs. Barkley is becoming more and more the focus of the Giants offense and will look to continue the roll he is on. Expect high-end RB1 numbers with even more upside against an injury-ridden Falcons defense.
Nick Chubb, Cleveland Browns: Chubb will fall into the Browns' early-down starting role by default this week. Cleveland traded regular starter Carlos Hyde to the Jaguars on Friday for a draft pick. Hyde had been dominating backfield touches this season in Cleveland. With his departure, the Browns will sport a backfield tandem of pass-catching specialist Duke Johnson Jr. and rookie Nick Chubb.
In limited work this year, Chubb has been spectacular. He's amassed 173 yards on only 16 carries for an impressive 10.3 yards per carry. While this type of efficiency will never hold up, it still bodes well for Chubb. He is ensured a sizable role as, essentially, Cleveland's sole rushing back. Chubb will get a chance to prove himself right away this week against the Buccaneers, who've been one of the worst defenses in the league this season. Look for Chubb to produce at least flex numbers with RB2 upside and considerable ROS value.
Dud
Mark Ingram II, New Orleans Saints: In his first game back from suspension, Ingram was able to find the end zone twice. He only had 53 yards on 16 carries, but ballooned in fantasy from his red zone usage. It was interesting last week, as Ingram out-touched superstar Alvin Kamara 18 to 9. Kamara was exceptionally active in the weeks Ingram was gone, with steady fantasy production throughout. The Saints would be foolish to continue keeping Kamara's game-breaking ability on the sideline. Most likely, last week was a case of Ingram having fresh legs — giving Kamara's a break after four games in a workhorse role. The Saints also got out to an early lead last week, leading them to lean on Ingram more while keeping Kamara healthy. These factors – and a matchup against Baltimore's top-five defense – drive down Ingram's value this week. He's likely a high-end RB3 and worthy of flex consideration in deeper leagues.
Wide Receiver
Stud
Jarvis Landry, Cleveland Browns: Another Brown makes the Stud list this week. Landry hasn't lived up to the hype placed on his shoulders following his move to Cleveland. However, this looks likely change this week. As mentioned above, the Browns face the Buccaneers this week. Tampa Bay has the worst past defense in the NFL this year, giving Landry an ideal matchup. With Baker Mayfield (who's looked very good in his first starts this year) throwing to him, Landry should see high volume in this matchup. The Browns, touted as having one of the league's top receiving corps entering the season, now look like one of the worst. Cleveland still lacks solid options behind Landry, ensuring he'll continue to see a high share of targets. These factors should boost Landry to WR1 value this week.
Taylor Gabriel, Chicago Bears: Gabriel has emerged as the top option in the Bears passing attack. He possesses game-breaking speed and an ability to take the tops off opposing defenses. With Allen Robinson and Trey Burton drawing coverage, Gabriel has been able to find himself open more frequently. He also enters Week 7 with 100+ yard showings in back-to-back games. The Bears are taking on the Patriots, who let Tyreek Hill (a similar type of player) score three touchdowns last week. If Mitch Trubisky plays up to his potential and prior outings, Gabriel should see WR2 volume with high upside.
Dud
T.Y. Hilton, Indianapolis Colts: This will be T.Y. Hilton's first game back from a nagging hamstring injury. The Hilton-to-Luck connection has been well documented, as they are one of the best QB-receiver duos when both are at full health. Hilton may not be at full speed this week, however, and will face coverage from standout corner Tre'Davious White. White was able to shut down star receiver DeAndre Hopkins last week and will consistently challenge Hilton. Luck has spread the ball around a good amount as well this year and hasn't zeroed in on a top receiver. Eric Ebron has been solid at TE the past few weeks and should limit the red zone targets that Hilton sees. Hilton is a low-end WR2 this week, but looks to improve in coming weeks as his hamstring fully heals.
Tight End
Stud
David Njoku, Cleveland Browns: This list has shown the Browns turnaround this year. Few would've ever said with confidence that Browns players would be top fantasy options, yet here we are (with three on this list)! The Buccaneers poor defense will help Njoku as much as any receiver. Njoku has been one of Baker Mayfield's favorite targets, especially in the redzone. Njoku pulled in a receiving touchdown last week — with steady, high-value targets coming his way since Mayfield's takeover as starting QB. With the matchup and target share considered, Njoku is a solid mid-tier to high-end TE1 this week.
Dud
Greg Olsen, Carolina Panthers: Olsen is not back to full health yet, as evidenced by his four-reception game last week (on only 7 targets, no less). When at full health, Olsen takes on a much larger workload. However, he's still listed on the Panthers' injury report this week and will likely remain limited until he can prove his foot has fully healed. Additionally troublesome for Olsen's value, the Panthers take on an Eagles defense who shut down the Giants' passing game last week. With this matchup and the injury concerns, Olsen ranks as a high-end TE2 this week — mainly due to the shallowness of the position.
Photo Credit: Erik Drost via Flickr
Like Stud or Dud: Week 7? Follow Ben Glassmire on Twitter (@brglass10) and on TSJ101Sports: NFL for all the latest Stud or Dud fantasy football content!
Subscribe to get the latest news from TSJ at the TSJ 101 Sports TV YouTube channel!
Play And Win Weekly at ThriveFantasy!