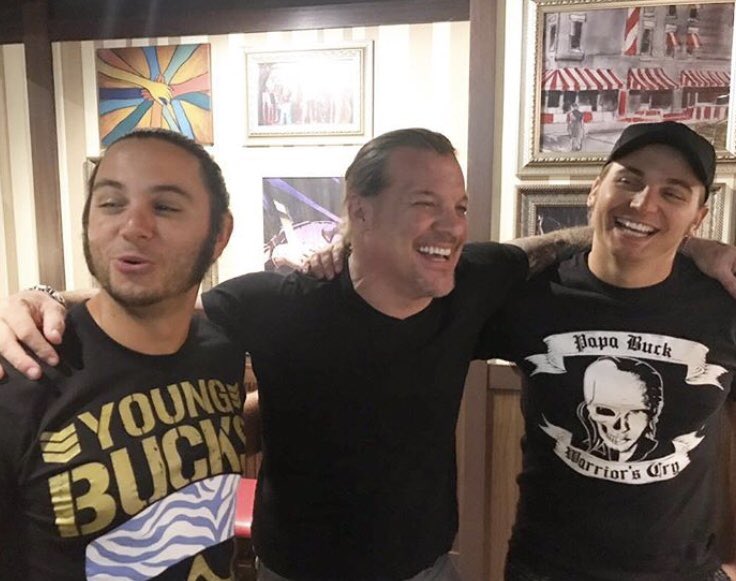 Chris Jericho Denies Rumors About Starting His Own Wrestling Promotion
Chris Jericho is a worldwide recognized icon in professional wrestling. Rumors began circulating that Jericho may be starting his own wrestling promotion. Jericho will supposedly create this promotion with the help of WWE Hall of Famer Jim Ross. The two are supposedly talking with AXS TV about securing a tv deal.
However, earlier today, Jericho shot down those rumors in a tweet he sent out.
I'm starting my own wrestling company? AWESOME! Im also starting my own movie studio w #LadyGaga, my own carwash w #Bono & my own bakeshop!

— Chris Jericho (@IAmJericho) October 20, 2018
According to the first ever WWE Undisputed Champion, he will NOT be starting his own promotion. These rumors were first discussed with several news sites. Where they got the idea, no one is really sure.
Chris Jericho is currently New Japan Pro Wrestling's IWGP Intercontinental Champion. He defeated Tetsuya Naito at NJPW Dominion. His next big mission is his Cruise of Jericho Rock 'N' Wrestling Rager at Sea. The cruise takes place between October 27th-31st. The show will broadcast on Fite TV.
It seems Jericho is far too busy to start his own promotion. Between defending his IWGP Intercontinental Championship, and his upcoming cruise, he likely doesn't have time for something like that.
Still, it should be noted that Jericho at times likes to play with the fans. In 2013, he promised he wouldn't be appearing in the Royal Rumble. But, like many thought, he entered at number two.
As the Cruise of Jericho and NJPW's Power Struggle approach, Jericho looks to have a full schedule for the rest of the year. But, like in recent years, Jericho may just be playing all of us.
Right now, it doesn't look like the Wrestling Promotion of Jericho is a real thing. Maybe it will be in the future. Who knows, Jericho has proven himself in just about everything in professional wrestling, why not start a wrestling promotion?
Social Media
Give us a follow and we might follow you back…
Follow TSJ101Sports on Twitter: @T101Sports and @T101SportsWWE
Follow me, the writer, on Twitter: @JordanPiekarski
Subscribe to get the latest news from TSJ at the TSJ 101 Sports TV YouTube channel!
Photo credit to Chris Jericho via Instagram