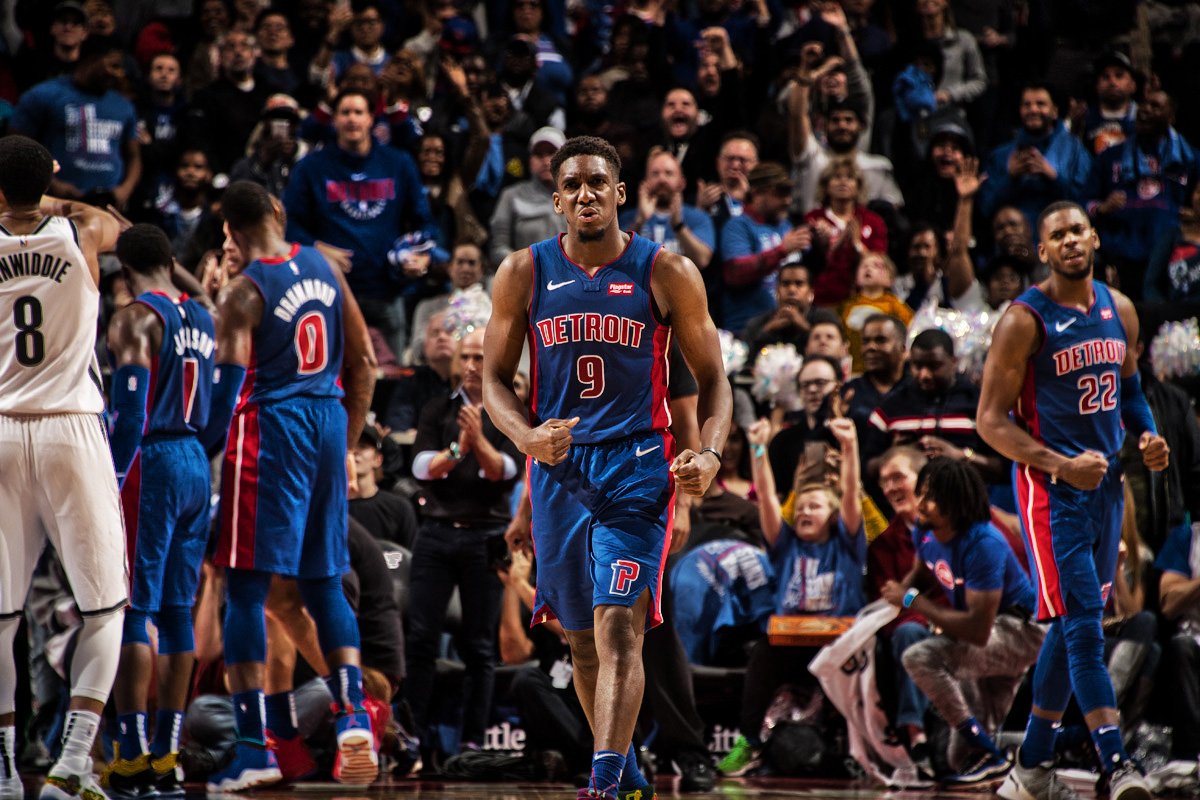 Casey-led Pistons Open Season With Win
The Detroit Pistons opened the season on October 17th in Little Caesars Arena against the Brooklyn Nets with a three-point win. The Pistons were streaky throughout this game having led by 13 at one point, however the steady calming presence of new coach Dwane Casey proved enough for Detroit last night.
Game Recap
The Pistons started out looking rusty struggling to score as Brooklyn went on an 8-0 run. They were not shooting threes and looked lost on the court. The only constant force for the Motor City was Griffin, who was banging his way to the basket and making buckets. Once he attracted the Nets defense more, Blake started showing off his Point Forward skills as he was distributing the ball and making plays. Griffin really felt on a roll there as he attempted a nasty tomahawk dunk -that would have put Jarrett Allen on a poster- which Allen swatted away cleanly.
Detroit ran a three guard lineup at times and the game was played with pace. With the Pistons missing Stanley Johnson (toe) and Reggie Bullock (illness) the rookie Bruce Brown started the game and played 19 minutes in which he did not score, however he had a strong impact with his defense.
Late in the fourth the Pistons led by one, before Reggie Jackson sealed it with two free throws. Brooklyn had the ball with 6 seconds to go, however solid defense from Glenn Robinson III and a defensive board from Blake put a stamp on the game.  
Top Performers of the Night
Reggie, Andre and Blake combined for 69 points which is a pleasant sight for Pistons fans. Reggie had 19 points and 4 assists. Andre Drummond was in foul trouble late in the game, however he dominated the game the only way he knows how. He had 24 points and 20 rebounds, which makes him the first Pistons player ever to have a 20-20 game in a season opener. Drummond also nailed his first career three-pointer, which is significant enough since the margin of victory was 3 points.
Spencer Dinwiddie, Jarrett Allen and Caris LeVert carried the load this game on an injury-ridden Nets team. The Nets were missing Demarre Carroll, Rondae Hollis-Jefferson, and Allen Crabbe. Jarrett Allen however posted 17 and 10 with 4 blocks, while LeVert matched his career high of 27 points.   
Silver Linings
The main Pistons players of the game is Blake Griffin who banged his way in the post to a 28-8-6 stat line. He was a vocal leader, while also assuming ball distributing responsibilities for the night, which is a sign of things to come. Even though they had just won, he seemed to have some constructive criticism for Glenn Robinson right after the buzzer. This shows the kind of leader he plans to be.
In the end this was a close win against an injury-ridden lottery team, however it shows important developments for this Pistons team. As Dwane Casey said post-game:
"We're not where we want to be, but we're [also] not where we were."
Follow us on Twitter and YouTube
Photo credit to Detroit Pistons via Twitter