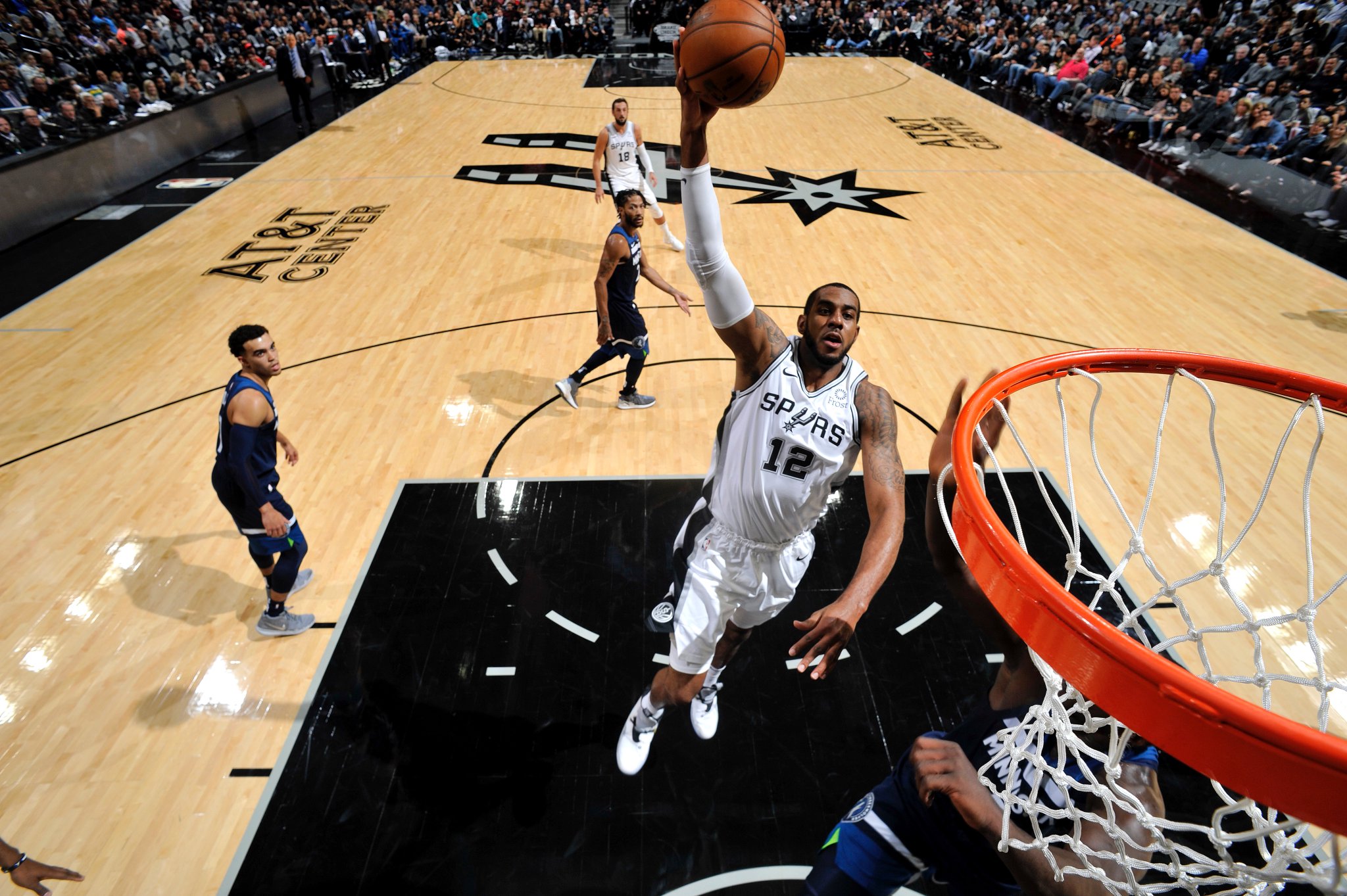 Timberwolves Collapse In Fourth Against Spurs
It was opening night for both the Minnesota Timberwolves and the San Antonio Spurs at the AT&T Center in San Antonio. First time Spurs fans could see their newly acquired DeMar DeRozan suit up for some real action. Also, first time for Timberwolves fans see how the team plays with disgruntled star Jimmy Butler.
Game Recap
First quarter for the Timberwolves was a rough one. Lots of unwise turnovers that led to easy buckets for the Spurs. Timberwolves looked a little nervous to start out and looked a little confuse how they should play with team star Butler. Butler though only played the first 6 minutes of the quarter and then was subbed in for Derrick Rose. Karl Anthony-Towns picked up two quick ticky-tack fouls right away that plagued him last year. Spurs played normal San Antonio ball. Constant movement on and off the ball. Spurs had the Timberwolves running around like a chicken with its head chopped off.
The second quarter was a flipped script for the Timberwolves. They switched to a two point guard with Jeff Teague and Rose and things went smoother. Timberwolves switched to a slashing and kick offense. Andrew Wiggins picked up where he left off in a good first quarter with another solid showing. Spurs shooting dropped, but they were still crashing the offensive glass, especially LaMarcus Aldridge who ended the night with 8 total offensive rebounds alone.
Once the second half started Timberwolves were down 52-56 but made sure that didn't last long. Butler was doing lots of heavy plays, but luckily for the Wolves he was converting. He played the first six minutes then was subbed out and team ball started back up again. Once Butler left and let Teague run the offense that's when Teague went off. Making floaters, creating his own shots, and just making mayhem offensively. San Antonio fell behind by the middle of the quarter and had issues bouncing back. Offensive rebounding though was a saving grace again for the Spurs since Anthony-Towns also picked up another quick foul to give him four by the end of the third.
Fourth quarter was the unwinding for the Wolves. Three-point shots started dropping left and right for everyone on San Antonio. DeRozan saved his best for the fourth. He had been quietly doing well for the entire game, but he went for the kill in the fourth. Towns fouled out with still a couple of minutes left so their big man threat had disappeared. The Timberwolves had a stretch where they didn't score for almost six minutes. Butler and Wiggins tried to will the Wolves at the end by both doing clutch plays, but it was too late.
Players of the Game
San Antonio's duo of DeRozan and Aldridge both did work. DeRozan put up 28 points, 4 rebounds, and 4 assists. Aldridge put up 21 points with 19 rebounds, 8 of them coming from the offensive end. He also tacked on three huge blocks to for the Spurs.
The Timberwolves had Teague, Wiggins, and Butler combine for 70 points between the three of them. Butler also had four steals and Wiggins also grabbed six rebounds. Hopefully this individual performance by Wiggins is only the beginning of what fans hope to be his breakout year.
Take Aways From the Game
It looked obvious what the Timberwolves were doing on the court when Butler was on the court. Get him the ball and let him go one-on-one and try to get his own bucket, but that was only for short stretches. Once he left the court it went to a smooth flowing offense. Towns being out for over half of the game due to foul issues also killed the Wolves. Towns only scored eight points in his season opener. Not the ideal way for the newly maxed paid player to start a season, but still 81 games to make up for it.
Granted Towns was out most of the game, but the Timberwolves need to figure out their rebounding situation. They were getting outmuscled for a majority of the game and that was an issue for them last year as well. They rely on their athleticism for rebounds instead of putting the work before the shot and boxing out.
Follow us on Twitter and YouTube
Photo credit to San Antonio Spurs via Twitter