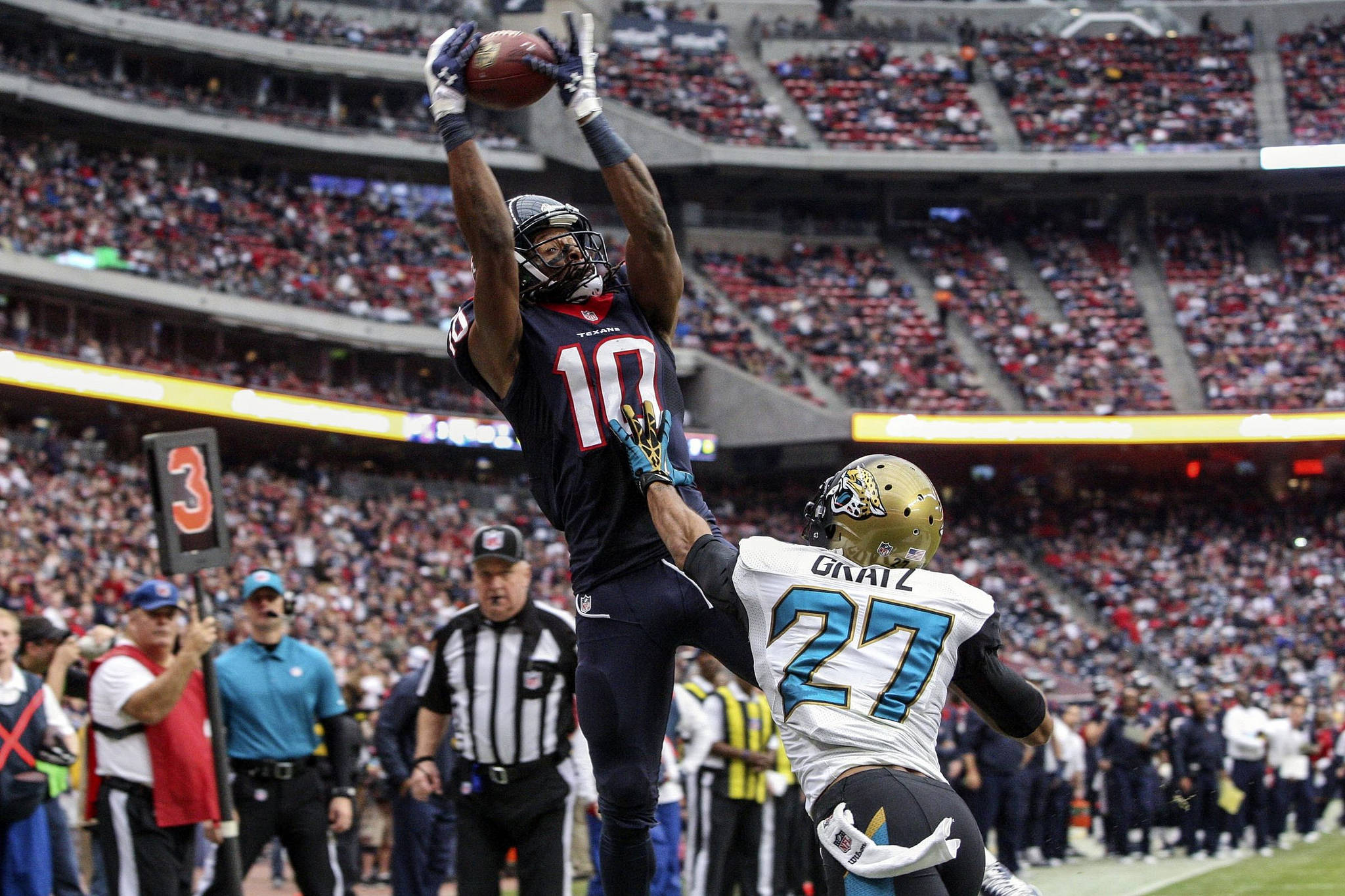 Fantasy Football Stud or Dud: Week 6
With the weekend fast approaching, owners are down to the wire to set their final fantasy lineups for the week. Five games into the season, a clearer picture is forming of who some possible fantasy breakouts and busts are. Arizona's David Johnson hasn't lived up to his top-five billing, LeSean McCoy has also been a huge disappointment, and Kenyan Drake has been muted in a split backfield with Frank Gore. One of the biggest disappointments of all, of course, has been Jaguars running back Leonard Fournette. Fournette has struggled to stay healthy and, despite his two starts, he has yet to play a full four-quarter game this season. On the other hand, players like Denver's Phillip Lindsay have emerged from the woodwork and far exceeded expectations. With a weekend of interesting matchups in store, and without further ado, here's Stud or Dud: Week 6.
Quarterback
Stud
Jameis Winston, Tampa Bay Buccaneers: Jameis Winston will be making his second start of the season against Atlanta this week. Winston was serving a three-game suspension to open the season. He made his first appearance of the season midway through Week 4, replacing a struggling Ryan Fitzpatrick. Fitzpatrick started the season hotter than anyone expected, but quickly fell back to his usually poor self before Winston stepped in. This week, Winston will face an Atlanta Falcons team with the 9th worst pass defense in the NFL. Winston has been stellar against the Falcons in the past and will look to keep the Buccaneers' offense rolling. He has a ridiculously talented group of receivers to work with, so toppling Atlanta's weak secondary will likely come easy. Mike Evans, Chris Godwin, and speedster DeSean Jackson should all find plenty of room to get open this week. If Winston can deliver on Sunday, he'll strengthen his case for keeping the starting job. Expect high-end QB1 numbers from the Bucs QB.
Kirk Cousins, Minnesota Vikings: Cousins has been absolutely stellar to start the season. So far, he's averaging 337.6 yards per game with a 71.2% completion percentage. Both of these numbers would be career highs. He is also playing with the best supporting cast in his career, with Adam Thielen, Stefon Diggs, and Kyle Rudolph competing for targets. The Vikings will face the Cardinals this week, who are easily one of the worst teams in the league. The Cardinals struggle to move the ball on offense, which should allow for the Vikings to dominate time of possession. Arizona, notably, has struggled even more on defense. Kirk Cousins should be able to put up big numbers this week. Expect at least high-end QB1 production, with Cousins having a good chance to deliver the best QB performance of the week.
Dud
Dak Prescott, Dallas Cowboys: Prescott has struggled mightily this year. He is averaging a mere 192.2 yards per game. His touchdown-to-interception ratio is even worse, managing only 5 touchdowns with 4 interceptions. The Cowboys face the Jaguars in Week 6, who many argue have the best defense in the league. Prescott lacks quality receiving options and that won't change this week. Allen Hurns or rookie Michael Gallup aren't going to develop overnight. Expect the Cowboys to lean heavily on Ezekiel Elliot if they want a chance to win the game. Prescott is not worth a start in most leagues. He is firmly a desperation QB3 for Week 6.
Running back
Stud
Dalvin Cook, Minnesota Vikings: This is a bold pick due to the injury that Cook has been dealing with over the past few weeks. However, the matchup is too good to pass up. The Cardinals have one of the worst defenses in the league and the Vikings should be able to get points up early. This will leave a large volume of carries for Cook. If he is near full health, he should be good to go for Sunday. Last year, before Cook tore his ACL, he was averaging 88.5 yards per game. If he can show that he is ready to get back to his full workload, he should see at least 15 carries and 5-7 targets in the passing game. Expect RB1 numbers if Cook can play fully this weekend.
Sony Michel/James White, New England Patriots: The Patriots running back tandem has been devastating to opposing defenses. Last week, they combined for 187 total scrimmage yards. Michel is the primary runner, while White is the main pass catching back (he lead the team in catches last week with 10). This means that Michel is upgraded in non-PPR, with PPR carrying slightly more value for White. Michel seems to be the primary goal line back, finding the end zone in back-to-back games. As long as they continue to split touches in this effective of a way, they are both strong RB2s for the rest of the season. If one were to go down with injury, the other would likely jump to mid-tier RB1.
Dud
Kenyan Drake, Miami Dolphins: Drake has been a massive disappointment for fantasy owners this season. He has failed to top 53 rushing yards in any game so far. However, he's also coming off of his best game of the year. Last week against the Bengals, Drake had 69 receiving yards and a touchdown. Despite impressive numbers, though, Drake still played a secondary role to Frank Gore. Gore, curiously, manages more carries than the talented Drake. Further dropping his fantasy value is this week's matchup, as the Dolphins face the Chicago Bears. The Bears have arguably the league's best defense (next to Jacksonville) and are holding opponents to 64 rushing yards per game. The Dolphins should find themselves down quickly in this game, which will likely force Miami to rely on Ryan Tannehill and the passing game to attempt a comeback. With all of this considered, Drake is no more than a touchdown-dependent flex play this week.
Wide Receiver
Stud
DeAndre Hopkins, Houston Texans: Hopkins has been stellar this year. He's topped 100 yards in three games this year and enters the week with momentum from back-to-back 150+ yard performances. He is easily DeShaun Watson's favorite target and should see the same massive volume as usual. The Texans face the Bills this week, who are one of the worst teams in the league despite a 2-3 record. The Texans should come out firing, with a banged up backfield likely to force more reliance on the passing game. This should set Hopkins up for another elite WR1 performance.
Josh Gordon, New England Patriots: Gordon hasn't had the volume so far of the number one receiver that everyone thought he could be in New England. He is likely still learning the playbook and integrating into the offense. This week, though, should be Gordon's coming out party. In Week 6, the Patriots face the Chiefs. The Chiefs defense just allowed Blake Bortles to throw for 430 yards (albeit 4 interceptions) last week. This game will most likely be a shootout between two highly explosive offenses. If Brady can find Gordon, he should have plenty of room to run and make plays. Expect at least WR2 numbers from the talented Patriots receiver.
Dud
Every Baltimore Ravens Wide Receiver: Baltimore has been an interesting team to watch this year. The Ravens sit at 3-2, with Joe Flacco and his team of castoff receivers playing with surprising competence. That should change this week, however, as they face a Titans defense ranked third in the league for fewest YPG allowed. While the Titans offense has been up-and-down, their defense has been stellar — allowing just 210 yards per game. The Ravens should be shut down in the air and will likely rely on Alex Collins and Javorius Allen to win the game on the ground. Expect flex numbers from Michael Crabtree and low-end WR3 numbers from John Brown, barring a big play.
Tight End
Stud
Eric Ebron, Indianapolis Colts: Ebron went off last week, hauling in 9 receptions for 105 yards and two touchdowns. His performance demonstrated his great connection with quarterback Andrew Luck. With starter Jack Doyle out another week, Ebron should continue to see a large volume of snaps and targets. The Colts will also be without starting first-string receiver T.Y. Hilton, which should carve out an even bigger role for Ebron in the offense. While Ebron has his own injury issues, he was back to full participation in practice on Friday. Despite a questionable injury designation for Sunday, he should see plenty of action in the Colts' injury-plagued offense. Ebron will likely post high-end TE1 numbers and looks to be a must-start in all leagues.
Dud
George Kittle, San Francisco 49ers: Kittle has been surprising efficient with CJ Beathard taking over as starting QB. Kittle is averaging 104 receiving yards per game with Beathard under center. However, that will likely change this week. Kittle had a 75 yard receiving touchdown two weeks ago, which has ballooned his numbers since. Beathard has also not shown the capability to play consistently. The 49ers will face the Packers in Week 6. Believe it or not, the Packers pass defense has been the 2nd best in the NFL this year. That quality should continue into this matchup. Look for low-end TE1 numbers, mainly due to the low number of viable options at the position.
Photo Credit: sports rageous via Flickr
Like Stud or Dud: Week 6? Follow Ben Glassmire on Twitter (@brglass10) and on TSJ101Sports: NFL for all the latest Stud or Dud fantasy football content!
Subscribe to get the latest news from TSJ at the TSJ 101 Sports TV YouTube channel!
Play And Win Weekly at ThriveFantasy!