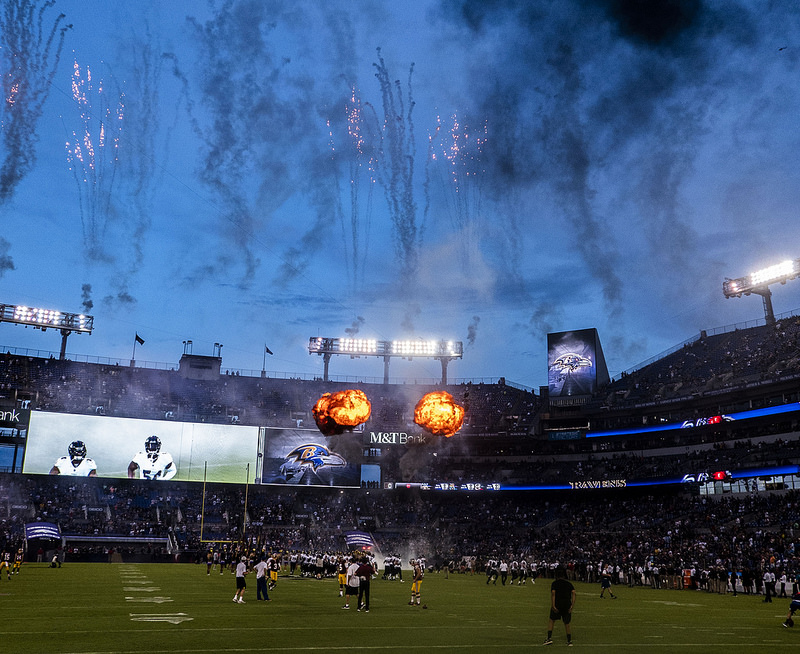 The Baltimore Ravens And The Tennessee Titans Square Off After Tough Week 5 Losses
Week 6 of the NFL season brings us a crucial AFC matchup for two possible playoff contenders. The Baltimore Ravens (3-2) will be heading to Nissan Stadium to take on the Tennessee Titans (3-2). The last time these teams squared off was just last season, a matchup Tennessee edged 23-20.
Injury Report
Disappointing Week 5
Baltimore Ravens
Baltimore wasted little time proving that they would be contenders in the 2018 NFL season. The world, however, took notice after a dominating victory against a division rival the Pittsburgh Steelers. Joe Flacco shined in the matchup, displaying prowess within the pocket all game. Additionally, the Baltimore defense netted its fourth straight second half shutout.
After such domination in Week 4, Baltimore expected to secure a huge win against Cleveland the following week. Yet the Ravens put together a lackadaisical performance and let the game slip away in overtime. Furthermore, the tough AFC North loss may prove beneficial for the Ravens. The loss showcased two drastic issues: an unbalanced play-calling sheet and a huge drop issue.
Most Dropped Passes – 2018 Season

Ravens 16
Jaguars 15
Eagles 13
Browns 13
Cardinals13

Fewest
Rams 2
Bears 2
Steelers 3
Redskins 3

— Sports Info Solutions (@SportsInfo_SIS) October 10, 2018
The Baltimore Ravens currently lead the league in drops in 2018. Ravens wide receiver Michael Crabtree stated that his drops led to the loss against Cleveland. Furthermore, the Ravens threw the ball 57 times compared to just 25 rushes. Baltimore is currently second in the league in passing attempts per game with 46.4.
Tennessee Titans
The Baltimore Ravens weren't the only team to not score a touchdown in Week 5. The Tennessee Titans, coming off a huge win against Philadelphia, was also expected to take care of business against arguably one of the least talented teams in NFL. Unfortunately for Tennessee, they just couldn't get anything going offensively.
Tennessee averaged a mere 4.2 yards per play in a 13-12 loss to Buffalo. Buffalo being +2 in the turnover category also gave them an edge in the home victory. Quarterback Marcus Mariota had an abysmal performance, throwing for only 129 yards and tossing an interception.
Keys To The Game
Baltimore Ravens
Baltimore has many adjustments to make on the offensive side of the ball after only putting up nine points in Cleveland. In addition, this Ravens team is 30th in the league in rushing yards per attempt with a lackluster 3.4 yards a carry. Baltimore needs to show some balance on the offensive side of the ball. Being too reliant on Flacco may prove crucial if the passing game isn't explosive.
Furthermore, Baltimore should look to get Crabtree involved early. The wideout's confidence has been wavering throughout the 2018 season, and he needs to have a big week sooner than later. Getting Crabtree hot is exactly what this offense needs to reach the next level.
There's no doubt that the Ravens defense has been elite this year. The defense ranks first and third in the league in points per game and yards per game, respectively. However, the team would like to see cornerback Jimmy Smith get back to form as soon as possible. Once Smith knocks off some rust, he is expected to be able to cover any team's number one wideout.
Tennessee Titans
The Tennessee Titans are undefeated at home and remain atop the AFC South after Week 5's loss. So how can Tennessee move up to 4-2? Tennessee needs more explosive plays against Baltimore if they want to compete. Tennessee only had one 20+ yard play from scrimmage against Buffalo.
Furthermore, Tennessee needs to get their backs involved, specifically Dion Lewis. Lewis was signed to be the lightning to Derrick Henry's thunder. Nevertheless, the backfield has yet to make a huge impact.
Along with offensive concerns, the Titans are noticeably thin at the linebacker position. Baltimore may look to expose this, especially with their heavy tight end usage. Tennessee will also need to generate a pass rush, in order to make Flacco uncomfortable in the pocket.
Fantasy Implications
Tennessee Titans wide receiver Corey Davis has great upside as a flex play in PPR leagues, even against a stingy Ravens defense. Ravens wideout John Brown is a low-end WR2 to a high-end flex play for this matchup.
Running backs Dion Lewis and Alex Collins are high-risk flex plays for Week 6. The Baltimore Ravens D/ST, as well as Justin Tucker, are both must-starts every week.
Date: Sunday, October 14th, 2018
Time: 4:25 pm EST
Location: Nissan Stadium – Nashville, TN
Photo Credit
Featured Image courtesy of Keith Allison
Follow Khadeem on Twitter at @ReachingGod and TSJ's NFL Department @TSJ101SportsNFL
Subscribe to get the latest news from TSJ at the TSJ 101 Sports TV YouTube channel!
Play And Win Weekly at ThriveFantasy!