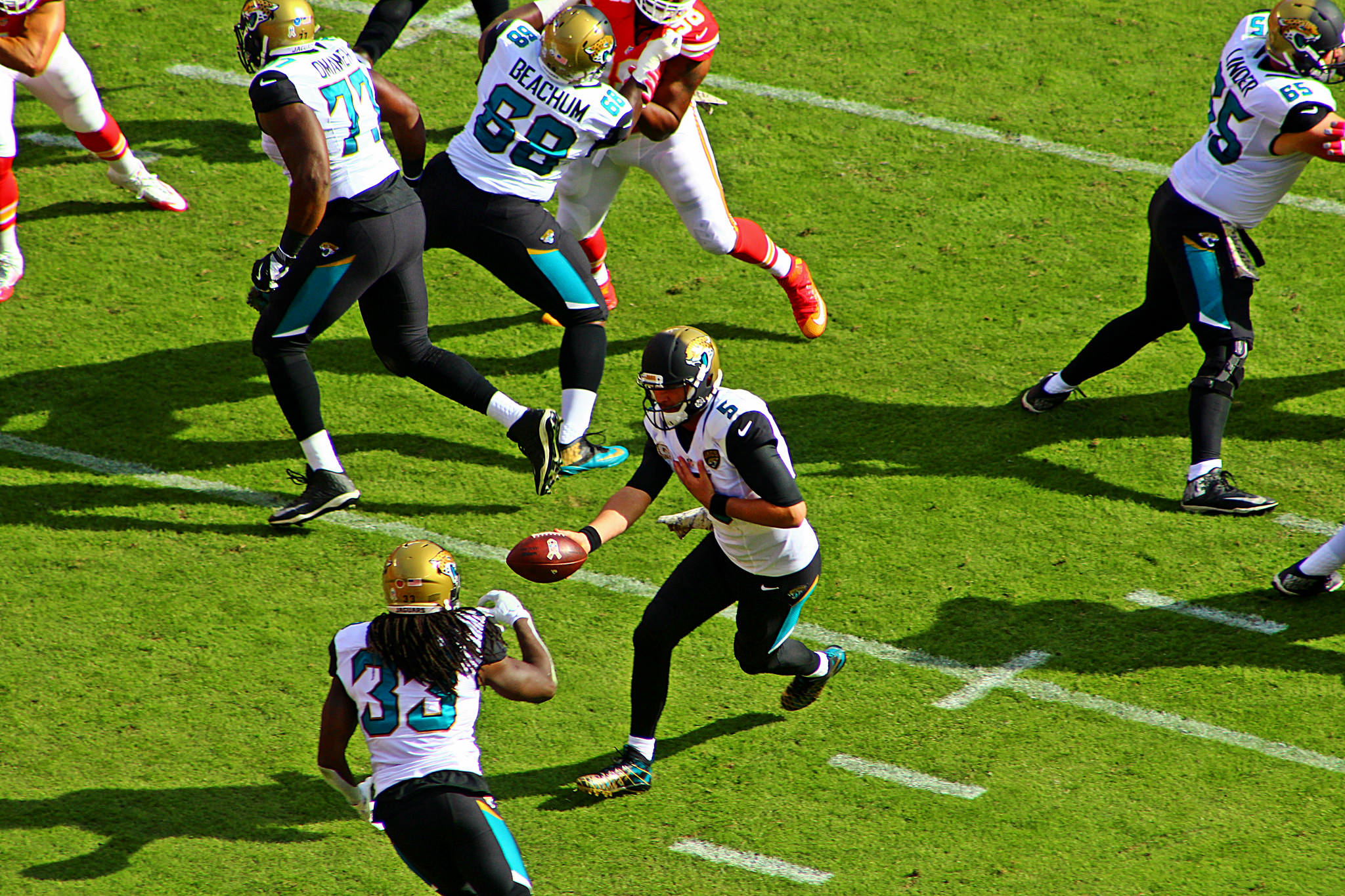 Kansas City Chiefs Take 30-14 Win Against Jacksonville Jaguars
Summary
The Chiefs advance to 5-0 with a route of the Jaguars. The game had accumulated loads of hype going into it, as it included one of the NFL's top defenses, the Jaguars, going against one of the league's top offenses, the Chiefs. One side was going to outshine the other and it was the high powered Chiefs offense that prevailed.
Coming into the game everyone wanted to see how Patrick Mahomes would fair against the Jaguars' lockdown D. He ended up throwing for over 300 yards and rushing for a TD. This coming during a "slow" patch in Mahomes' season so far. Blake Bortles threw four interceptions which are a tough sight for Jaguars fans. Kareem Hunt rushed for 87 yards and a touchdown as well  The Jags move to 3-2 and are tied for first in their division with the Titans.
Bortles' Tough Day
Blake Bortles looked abysmal at the helm of the Jaguars offense. The quarterback threw four interceptions and fumbled once totaling five turnovers while only throwing one touchdown. He racked up 430 yards passing, however that may be just due to usage. He threw 61 passes on the day, completing 33 of them. This game for him was coming off of a solid performance vs. the Jets where he completed 76.3% of his passes and threw for 388 yards. Versus the Jaguars, Bortles was having trouble getting the ball down the field as well, considering his average yards per completion of only seven. He'll look to bounce back next week against a tough Cowboys defense.
Mahomes Vs. Jaguars Defense
So far this season Mahomes has been nothing short of spectacular. Last week versus the Broncos it seemed as if he had a slow game because he only had two touchdowns, but he also had 300+ yards which he has done every game this season so far except for their week one matchup versus the Chargers where he threw for four touchdowns instead. It is tough to say anything negative about Mahomes so far. He threw for 300+ yards against a team that hasn't let up 300 yards by a quarterback since last season. I'd say that's pretty impressive. Before today no team had scored thirty on the Jaguars in a regular season game since October 27 of last year. No question though the stats may not be pretty, Mahomes showed what he is made of.
Tyreek Hill vs. Jalen Ramsey
Earlier this week Hill and Ramsey exchanged competitive words through the media, each playing down the other's skill. They were finally able to settle the drama today as they lined up against each other. Hill ended up with an average game, tallying 61 receiving yards on four receptions and seven targets. It wasn't a bad game by any stretch but he certainly didn't go off. However, he didn't get shut down either. Hill notably torched Ramsey on one play that went for a 40 yard gain.
Other than that, though, Hill was kept quiet for most of the game. It's difficult to give an outright winner in this battle.
Kansas City Chiefs
For the Chiefs, this game puts them in a great spot, moving to 5-0 one of the last two teams to be still standing undefeated. The Rams are the only other 5-0 team. The Chiefs started off last season 5-0 as well and ended up exiting in the first round so this start is not something to get too excited about, but the players contributing are definitely something to be excited about. The emergence of Mahomes has been spectacular for the Chiefs. He and Alex Smith are very different in playstyle and the quarterbacking change may be just enough to push them through the playoffs if of course, they make the playoffs.
Jacksonville Jaguars
The Jaguars defense is not in question, but the offense has had its struggles this season. So far this season the team has scored fifteen points or less in three of their five games. That has to worry fans and coaches. Starting off at 3-2 is a tough position to be in because the Jags are only one loss from .500 on the year. I'm not saying we should worry about the Jaguars just yet because they lost to one of the best teams in the league, but they are going to have to put up some bigger numbers if they want to make a strong playoff run this year.
In Week 6…
Chiefs @ New England Patriots
Jaguars @ Dallas Cowboys
Photo Credit: Ian Morton via Flickr
Follow Gabe Hougard on Twitter: @2loGabe
Subscribe to get the latest news from TSJ at the TSJ 101 Sports TV YouTube channel!
Play And Win Weekly at ThriveFantasy!