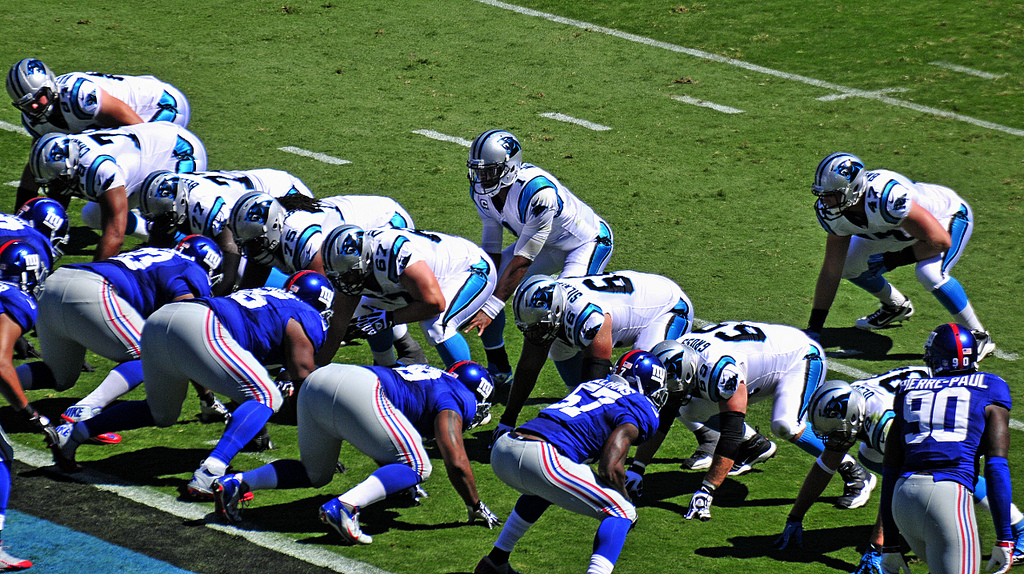 Panthers Edge Out Giants in Last Second Thriller
An exciting and close game on Carolina turf ended with a 63-yard field goal kick by Graham Gano with 1 second remaining to give the Panthers a 33-31 win. Gano's game-winning kick is tied for the second-longest made field goal in NFL history.
Right before the 63-yarder, Cam Newton led a drive downfield to give the Panthers a chance at a win. Late game heroics were needed as the Panthers let the Giants go on a 14-0 run that had New York leading by one point with just over a minute left in regulation. The 6'6″ quarterback got the ball just close enough for Graham Gano to attempt the near-record-breaking kick. And, sure enough, Gano nailed it.
There was no doubt that the kick was good once the Carolina kicker booted it off. Gano even knew, motioning the kick was good with his hands up as soon as he connected. It capped off a perfect game for the kicker, who went 4 for 4 in the contest and eventually sealed the third win of the year for the Carolina Panthers.
Game Recap & Player Performance
Carolina moves to 3-1 after having their bye in Week 4 of the season. For the Giants, meanwhile, their record now drops to a woeful 1-4.
Carolina Panthers
Cam Newton finished the day with 227 yards through the air, two passing touchdowns, and a pair of interceptions. He also ran 29 yards on 8 rushing attempts in the matchup.
Christian McCaffrey was his usual productive self, managing 93 total yards and an impressive 18-yard receiving touchdown. McCaffrey's 58 yards on the ground were balanced with an impressing receiving performance, reeling in a team-high five receptions for 35 yards. His dual-threat ability opens the Carolina offense up, even when it's not running smoothly. This game was a great example, as the versatile sophomore back helped keep the Panthers afloat above the Giants.
New York Giants
Saquon Barkley looked every bit of the second overall pick in the NFL draft this Sunday. Barkley finished with 129 total yards from scrimmage on 19 touches, including a 57-yard catch and run touchdown thrown by Odell Beckham Jr.
Eli Manning went 22 for 36 passes on the afternoon, producing 326 yards and two touchdowns. He did throw a pair of interceptions, though that's usually expected from Manning. He did, however, throw plenty of clutch passes and long-balls to keep his team in the game.
One of those throws was a beautiful 33-yard touchdown pass right over the shoulder of Odell Beckham Jr. on a deep post route. Manning also hit Russell Shepard on a 50-yard bomb with just under two minutes left in the fourth quarter. The pass set up Saquon Barkley for a red zone score that put the Giants up by 1 point with just over a minute left in regulation.
We all know what happened after that, however. Graham Gano saved the day for Carolina with one of the most impressive and clutch kicks in modern football history.
Beckham Returns to Prime Form
Odell Beckham Jr. had his best game of the year, catching 8 passes for 133 yards and a touchdown. Beckham also threw an impressive passing touchdown. The All-Pro receiver caught a screen pass, then launched a 57-yard touchdown pass right into the hands of a wide-open Saquon Barkley.
This had to be one of the craziest plays of the game, maybe of the season. It was also Beckham's first "official" touchdown of the year, having not caught a receiving score before the pass. Another insane play involved Beckham in the game, when he muffed a punt return, which landed right into the hands of Carolina in their own end-zone.  It was a bizarre play, bouncing off both the hands and feet of three Giants players before ending up in Carolina's possession for the Panthers touchdown.
It was a slight dim spot for the star wide receiver, but this game highlighted his big-play touchdown ability. Such ability has been missed recently and had yet to be see so far this season until now.
Next week…
The 1-4 Giants head back home to face the defending Super Bowl Champions, the Philadelphia Eagles, for Thursday Night Football on a short week.
The 3-1 Panthers will travel to Washington in Week 6 to face the Redskins next Sunday.
Photo Credit: Guy Harbert via Flickr
Follow TSJ101Sports on Twitter: @T101Sports and @T101SportsNFL
Subscribe to get the latest news from TSJ at the TSJ 101 Sports TV YouTube channel!
Play And Win Weekly at ThriveFantasy!