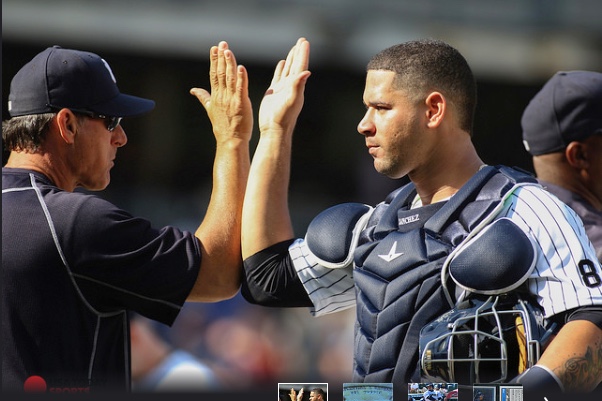 Yankees Slug Their Way to W in Game 2 of the ALDS
After nearly coming back to take Game 1 of the series, the Yankees got their redemption Saturday and evened the series at a game apiece. Masahiro Tanaka was great for the Yankees. He went five innings allowing three hits, one run, one walk, and getting four strikeouts. On the other side, David Price struggled for the Red Sox. He lasted just 1 2/3 innings giving up three hits, three runs, two walks, and did not strike out a single Yankee. The series will resume on Monday as Luis Severino will take on Rick Porcello in Game 3 at Yankee Stadium.
Game Recap
The Yankees offense got started quickly against Price and the Red Sox. In the first inning, Aaron Judge hit his second homer of the postseason to get the Yankees on the board. In the second inning, Yankees catcher Gary Sanchez belted his first home run of the playoffs. Andrew McCutchen followed up with an RBI single to score Brett Gardner. The Red Sox broke the shutout after a Xander Bogaerts solo homer in the fourth making it 3-1 Yankees. In the seventh, Gary Sanchez was at it again. Sanchez hit a mammoth 479-foot homer to extend the Yankee lead. His second homer of the day cleared the seats beyond the Green Monster. In the bottom of the seventh, Ian Kinsler lanced an RBI double to close the gap and make it 6-2 Yankees. Aroldis Chapman entered the game in the ninth and that was it.
The Yankees closed out a HUGE win in Game 2. They will head back to Yankee Stadium for a decisive Game 3 with their ace Luis Severino on the mound. The key to the Yankees Game 2 win was Gary Sanchez; Sanchez is a very important piece to the Yankees offense. If Sanchez can get hot, the Yankees have a great chance to defeat the Red Sox and advance to the ALCS.
Photo Credit to Finish First Photos via Flickr