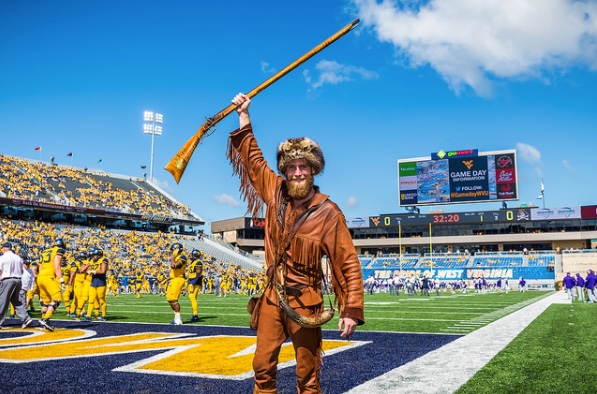 The 6th week of Mountaineer football has came to an end. What exactly happened at Mountaineer Field at Milan Puskar Stadium in Morgantown, WV? Let's take a look at the game recap! West Virginia's undefeated streak stays alive!!
West Virginia's Undefeated Streak Stays Alive!
Let's take a look at the recap of the game.
First Quarter
West Virginia: 2 Touchdowns ( 9:28) (5:21)
Kansas: 1 Touchdown (0:12)
End of the Quarter:
14-7 West Virginia
Second Quarter
West Virginia: 1 Touchdown (11:52)
Halftime: 21-7 West Virginia
Third Quarter
Kansas: 1 Touchdown (10:50)
West Virginia: 1 Touchdown (0:00)
End of the quarter: 28-14 West Virginia
Fourth Quarter
West Virginia: 1 Field Goal (5:05) 1 Touchdown (2:20)
Kansas: Touchdown with 2 point Conversion (0:00)
Final: 38-22 West Virginia
Game Stats, What's Next?
West Virginia: The game wasn't really a huge runaway game, but it seemed to be a nail bitter for sure. West Virginia quarterback Will Grier threw for 332 yards and had 4 touchdowns. Grier is having an outstanding season, and has been mentioned in Heisman trophy talks.  Next week, Grier and the Mountaineers will head to Iowa to play Iowa State. Will the streak keep going on, or will they fall short with a possible upset?
Kansas: The Jayhawks put up a good fight this week. They can indeed run and not give up and head towards a victory. However, today they came up short against the Mountaineers.  Kansas had both quarterbacks in today: Peyton Bender who had 191 yards, 2 touchdowns and 1 interception; and Carter Stanley had only 15 yds and 1 interception. The Jayhawks will have a bye week next week and will take on Texas Tech in Texas on October 20th. Can the Jayhawks score a win? Or will they just fall short?
Stay tuned til next week for more news on Mountaineer football!!
Social Media
Follow us on Twitter: @T101Sports and @T101SportsCFB
Writer: @justbeingk88
Check out our YouTube channel: TSJ 101 Sports TV for breaking news!
Picture Credit: R24KBerg via Flickr