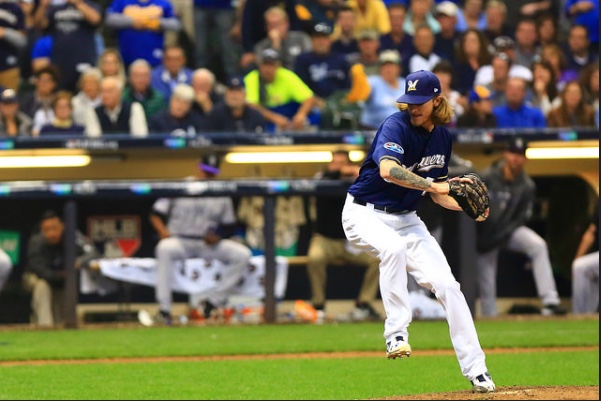 Brewers Sweep the Rockies, Advance to First NLCS since 2011
The Brewers have swept the Colorado Rockies and are going to their first NLCS since 2011. The Brew Crew are four wins away from advancing to their first World Series since 1982, and their first title in franchise history. Wade Miley was brilliant for the Brewers. He went 4.2 innings allowing three hits, no runs, one walk, and struck out two. On the Rockies side, German Márquez went five innings, allowing seven hits, two runs, one walk, and five strikeouts. The Brewers will await the winner of the Braves/Dodgers series, whom they will play to see who gets to represent the National League in the Fall Classic.
Game Recap
Travis Shaw got the Brewers' offense started quickly. In the bottom of the first, Shaw scored Christian Yelich on a force out. Jesus Agúilar added a solo homer in the fourth to make it 2-0 Brewers. In the sixth, the Brewers scored twice during an at-bat from Curtis Granderson. Mike Moustakas scored on a balk, and Erik Kratz later scored on a wild pitch to make it 4-0 Milwaukee. The Brewers added even more insurance in the ninth with back-to-back solo homers from Orlando Arcia and Keon Broxton. The Brewers gave a six-run lead to Josh Hader into the bottom of the ninth, the last chance for the Rockies. Josh Hader got the final two outs, and the Brewers clinched the series. The Brewers will head back home and await their fate for their shot at a National League Pennant.
Brewers' Pitching Dominates
The Brewers' pitching was dominant during the whole series. They outscored the Rockies 13-2, with those two runs only coming in Game 1. All three starters for the Brewers allowed zero runs during their outings. The only two runs were allowed by Jeremy Jeffress. No matter who they play between the Braves and the Dodgers, the Brewers pitching can continue to silence opposing bats to get the Crew to the World Series.
Photo Credit to David Nguyen via Flickr