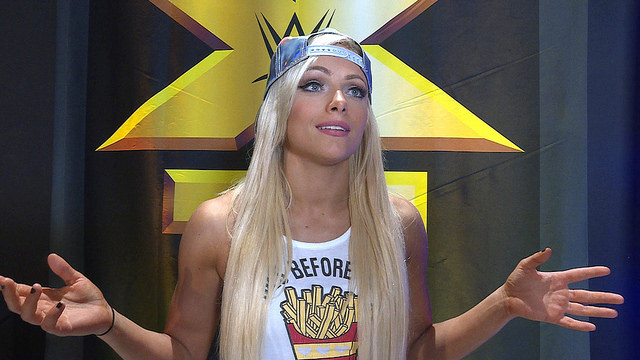 Liv Morgan Injured During RAW 6-Man Tag Match
Liv Morgan has supposedly suffered a head injury. This injury occurred during a Six Man Tag match that pitted the Riott Squad against the Bella Twins and Natalya.
When receiving Brie Bella's chest kicks, it is seen that a few may have been too high. Morgan can be seen getting struck twice in the head. The first kick makes her lean forward. The second kick then apparently knocks her out cold. Brie Bella can be seen trying to roll the unconscious Morgan over for a pinfall. Liv Morgan would be taken out of the match while Ruby Riott and Sarah Logan carried on without her.
Possible Concussion
It is being reported that Liv Morgan has suffered a possible concussion. Mandatory.com says that the concussion was the cause of the two stiff kicks from Brie Bella.
Brie Bella went to Twitter, regarding the injury caused by her kicks.
Every match on #Raw is an opportunity for us to entertain our fans. Our intentions as @WWE Superstars is to win the match, never injure our opponents. Thinking about @YaOnlyLivvOnce tonight. ❤️ -B

— Nikki & Brie (@BellaTwins) September 25, 2018
At least Brie is trying to sound sympathetic.
It Could Happen to Anyone
This kind of injury could happen to anyone at any point. It is possible that Liv Morgan was out of position to receive the kicks. It is also possible that Brie Bella was too sloppy with the kicks and aimed too high. The first kick did seem to stun Morgan. The fact that Brie hadn't realized something was awry until after the second head kick is unfortunate. Hopefully, Brie is a little bit safer next time she dishes out this offensive maneuver.
Though the injury hasn't been announced by WWE yet it is clear Liv Morgan is not in good shape. Morgan has yet to say anything about the potential injury. The other members of the Riott Squad have also remained silent on social media as of now.
Injuries are always a terrible thing to happen to any kind of athlete. We wish Liv Morgan a quick a speedy recovery. We hope to see her back on Monday Night RAW very soon.
Social Media
Help Spread the Word of TSJ101 and Help Us Take Over the World.
Follow TSJ101Sports on Twitter: @T101Sports and @T101SportsWWE
Follow me, the writer, on Twitter: @JordanPiekarski
Subscribe to get the latest news from TSJ at the TSJ 101 Sports TV YouTube channel!
Photo credit to Dallas Mavsboy Taz Tevin Tev via Flickr