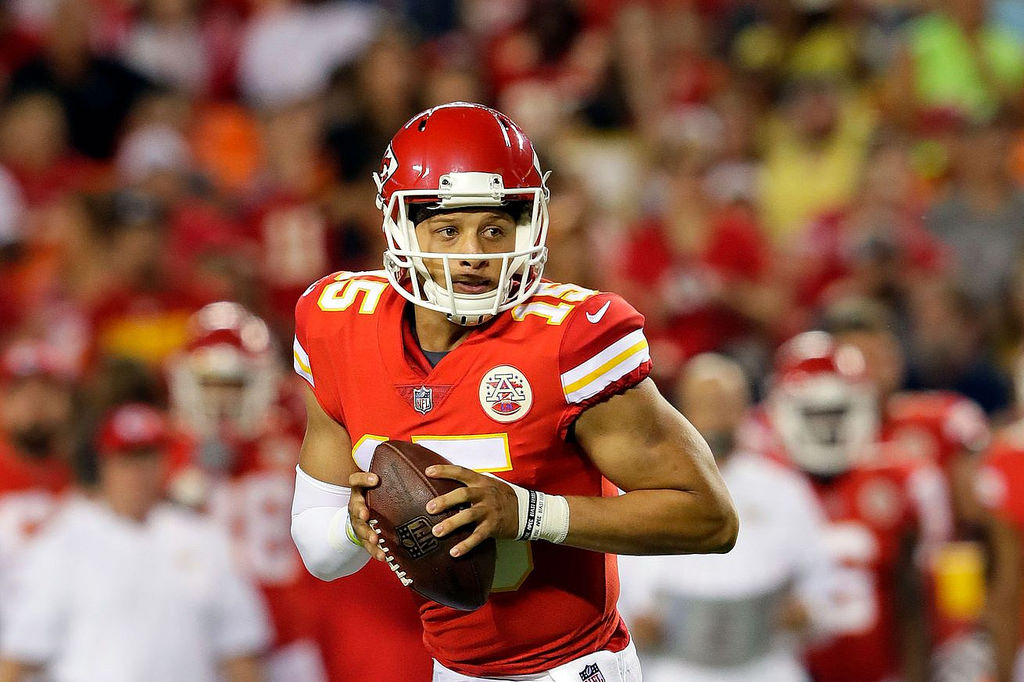 Pittsburgh Steelers vs Kansas City Chiefs Recap
The high-flying offense of the Kansas City Chiefs came to Pittsburgh for Week 2 and walked out with a 42-37 victory. The Chiefs came out hot to start both halves and never looked back. Although Pittsburgh mounted a comeback and made it close, this game was controlled by the Chiefs and their future star quarterback Patrick Mahomes. The preview article for this game is available here.
1st Quarter
This game got off to a hot start for the Chiefs, as they scored on their first three possessions. After the Chiefs held the Steelers to a 3-and-out on their opening drive, a punt return from De'Anthony Thomas set KC up at the Steelers' 10 yard line.
The second drive for the Steelers was another 3-and-out, leading to another punt. The Chiefs then struck again with a 71 yard drive. This one ended with a 19 yard touchdown to tight end Travis Kelce. On the following drive, the Steelers gained 58 yards and settled for a 49-yard field goal attempt from Chris Boswell. Boswell hooked the attempt left, however, dropping his field goal record to 0-2 on the year and halting the Steelers once again.
The Chiefs, again, took advantage of their good field position, capitalizing on it with a 61-yard drive. This drive ended with a 5-yard touchdown pass to running back Kareem Hunt, providing Mahomes his third touchdown on three drives.
2nd Quarter
The Steelers offense finally got it together in the second quarter and answered with an 81-yard touchdown drive of their own. Ben Roethlisberger was a magician on this drive, culminating in a backpedal pass for 26 yards to tight end Jesse James.
The tides began to turn after this drive, as the Chiefs offense would not score again this half. With the Defense finally stepping up, Pittsburgh's offense began to work. The Steelers had two consecutive drives that ended in touchdowns. The first went for 85 yards, ending with a 2 yard touchdown by JuJu Smith-Schuster. Chris Boswell missed the extra point, however, leaving the game at 21-13 Chiefs. This would be Boswell's second missed kick of the day and third overall this season. The following drive for the Steelers went for 90 yards, ending with a James Washington touchdown. Notably, the touchdown catch was also the rookie receiver's first ever NFL reception. The Steelers converted the two-point conversion to tie the game up at 21 going into the half. Both offenses looked sharp in the first half, combining for 42 total points, 474 yards, and zero turnovers.
3rd Quarter
Kansas City started off the second half hot once again, taking the opening possession 75 yards to the end zone. Quarterback Patrick Mahomes found Travis Kelce for the second time in the end zone with a 25 yard strike for the score. Pittsburgh then fired back quickly with a 75 yard touchdown drive of their own. The Steelers were helped by some untimely penalties on the Chiefs defense, leading to a one yard touchdown run by James Conner. Conner's touchdown knotted the game at 28 with no end in sight for either offense.
Kansas City answered right back, striking with a 3-yard touchdown pass at the end of a 75-yard drive. On the following drive, Pittsburgh stalled on a miscommunication between Roethlisberger and newly-acquired wide receiver Ryan Switzer which forced the Steelers to punt.
4th Quarter
The Chiefs kept the pressure on, as Mahomes came out firing in the fourth. Mahomes went 3-4 on the drive, eventually resulting in a 25-yard touchdown to Tyreek Hill that brought the score to 42-28 Chiefs. With that touchdown, Mahomes became the first QB to throw for 6 touchdowns against the Steelers since Jim Kelly in 1991. The Steelers stalled again the following drive, having to punt yet again.
However, Steelers punter Jordan Berry pinned the Chiefs back to their own one yard line. Following a deep incomplete pass, the Steelers defense came up big by stuffing Kareem Hunt on a 1 yard loss for a safety — making the score 42-30. The Steelers offense, again, came up empty and had to punt back to the Chiefs. As the clock ticked down, the Chiefs generally continued to dominate. Pittsburgh's defense struggled all game with missed tackles, but came up big with a forced fumble and recovery at the Steelers 34-yard line.
After the fumble, Ben Roethlisberger hit TE Jesse James for a 46-yard gain which put them in the red zone. The Steelers followed this up with a big fourth-down conversion to give them a 1st-and-goal situation. On another fourth down play from the 3-yard line, Roethlisberger escaped the pocket left and scrambled for a touchdown, making it 42-37 with 1:59 left to go.
Kansas City got the ball and were able to get a first down before having to punt back to the Steelers with 0:13 seconds left. As the play ensued, Tyler Matekevich was flagged for roughing the punter — giving the Chiefs a first down. After the penalty, the Chiefs were able to take a knee and leave Pittsburgh with a 42-37 win.
Conclusion
Chiefs
Although the Chiefs defense gave up 37 points and 475 total yards, they were missing All-Pro safety Eric Berry. Adding him back to the mix should help out a lot with the secondary of this defense. With the Chiefs winning this game through an impressive offensive showing, they made it clear that they're one of the top offenses in the NFL. Kansas City is now 2-0, averaging 40 points and 407 yards-per-game. Patrick Mahomes was the game's MVP – putting up video game numbers for the second straight week – and may be an early leading MVP candidate coming out of Week 2. The Chiefs will head home in Week 3 to play the 49ers — a game where this offense should continue to dominate and put up big numbers.
Steelers
The Steelers were without starting CB Joe Haden on Sunday and it showed. Pittsburgh's defense gave up 322 yards in the air. The Steelers pass rush, which is normally very effective, could not get to Mahomes as they registered only one sack. With no pressure and communication errors with the defensive backfield, the Steelers D were shredded all game.
The silver lining in this game for Steelers fans, though, has to be the offense's success. Although there were some cold stretches in this game for the offense, they torched the Kansas City defense for 37 points and 475 yards. Ben Roethlisberger went 39/60 with 452 yards and four total touchdowns. Pittsburgh's running game was virtually nonexistent, however, with only 33 rushing yards all game. Missing All-Pro David DeCastro may have poorly affected the running game, but the Steelers only had 13 rushing attempts — 9 of those being from running backs. Pittsburgh's record now sits at 0-1-1, their worst opening record since 2013 when they started 0-4. Pittsburgh heads to Tampa Bay for Week 3, giving the defense another tough test. The Buccaneers have lit up scoreboards through the first two weeks with an average of 37.5 points per game.
Fantasy Implications
Chiefs
This game showed us that the Chiefs offense has key fantasy players at every position. Quarterback Patrick Mahomes produced 38 fantasy points, solidifying himself as a QB1 in all leagues. Travis Kelce and Sammy Watkins both eclipsed the 100 yard mark in receiving yards, with Kelce getting 2 touchdowns. Wide Receiver Tyreek Hill put up 90 receiving yards and a touchdown. Running back Kareem Hunt had 80 total yards with a touchdown reception as well. The Chiefs had five players on offense exceed 10 points in fantasy this week. All of Mahomes, Kelce, Hunt, and Hill have solidified themselves as number 1 options at their positions.
Steelers
The Steelers offense also scored in bunches and gave great fantasy points for all owners. Ben Roethlisberger had 39 fantasy points this week. Although Ben is a QB1, he can also come up with some duds like last week and leave owners scratching their heads. I do not believe any player is as hot-and-cold as Ben Roethlisberger has been over these past few years. The surprises from this game were TE Jesse James and wide receiver JuJu Smith-Schuster. James ended with 138 yards and a touchdown, while JuJu finished with 121 yards and a touchdown as well. While James Conner only had 17 rushing yards, he added 48 receiving yards and a touchdown. Wide receiver Antonio Brown had uncharacteristically low production, finishing with just 67 yards and no touchdowns. However, despite nothing being reported in the game, it appeared as though Brown was dealing with a calf injury. This may have limited his impact, though Brown was also seen arguing with offensive coordinator Randy Fichtner throughout this game. Roethlisberger, Brown, and Conner are all worth number 1 spots at their position. JuJu Smith-Schuster has also solidified himself as a back-end WR1 or high-end WR2. With the lack of fantasy TE depth in the league, Jesse James may be worth a shot every now and then — though he is far from reliable as a weekly TE1.
Photo Credit: Nazrul Islam via Flickr
To stay updated on news from the Steelers and around the NFL, follow James Hall on Twitter: @jhallT101sports
Subscribe to get the latest news from TSJ at the TSJ 101 Sports TV YouTube channel!