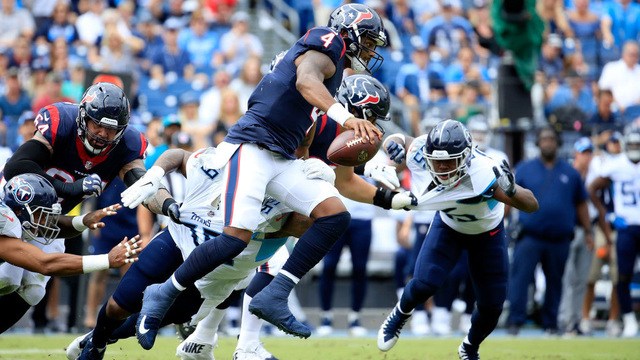 Houston Texans vs Tennessee Titans Recap
Since 2009, 71 teams started 0-2 in the NFL. Four of them have made the playoffs. The Houston Texans are one of those four to defy the odds. In 2017, After Sunday's 20-17 loss at Tennessee, the Texans will need to defy the odds once more.
Houston fell behind 14-0 before they decided to start playing football. After handing over 130 plus yards of offense in the first quarter, the Texans defense put on the clamps allowing just 44 yards and six yards.
In A Hole Early
The Texans got caught napping early and then fell asleep late. Facing 4th and 6 from their own 34 yards line Tennessee safety Kevin Byard took the the snap in punt formation and played pitch and catch with rookie defensive back Dane Cruikshank. The NFL record setting play went 66 yards for a touchdown.
Ryan Succop kicked the game winner with 60 ticks left on the clock. The kick followed a drive that took nearly six minutes off the clock. Houston unable to stop the run watched Tennessee marched from its own
Making matters more embarrassing for the Houston defense was the makeshift offensive line of the Titans. Kevin Pamphile, a free agent signee started in place of two-time Pro-Bowler Taylor Lewan who is on concussion protocol. Taylor Marz, the back-up to the back-up started at right tackle. Marz replaced Dennis Kelly out with an illness who had replaced Jackie Conklin with a torn knee ligament.
The Tennessee line kept Blaine Gabbert upright long enough to secure the win. The former Missouri signal caller completed 13 of 20 for 117 yards and one touchdown. Houston's defense sacked Gabbert once with no turnovers.
Offense Nearly Enough
Trailing 14–0, Watson capped a 6 play, 53 yard drive with a touchdown throw to DeAndre Hopkins. Hopkins catch (6/110/TD) came with less then a minute to play in the half.
A Ka'imi Fairbairn 36 yard field goal was the only score of the third quarter as Houston pulled to within four at 14-10.
The Texans took the lead (17-14) on a Watson to Will Fuller V connection early in the fourth quarter. Fuller returning from injury caught eight passes for 113 yards including that 39 yard strike.
Defense Falters In The End
Houston's defense forced consecutive punts to give the offense a chance before faltering in the end. The defense surrendered 140 yards and two scores on Tennessee's first two possessions. The next five Titan drives ended in punts. Tennessee's final two drives went for 113 yards and two field goals. Those six points were all Tennessee needed to win the game.
Watson (22 of 32 for 310 yards, 2TD's/INT) and the Texans final gasp fell short at the Tennessee 21 yard line.
Photo credit to Highlight Store via Flickr