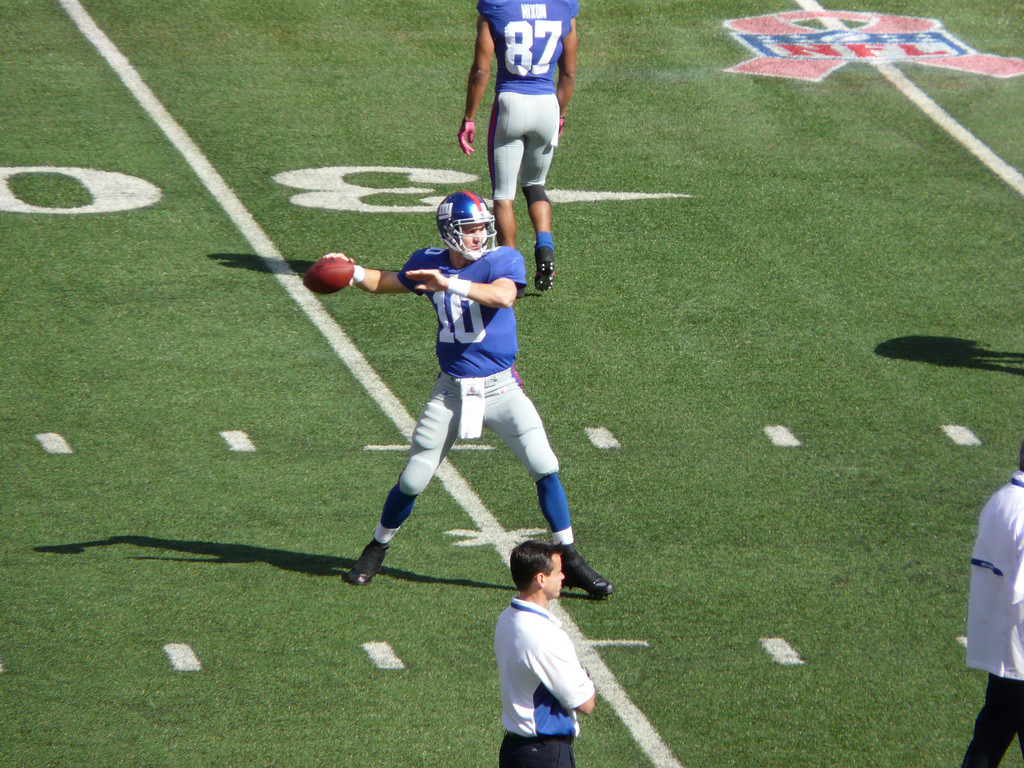 NFL Week 1: Jacksonville Jaguars vs New York Giants Recap
Jacksonville Secures a Week 1 Win against New York After a Muffed Punt in the Final Minute
The Jaguars and Giants met in the Meadowlands on Sunday without a clear favorite. The Jaguars escaped New York with a 20-15win. Jacksonville, after being forced to punt with less than a minute left in the 4th quarter, recovered a muffed punt by Clay on the New York's 21-yard line and ran out the clock. The first part of the game was equally deflating overall. Between good defensive play, lackluster quarterback performances, and poor offensive efficiency we are all glad the game is over.
Leonard Fournette Injures Hamstring in 2nd Quarter
Fantasy owners across America through their phones as Fournette went down in the second quarter with a hamstring injury. Fournette would not return to the game as TJ Yeldon entered the backfield for the Jaguars. Jacksonville head coach, Doug Marrone, told Hays Carlyon, "It's something that he felt like, he's had it before, he knows how to treat it. That makes things pretty optimistic, which normally I'm not that optimistic." While it is unclear how long Fournette will be out, he is expected to be back next week to face New England.
The Defense Came to Play. Who's Won?
Sacksonville is back, but New York's Jenkins and company are nothing to scoff at. While the Jaguars may have won the game, did the Giants defense outplay the number one ranked defense in the league?
Linebackers Myles Jack and Telvin Smith accounted for a combined 17 tackles. Jacksonville's front 7 allowed 114 rushing yards, containing rookie running back Saquon Barkley to less than 3yards-per-carry in the first half. Jacksonville's secondary struggled in man coverage through the first half. After switching to a consistent zone coverage in the 3rd quarter, the Jaguars were able to force a series of short drives. Despite those struggles, a 32-yard interception return by Jack in the fourth quarter became the difference maker.
New York's defense led by cornerback Janoris Jenkins put on a stunning performance. The Giants' defense recorded just one sack but 4 QB hits and kept Jacksonville to under 180 passing yards. A few deflected passes almost led to interceptions. At the end of the day, the Giants defense 'won' this matchup despite ultimately losing the game. Comparative to each other the Giants allowed for fewer yards; comparative to their previous seasons' performances, the Giants came back stronger (the Jaguars did have 2 more hits on the QB, 1 more sack, and an interception).
Jacksonville Jaguars
2017 Average Yards Allowed: 286 (Average Passing Yards: 169. Average Rushing Yards: 116)
Yards Allowed Week 1: 343 (Passing Yards: 224. Rushing Yards: 114)
New York Giants
2017 Average Yards Allowed: 372 (Average Passing Yards: 252. Average Rushing Yards: 120)
Yards Allowed Week 1: 313 (Passing Yards: 176. Rushing Yards: 137)
WE ARE… Disappointed?
Before the first quarter had come to a close, rookie RB Saquon Barkley looked emotional, frustrated, and exhausted. Barkley's first-half performance had fantasy owner's who took the rookie worried. The Giants had trouble moving the chains against the Jags only going 2/5 on 3rd downs in the first half. Saquon was targeted 6 times only catching the ball twice for a total of 22 yards. It was in the second half that Barkley found his stride, leaping over Griffen for a first down, ending the game with 106 yards on 18 carries. Barkley averaged 5.9 yards a carry after a long 68-yard run.
Eli Manning looked even less mobile than normal. His 67.9 QB rating was a painful performance after the Giants expensive resigning of wide receiver Odell Beckham Jr. Eli went 23/38 for 224 yards finding OBJ 11 out of those 23 times. Odell's 111 yards on 11 receptions out of 15 targets was the best of the Giants' receiving core. Evan Engram had a disappointing showing, only being targeted 5 times he caught just two receptions for 18 yards. In summation, OBJ seems to still have the team on his back. Barkley has a lot left to learn but his second half should bring Giants' fans some confidence.
Yeldon Keeps Jaguars Afloat
Jaguars QB Blake Bortles struggled himself going just 18 of 33 for 224 yards. Unlike Manning, Bortles posted a touchdown along with an interception. The Jags distributed their targets more so than the Giants. WR's Cole, Westbrook, and Jenkins combined for 11 receptions and 15 targets. Cole led the group with 54 yards (3/4).
When Fournette left the game early in the second quarter, the Jaguars win percentage sunk. Backup RB TJ Yeldon made sure the Jacksonville running game didn't miss a beat. Yeldon only ran for 51 yards but did so on 14 carries, averaging 3.6-yards-per-carry. He also notched 18 receiving yards on 3 receptions being targeted 7 times. The Jacksonville offensive felt the absence of Fournette, however, Yeldon became a formidable opponent for the Giant's tough run defense.
Late Turnovers Decide Victory
While the muffed punt with less than a minute secured the game for Jacksonville, it is doubtful that New York would have been able to capitalize off the punt had they have recovered it. The Myles Jack pick six decided this game. With great defensive performances and offensive struggles, this turnover put the game just out of reach. Had the turnover not have happened, New York would have likely had their first win. They consistently outperformed Jacksonville, just slightly, but enough to earn the victory. Their performance should have the rest of the NFC East on notice.
Fantasy Takeaways
Barkley only scored 20.8 fantasy points ranking him as the 8th highest scoring RB for the week; this number is likely to drop as there are still games to be played. Don't rely too heavily on the young RB if you have him on your team. Evan Engram's few targets hurt his fantasy production; consider starting another TE even if you have to pick one up off the waiver. If you drafted OBJ, you're in good condition; the WR is in great shape and Eli still loves hitting him. It is assumed that Fournette will be back for next weeks matchup, however, picking Yeldon up off the waiver is a smart move. If Fournette is not back, Yeldon will be an offensive keystone.
Photo credit to Marianne O'Leary via Flickr