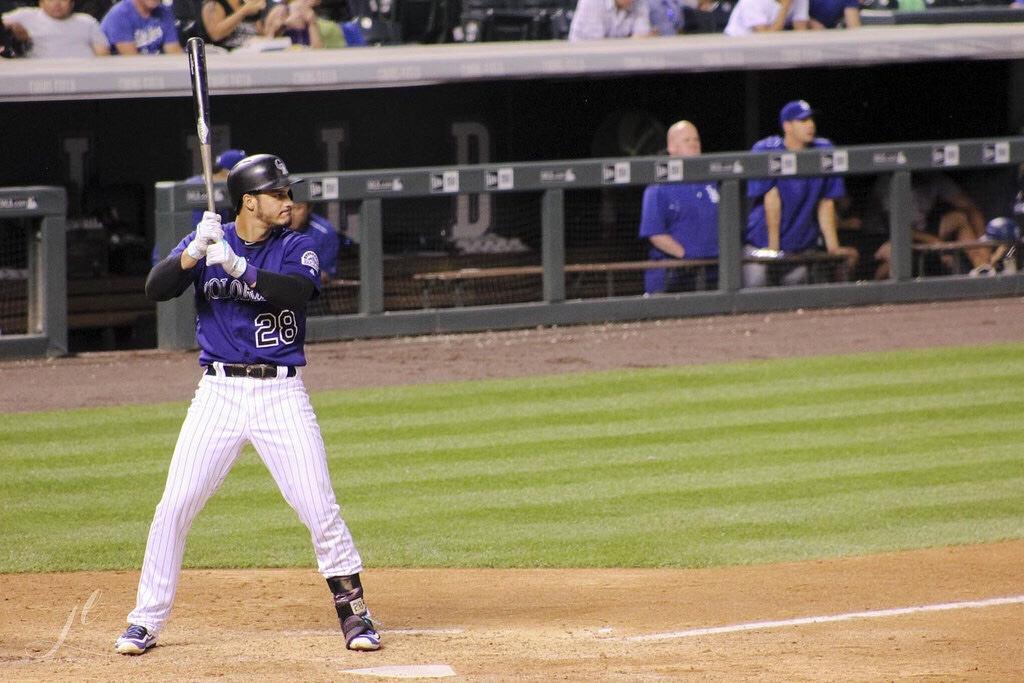 Nolan Arenado: The "Darkhorse" Candidate Poised To Win NL MVP
Javier Baez. Matt Carpenter. Max Scherzer. Jacob deGrom. Those are the names you'll see most often when reading about the favorites for the NL MVP race, with Arenado or Freeman thrown in the mix on occasion, but never at the top. Let's try and take a (relatively) objective look at the contenders, and once I show how awesome Nolan is, and you will agree with me that he should be the favorite to win this prestigious award.
Quick disclaimer: let's toss pitchers out of the running for NL MVP. They have their competition with the Cy Young Award, so why do guys like deGrom and Scherzer keep getting lumped into the top of the MVP discussion? They can only make an impact about one out of every five games, so I don't see how that can be deemed more valuable than an every-day player who is carrying their team. A prime example is deGrom, who has been by far the best starter regarding limiting the opposition all year, yet he's 8-8, and his team has a losing record when he pitches. Degrom, Scherzer, and Nola are all having incredible years, but they cannot be in the MVP discussion. Simple as that.
Also – I am seeing people who will point to some of the defensive metrics and put Lorenzo Cain in the NL MVP discussion. Call me old-fashioned, but the guy has nine HR and 32 RBI and doesn't crack the top five in batting average. Great in Center Field though.
The Favorite
So, let's take a peek at the rest of the heavyweights, starting with Nolan. What's the biggest knock on Arenado, or any Rockies' hitter up for a potential award? They play at Coors Field, of course. And while his home average is significantly higher at Coors then away from it (.356 to .269), he has hit 17 home runs and 48 RBI at home, with 14 homers and 42 RBI on the road, all while playing more games at home so far. That is comparable production, something that most people in the sports media world seem to ignore.
What if he won the Triple Crown, would that be enough to sway the voters? The only player to win the award since 1967 is Miguel Cabrera (2012). The last NL player to do it was in 1937, by the famous Joe Medwick. He also won MVP, as did Cabrera. But since no one is talking about Nolan as a legitimate Triple Crown threat, he must not even be close to it, right?
Wrong. He's(Arenado) is second in HRs with 31 (three back of Carpenter), third in batting average at .311 (a mere 6 points behind Freeman for the lead) and third in RBI (seven behind Baez). Even if he doesn't win the Triple Crown, being top three in all three major offensive categories, combined with his 5.2 WAR (which leads all National League position players, according to FanGraphs) and platinum glove at third base all adds up to an NL MVP award – If he can at least maintain this pace until the end of the year.
The Rest Of The Pack
Now haters will say you have to look at the other major players in this race, so let's do it quickly. Discarding the pitchers (duh), experts predict Baez, Carpenter, and Freeman as the top guys for the award.
I can quickly throw out Carpenter – the guy has had a fantastic stretch since he was hitting .140 in mid-may (true story), but he's still only at .267, with 34 HR and 69 RBI, and plays mediocre defense. The Cardinals are on fire, and if there was an MVP award for baseball played after May 15th, it might go to Carpenter. But those numbers are still pedestrian outside of the home runs.
Freeman leads the league with a solid .317 average, but has only 20 HR and 78 RBI – substantial numbers, but far off the league lead, and the dude plays first base. He's excellent over there, but it is not by any means the most critical position on the field.
That brings me to Javy Baez, who should be the biggest threat to Arenado. Javy has upped his average to .296 while banging 29 HRs and 97 RBI, the latter of which leads the league. His WAR among NL position players is 7th, but he has a great glove. Although he hates walking, which I enjoy it's not the best for your team. As a viewer, walking is lame. Just saying.
Also – let's give Paul Goldschmidt some love, who looked lost entirely through two months of the season, but is now getting some deserved NL MVP buzz. While I believe he falls into the Carpenter category of "it's tough to suck for two months and still win MVP," if he has a durable finish and leads Arizona to an NL West title, I wouldn't count him out.
The (Only Logical) Conclusion
To me, the numbers, both offensively and defensively, point to Nolan. There's a lot of baseball to be played, and things could change drastically, don't get me wrong. If it seems like a toss-up at the end of the year to the voters between Arenado and Baez (currently the two most worthy contenders, in my mind). Then I think if you compare being the best player on a powerhouse, perennial playoff-contender like the Cubs vs. being the best player on a small-market Rockies team that has never won a World Series and is perennially a disappointment, Nolan gets the edge there as more valuable.
So assuming all the people who vote on NL MVP read this and agree with me (a very likely outcome), what will it mean for his future? Sadly, for Colorado, it may be the end of Arenado's tenure with the Rockies. He will be an FA after next season, and for a superstar in his prime, will likely command a contract. And with so many zeroes I'd need a new article to fit them. While I hope the Rockies' management ponies up and pays the man. If they fail to win some playoff games this year and next, no amount of money may keep him in Colorado.
Nolan has famously said he is sick and tired of losing. So, while winning NL MVP will guarantee him a truck-load of cash. It may also ensure he can handpick his desired destination. Which will be somewhere he is confident he can compete for World Series' rings on a yearly basis. And as a baseball fan, he deserves that chance.