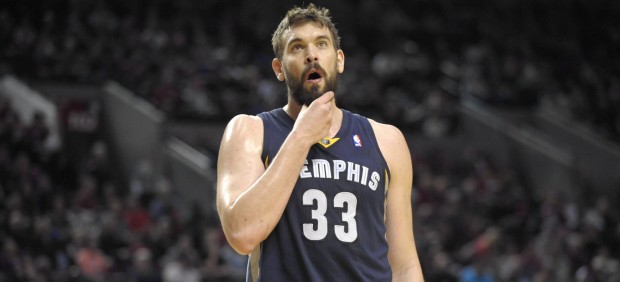 Why Marc Gasol Could Leave The Grizzlies Next Summer
The Memphis Grizzlies franchise is at a crossroads. Their star big man Marc Gasol, who was unhappy with his situation with the franchise at times last season, can be an unrestricted free agent next summer. He has a $26 million player option in his deal which he can opt out of next summer. The Grizzlies are looking to return to the playoffs after a rough 2017-18 season, but the western conference is very tough. If Gasol is unhappy with his role and the direction they franchise is going, they should try to trade him.
The Grizzlies Can't Afford To Lose Marc Gasol For Nothing
Just like most small market teams, the Grizzlies aren't a destination for star free agents like LeBron James and Kevin Durant for example. They know Gasol has a $26 million player in his deal for the 2019-20 season. They should consider trading him. Just like his older brother Pau Gasol, he's skilled and has adapted to today's NBA. However, he's best suited to be a complementary star on a contending team. No doubt, a healthy Mike Conley will help the Grizzlies be competitive again, but are they good enough to grab one of the eight playoff spots in the west? Right now, it's not looking like it.
The First Few Weeks Of The Season Will Tell The Story For The Grizzlies
With the Grizzlies being in the brutal western conference, they can't afford to get off to a slow start. A slow start will likely spark Gasol trade rumors. They're hoping Gasol and Conley can recapture their magic they had from the "Grit and Grind" era.
The Grizzlies will go as far as they carry them. February is the month to keep an eye on because if the Grizzlies aren't in playoff contention, expect teams to really start calling about Gasol's availability. If they choose to roll the dice and keep Gasol instead of trading him, he just might opt out of the $26 million he'll be owed in 2019 and join a contender.