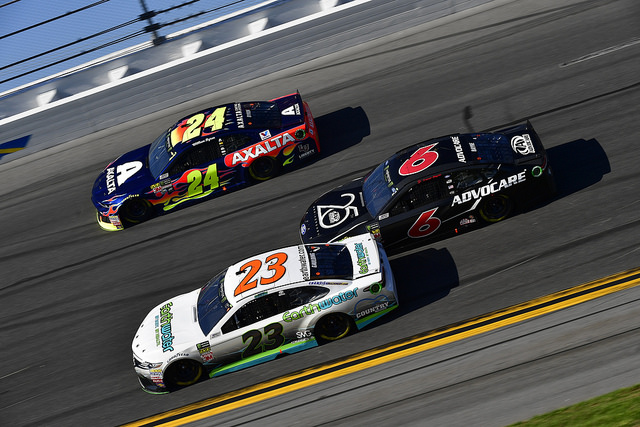 BK Racing Assets Bid On By Several Other Teams in NASCAR
In US Bankruptcy Court earlier this week, the future of BK Racing was determined. Several race teams bid on assets from the 23 team. The BK Racing team owed Union Bank & Trust about $9 million in loans and interest payments. However, the team sold for just over $2 million, well short of their debt. The judge has yet to approve the purchases by the 3 separate teams, most notably Front Row Motorsports.
By all measures, 2018 has been a disappointing season for BK Racing. Team Owner Ron Devine entered Chapter 11 Bankruptcy in February, just before the Daytona 500. A Trustee took over control of the team in March. The 23 team is currently 34th in Owner's Points after 24 races. With 4 different drivers in the 23 this season, the team's best result has been 18th, at Daytona in July. The BK Racing driver lineup in 2018 has consisted mostly of Gray Gaulding, in addition to JJ Yeley, Blake Jones, and Spencer Gallagher.
Front Row Motorsports Shows Interest in Majority Takeover
Current Monster Energy NASCAR Cup Series team Front Row Motorsports placed the highest bid on Tuesday. They wish to take ownership of most of BK Racing, including their charter, for just over $2 million. FRM competes the 34 and 38 Fords for David Ragan and Michael McDowell. They have previously bought a charter from BK Racing.
Front Row Motorsports was initially granted 2 charters back in 2016. In December of that year, FRM bought a 3rd charter from BK Racing, which was for their 83 car. The 3rd FRM charter is currently leased to TriStar Motorsports for the 72 car. FRM President Bob Jenkins hopes to enter 2019 as the owner of 4 charters.
With 4 charters, Front Row Motorsports will likely lease out the formerly BK Racing charter for the 2019 season. It is currently unknown who will take this charter. This is because many 2019 Cup Series team lineups are not final.
Unusually Short Auction Between 2 Teams, Others Get Some Equipment
In Court on Tuesday, the overall auction for a majority of the BK Racing assets lasted for all of 3 minutes. GMS Racing placed the initial bid at $1.8 million. They were quickly outbid by FRM at $2 million. Besides FRM, other equipment went to Obaika Racing for their $265,000 bid. Lastly, Rick Ware Racing picked up a transporter truck for $35,000. Once again, these sales are not final yet. The judge in Bankruptcy Court must approve all 3 of these purchases.
GMS Racing President Mike Beam expressed interest in still fielding a Cup Series team in 2019. We will continue to follow this story.
How BK Racing's Sale Will Affect Racing on Sundays
From a distant view on the sport, the sale of BK Racing should not affect much for most fans. However, a new team will likely have a charter next season, and thus run every race. With the close partnership at Roush-Fenway Racing, FRM may have a performance uptick due to the new equipment. However, do not expect to see the 34 or 38 as consistent top 10 or winning cars anytime in the near future.