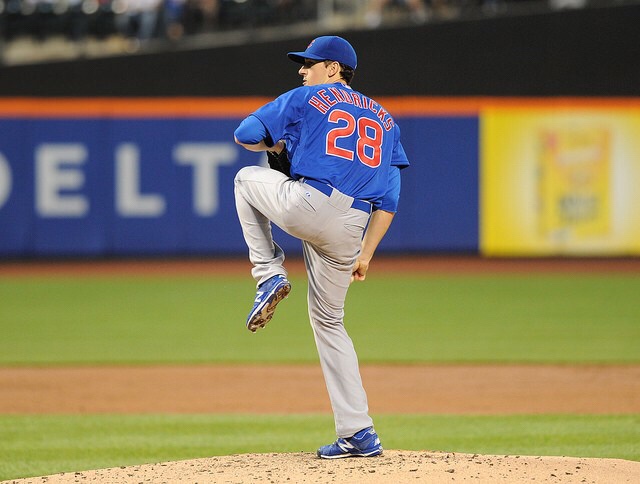 Cubs Open Brief Two-Game Series Against Detroit
After splitting what seemed to be a favorable series win in Pittsburgh, the Cubs move on to a brief two-game series against Detroit. Kyle Hendricks and Jon Lester are the ones who drew the spots for the starts. And I'm sure Joe Maddon and company is looking to them to lead the way to victory. The only thing is, will the offense be able to produce any runs? If the offense plays anywhere near the way they played against Pittsburgh, it's going to be a rough two games.
Kyle Hendricks Set For The Start
I think we can all agree that Kyle Hendricks has been a shell of his 2016 form the past couple seasons. He hasn't quite figured it out entirely yet this season, but he is almost there. In his last nine starts, Kyle Hendricks hasn't given up more than four earned runs in each of those starts. It may not sound the best, but the Cubs offense hits well with him on the mound. And the Professor is very good at bouncing back from a bad inning and shutting down the offense. Keeping the Cubs in the game.  However, all of this means nothing if the offense can't score any runs. Whatever happened in Pittsburgh can't make it's way down to Detroit.
Kyle Hendricks Final Line(Prediction)- 6.0 IP, 3 R, 3 ER, 4 H, 1 BB and 5 SO
Jon Lester Get's The Nod For Game Two
Having a rough stretch after the All-Star Break, Jon Lester finally had a dominant outing in which he was able to go six innings and gave up just five hits on no runs, no walks, and eight strikeouts. And that was against a formidable Pittsburgh offense that can score a lot of runs at any moment. Now going up against this Tigers team that ranks 24th in the league in AVG and 27th in OPS. It's a good chance for not only Lester and Kyle to get into a good groove. Also the offense, against this Tigers rotation that ranks 20th in ERA and 18th in WHIP. The Cubs need to take advantage of this series as much as possible.
Jon Lester Final Line(Prediction)- 7.0 IP, 2 R, 2 ER, 5 H, 2 BB and 5 SO
Offense Needs To Step Up
This past series against Pittsburgh may have been the Cubs weakest offensive showing yet. Scoring just four runs in the entire four-game set is something most people don't want to see. And against this Tigers pitching staff it shouldn't be too complicated to rattle off at least five runs both games. The offense needs to turn things around before their lead shrinks too low.