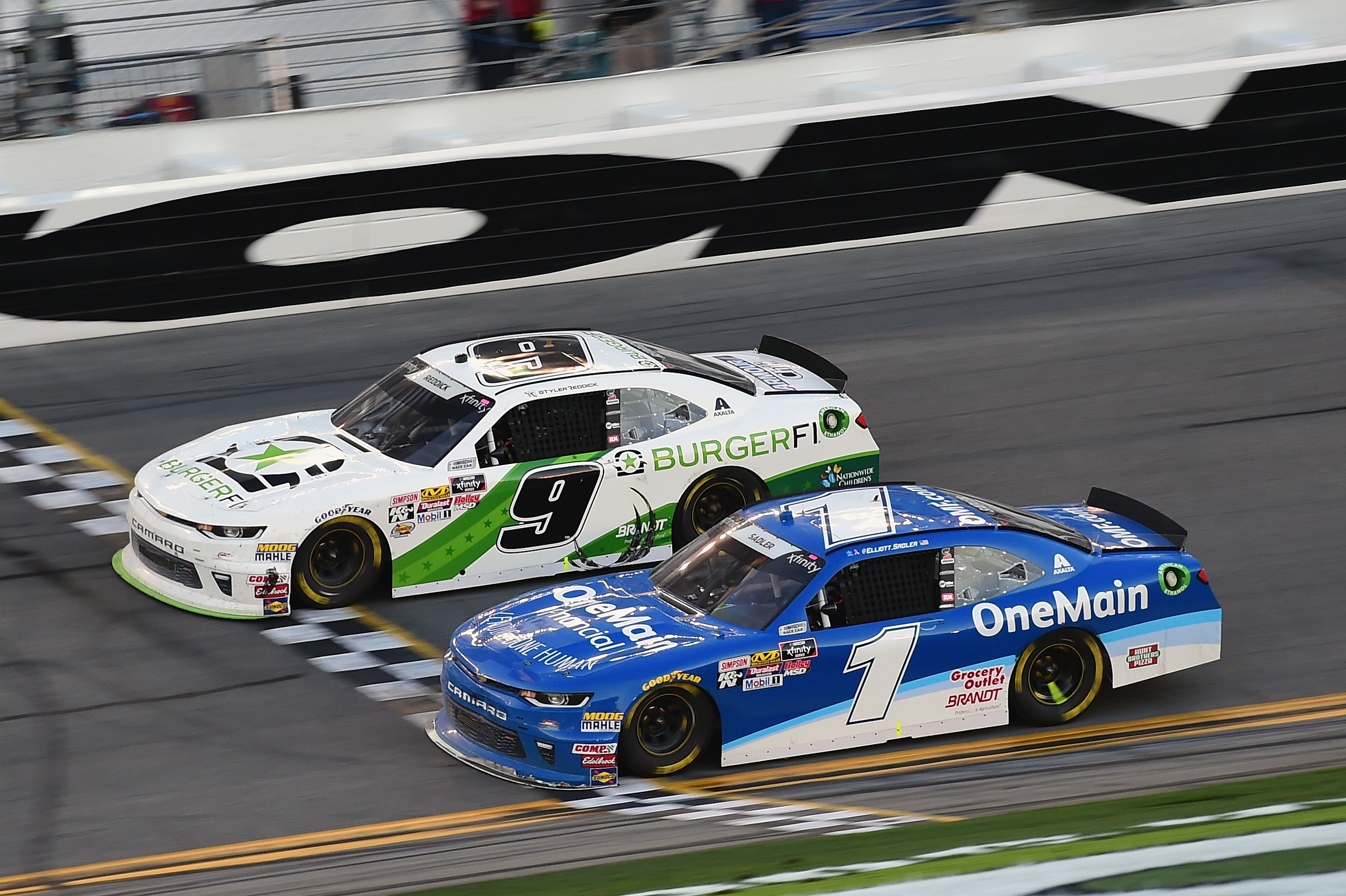 Elliott Sadler Announces that 2018 Will be his Final Season of Racing
In a statement released via Twitter on Wednesday, Elliott Sadler broke the news of his retirement from racing. This comes after his primary sponsor, OneMain Financial, stated that they would not return in the same capacity next season. Sadler said that "it's time for me, as a Dad, to help my kids pursue their dreams."
As for who will replace Sadler in the JR Motorsports 1 car, no statements have been released by JRM or any other drivers. We will not speculate at this time who will fill this seat. However, this is a championship level team that is now open for 2019. They will likely land a high-caliber driver at JRM.
Career Highlights for Elliott Sadler
Currently a driver for JR Motorsports in the NASCAR Xfinity Series, Elliott Sadler is 1 of 31 drivers with wins in all 3 NASCAR national series. Since 2011, he has contended for the Xfinity Series championship, finishing in the runner-up spot 4 times.
At 43 years old, Elliott Sadler is one of the elder statesmen of the Xfinity Series. Making his debut in 1995, Sadler has more experience than most of the field in NASCAR's second-tier series.
Upon making the transition to the Cup Series full time in 1999, Sadler saw some success at the top level. He won 3 times, and made the inaugural Cup Series Playoffs in 2004. His best finish in the Cup Series championship was also in 2004, when he was 9th in points.
After a couple lackluster seasons in Cup, Sadler moved back to the Xfinity Series for the 2011 season. He was racing for Kevin Harvick, Incorporated, where he won a Truck Series race in 2010. After that season, KHI was merged into Richard Childress Racing. For KHI and RCR, Sadler won 4 races and finished 2nd in points to Ricky Stenhouse Jr for both seasons.
When his duration at RCR was complete, Sadler moved to Joe Gibbs Racing's Xfinity Series program for 2013. He was winless that year, but would break a long losing streak with JGR in 2014 at Talladega. 2015 would be Sadler's 1 season at Roush-Fenway Racing in the Xfinity 1 car. He would finish 6th in points for that season without any wins.
Sadler's Career Reboot with Some Old Friends
For the 2016 season, Sadler made yet another team change in the Xfinity Series. This time, he would align himself with a couple of longtime friends, Dale and Kelley Earnhardt at JR Motorsports. In that first year, Sadler amazingly won 3 races, and finished 2nd in the championship. His 3 wins that year were at Talladega, Darlington, and Kentucky. Even though Sadler has been winless since then, he was the 2017 Regular Season Champion in addition to runner-up in the championship yet again. He has also led the points for much of this season.
Sadler's full time NASCAR career only has 12 remaining races in 2018. With this in mind, he is looking as strong as ever to contend for the Xfinity Series championship. He is in the Playoffs based on points, and is in a tight battle for the Regular Season Championship. As a now sentimental favorite for the title, we will have to see if Elliott can battle against the best for another title at Homestead.