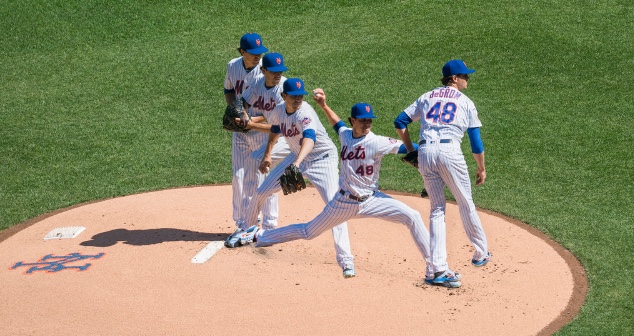 Jacob deGrom Delivers Another Gem For The Mets
After a strong performance again last night against the Yankees, deGrom proved once again that he deserves the NL Cy Young Award. deGrom allowed three runs (2 ER), two hits, two walks, and punched out twelve over 6 and 2/3 innings. His outing brought his MLB-leading ERA to 1.81 and a 7-7 record on the year. deGrom out-duelled Yankees ace Luis Severino as the Mets beat the Yankees 8-5 Monday night.
Jacob deGrom's Case For The Cy Young
The debate is alive and well as to who deserves the National League Cy Young between Jacob deGrom and Max Scherzer. Both are indeed deserving, but the question of who will win remains uncertain. On the year, Max Scherzer is 15-5 with a 2.19 ERA and 227 strikeouts. Jacob deGrom is 7-7 with a 1.81 ERA and 195 strikeouts. The most common argument you'll hear for Scherzer is his 15 wins. But do wins matter?
Should a pitcher be penalized if he is on a losing team? It doesn't seem fair in deGrom's case as his career year has been one of the few bright spots for Mets fans. When you look at the primary objective of a starting pitcher, they need to put up zeros. Their main goal is to give their team the best chance to win each night, which deGrom continues to do. Aside from the record, deGrom still has dominant numbers just like Max Scherzer. He has continued to thrive, posting video game numbers at a record pace.
What Will It Take For Jake To Win?
As we continue to watch deGrom's historic season for the Mets, we also watch sports news media discredit him for his win-loss record. The poor offensive production from the Mets should not penalize his chances as one of baseball's best pitchers. It seems to be more clear that the Mets will have to continue to provide offense for deGrom to improve his chances at a Cy Young. Assuming he doesn't implode in his last few starts, he certainly deserves more consideration than he seems to be getting. Mets fans will undoubtedly be vocal for deGrom's case as the National League's best pitcher.