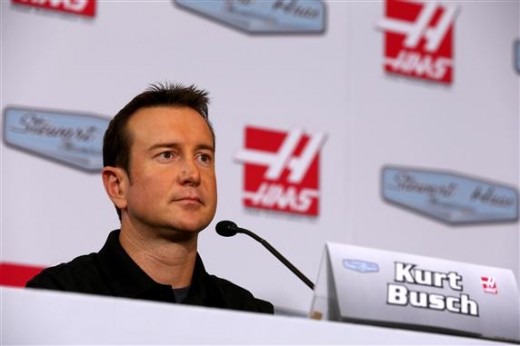 Kurt Busch Likely To Leave Stewart Haas Racing For The 2019 Season
It's no secret that Kurt Busch and Stewart-Haas Racing haven't seen eye-to-eye on contracts. With SHR not accepting Kurt Busch's 2018 contract option, the deal for the two to stay together was not final until late December. The contract signed was only for one year.
An article was released Friday confirming that Kurt Busch was going to drive the #1 Chip Ganassi Racing Chevy in 2019. The article went on to say that CGR would not have current driver Jamie McMurray return. As for sponsorship, Monster Energy would also leave SHR and stay with Busch. The article also mentioned that sources speculate Cole Custer will not replace Busch in the #41. Custer is currently a full time Xfinity Series driver for SHR.
NBC Sports caught up with Busch following qualifying at Michigan International Speedway on Friday regarding the recent news. "I'm talking to a bunch of teams out there," Busch told NBC. "There's nothing that's been signed and whatever has been reported is all hearsay."
Since joining SHR in 2014, Kurt Busch has scored 5 wins in the Cup Series. This includes the 2017 Daytona 500, which is Busch's most recent win to date.
SHR's Co-Owner, Gene Haas, made mention that he thought 2019 would be Busch's last season competing in the Cup Series. With the possibility of retirement, switching teams could be a burden to both the driver and team. Haas also reported he still plans on running a 4-car operation for the 2019 season.
Who Would Take Over The #41?
With the possibility of Kurt Busch leaving SHR, who would take over driving the #41? Why not Jamie McMurray? The car has proven to be top quality equipment. With only 4 races in the regular season, all SHR drivers are currently in the top 12 in points. Three SHR drivers, including Busch, are in the top five.
The seat swap would be very strange for the NASCAR world, but if McMurray wasn't ready to hang up the helmet, SHR may be a great fit. Going into the NASCAR Playoffs, it doesn't seem that McMurray will make the postseason. He currently sits 22nd in the overall points. This dismal points position is the result of one of McMurray's worst starts to a season in his career. 2018 will likely be the 1st season since 2014 where McMurray will not make the Playoffs. With only 7 career wins, a fresh start could be great momentum for the Missouri native.
When asked about the recent news McMurray told NBC "I don't talk about contracts."
This is just the first of what will surely be a long and story-filled silly season for the Monster Energy NASCAR Cup Series. Stay tuned to TSJSports NASCAR for all coverage of the Kurt Busch story, as well as all of the NASCAR silly season news.