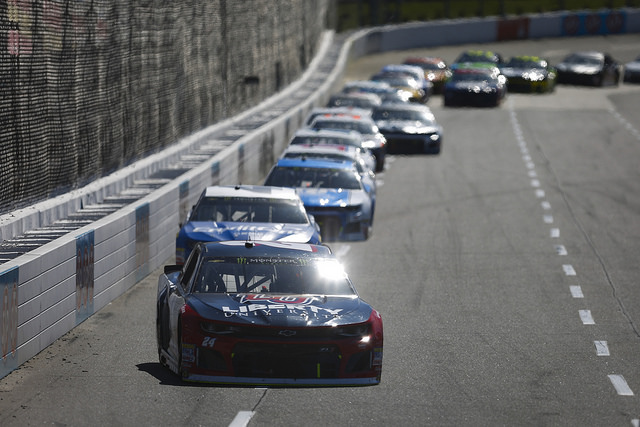 Who will be the Next First Time Winner in the
Monster Energy NASCAR Cup Series?
So far in the 2018 Monster Energy NASCAR Cup series, there have been 2 first time winners, Erik Jones and Chase Elliott. While it took Elliott 99 starts to win his first race, it only took Jones 57 starts to win. Who will be NASCAR's next first time winner?
Last year there were a total of 3 first time winners, Austin Dillon, Ricky Stenhouse Jr and Ryan Blaney. Austin Dillon, driving the number 3 Chevrolet SS, won his first race at Charlotte Motor Speedway at the Coca-Cola 600. The race went late into the night, it ended on Monday. Ricky Stenhouse Jr won his first race at Talladega Superspeedway after some of the field was collected in the big one. He won his second race at the July Daytona race. Ryan Blaney won his first race at Pocono Raceway. He made a late pass and held off 2014 Champion Kevin Harvick to get his first win.
Daniel Suarez
Sophomore driver for JGR, Daniel Suarez could be the next first-time winner. He drives the number 19 Toyota Camry for Joe Gibbs Racing. Suarez got his first pole at Pocono but finished second to the 2015 Champion Kyle Busch. Suarez has only raced a total of 58 races, one more then Erik Jones had when he won his first race. Currently in his 2nd season, Suarez has only been racing in the Cup Series since 2017. From 2015 to 2016 he was a full-time Xfinity Series racer. Suarez won the Xfinity Championship in 2016 along with 3 wins and 27 top 10s. He also had an average finish of 8.0 that year. Now in the Cup series, his average finish is 17.8. He has received 6 top 10s this year. He is just starting out, so he has plenty of time to improve in the Cup Series.
William Byron
Rookie driver William Byron is another who could be the next first time winner. At the age of 20, he was placed in the number 24 Chevrolet Camaro ZL1 for Hendrick Motorsports. He has received 3 top 10s and he has led 53 laps. He has an average finish of 19.4 so far. 2018 is his first Monster Energy NASCAR Cup Series season, he has only run 22 races.
Last year he was competing full time in the NASCAR Xfinity Series, where he won 4 races and got 22 top 10s. He also had 2 poles and ended up winning the championship. In the Camping World Truck Series, Byron was very dominant. He won a total of 7 races and could have won the championship. However, a DNF at Phoenix kept him from making it to the Championship 4. He finished 5th that year in the standings, which was the best he could do. Byron raced in the K&N Pro Series East when he was 17, where he won 4 races, earned 11 top 10s, and had an average finish of 6.8. He won the 2015 championship that year.
Alex Bowman
Far from being a rookie driver, Alex Bowman has a chance at being the next first time winner. In 2014 Bowman raced a full season in the Cup Series; he didn't do too well though, he had no wins, no top 10's and an average finish of 32.6. He raced in 2015 too, he led a total of 3 laps and had an average finish of 31.6.
In 2016 he only raced 10 races because Dale Earnhardt Jr was injured in a crash. That's when Bowman got another chance to prove he was good enough. Bowman had an average finish of 19.7 and got 3 top tens and 1 pole. In 2018, he took over for Dale Earnhardt Jr in the number 88 Chevrolet Camaro ZL1 for Hendricks Motorsports. He has an average finish of 15.2, he has led 67 laps and received 8 top 10s and 1 pole. Bowman won 1 of 2 races he ran in the 2017 Xfinity season.  Bowman won the only 2 ARCA series races he competed in during 2011. He also had 4 wins in the 2012 season.
Darrell Wallace Jr
The other rookie contender, Darrell Wallace Jr could be our next first time winner. He started driving in the Cup series in 2017. He drove in the 43 for Richard Petty Motorsports for 4 races while Aric Almirola was out of the car.  Almirola had gotten a back injury at Kansas Speedway, he was back in his car by New Hampshire Motor Speedway.  Darrell Wallace got a ride full time in the 43 Chevrolet Camero ZL1 for Richard Petty in the 2018 season. So far he has gotten 2 top 10s and he's led 15 laps. His average finish so far is 22.6.
Darrell Wallace previously raced in the Xfinity Series from 2012 to 2017. He got 35 top 10s out of the 85 Xfinity races he ran. Wallace also raced in 45 Camping World Truck Series races and got 6 wins and 27 top 10s. He raced in 37 K&N Pro Series East races throughout 4 years. At that level, Darrell won 6 races, got 26 top 10's and had an overall average finish of 8.8 . Darrell Wallace raced 1 race in the CARS Super Late Model Tour, he qualified 6th and finished 1st, leading 67 of 100 laps.
With 5 new drivers becoming a first time winner in the Cup Series since 2017, the odds of another driver earning career win 1 are high. If one of these drivers can win in the next 4 weeks, it would also shake up the Playoff standings. Only time will tell when another new face will make into Cup Series victory lane.