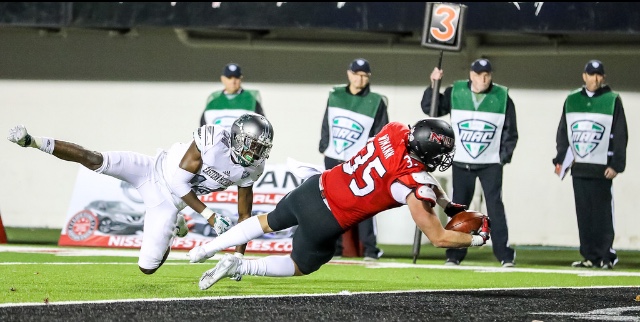 Northern Illinois Football Preview, A Winning Tradition Continues.
Among all teams in the Group of Five (with the exception of Boise State), possibly the most consistently winning team is the Northern Illinois football program. Since their breakout 2003 season when they beat 2 ranked opponents in Maryland and Alabama, the Huskies have competed for bowl games and MAC Championships every year (Except 2007. That was an anomaly). This run culminated in 2012 when they went 11-1 and made an appearance in the Orange Bowl. They lost that game after standing toe to toe with FSU for 3 quarters. That was also the beginning of the Rod Carey era, one that has seen the team stay consistent. They've never gone to the next level, though, and they've had their chances. One was hanging in with number 1 Ohio State a couple of years ago. Also their numerous bowl appearances. But Carey and his staff never come through. Now he knows the clock is ticking to get this team to the top of the Group of Five, win the Conference, and get into a New Years Six bowl. Cause winning is not just a tradition in Dekalb anymore; it's an expectation.
One Big Question?
Can they find a quarterback who can stay healthy? This has been challenging this team for two years now. The expected quarterback is Marcus Childres, a sophomore who has enough experience to guide a team with an offensive line lead by 2 All-MAC guards, and a ferocious defense that returns almost all its starters from last year. So this team has the personnel to win and win a lot. If they can keep their QB at full health.
Prediction
The other problem for this team is their schedule, which is brutal with three Power Five teams in the Non-Conference slate. They also face a BYU team that looks to bounce back big this year. The only solace in that slate is they get one of the P5 teams at home (Utah in Week 2.)  Overall I have this team at 9-3 with losses to Iowa, Utah, and Florida State. I don't foresee much trouble in Conference play with how stacked the defense is.
Game to Watch
Florida State has to be the one. Everyone is saying FSU is back. I'm not sure, however. This team was completely lost last year, They bring in a coach who didn't win a lot at Oregon, and NIU has a history of beating ACC teams in the regular season. A win for NIU here could define this season and the program in the near future.
Upset Alert
Not necessarily an upset alert, but a team that will take NIU to the end and could win the game is Ohio. It's expected this team will win the East and will challenge Northern Illinois in the MAC Championship (Though we said that last year and somehow Akron won the East.) This first matchup will be critical, and possibly the Game of the Year in the MAC. So you should definitely tune into it.