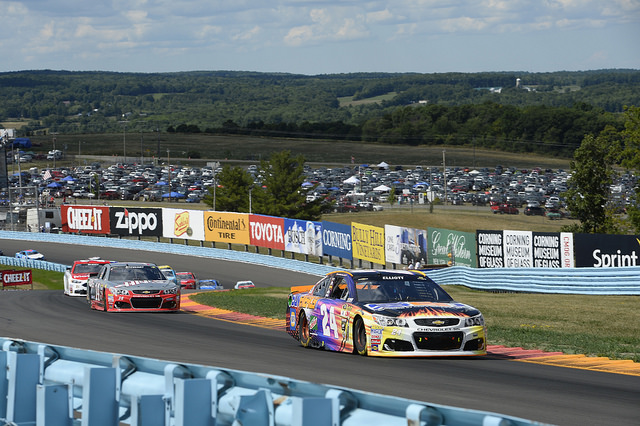 Can the Young Guns Pull Off The Upset at Watkins Glen?
Heading into this weekend's race at Watkins Glen, the young guns are the talk of the garage. In last weekend's event at Pocono, it was 33 year old Kyle Busch who won. However, many other young drivers gave him a run for his money. Could one of those drivers have a chance this weekend?
The Young Contenders With Momentum
The driver with the best run of the young guns in Pocono was Daniel Suarez. Though Daniel is the oldest in the young gun category at 26, he's only in his second season of Cup racing. In Pocono, Daniel led 29 laps after claiming his first ever pole in NASCAR's top series. After multiple late-race restarts, Daniel came close, but was only able to finish 2nd to Busch. The Monterrey, Mexico native has the highest possibility among young guns of claiming his 1st career win this weekend. He was able to win his first stage, and claim his first ever top-five finish at this track 1 year ago.
Another driver who finished in the top three in Pocono was 25-year-old Alex Bowman. The driver of the 88 claimed his first top 5 of the season, and looks to keep that momentum alive. Alex has made two other starts at The Glen, resulting in 36th and 29th place finishes. But both of those starts were made in non-Hendrick Motorsports equipment. The team finished 9th in Sonoma, one of the NASCAR Cup Series' three road courses, earlier this season.
Other Young Drivers to Watch For
Other young guns include Chase Elliott (22), Erik Jones (22), and William Byron (20). All three drivers finished inside the top 7 in Pocono and led laps. Jones and Elliott both have at least one prior start in the Cup Series at The Glen.  Jones finished 10th in last year's event, while Elliott has finished 13th in both of his 2 starts at the track. William Byron, however, will be visiting Watkins Glen for the first time in a Cup car.  In Byron's one Xfinity Series start at the upstate New York track, he finished 10th.
Though the chances of a young gun pulling the upset in Watkins Glen are very small, it's still very possible. Be sure to tune in Sunday to see if a young gun can win the GoBowling.com at The Glen!