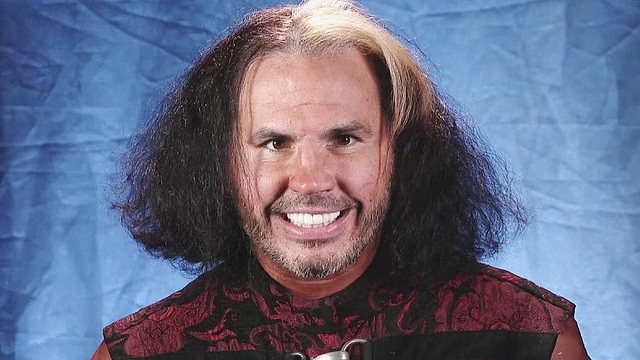 Matt Hardy
Matt Hardy, creator of the "broken universe" and one half of Team Xtreme has been putting some cryptic messages on his official Twitter account.  Right after The Deleters of Worlds (Woken Hardy and Bray Wyatt) lost their tag team titles. Interestingly enough, they dropped the belts to The B Team (Bray's real-life brother Bo Dallas and Curt Hennig's son, Curtis Axel). This happened last month at the Extreme Rules PPV.
What do these messages mean?
Since then, though, Matt has been busy. The "Woken Warrior" did send out a couple of cryptic tweets over these few weeks; presumably hinting the end of The Deleters of Worlds. Or, perhaps that he will be rejoining with his brother Nero, aka Jeff Hardy, on SmackDown Live.
The First Cryptic Tweet…
"It may be time for US to move on…"
It was tweeted after they lost the tag team titles.
The Second Tweet comes after the WWE Universe Official Twitter account posted this:
"Well, The #DELETERSofWorlds didn't take that loss lightly… #RAW @MATTHARDYBRAND @WWEBrayWyatt"
Hardy re-tweeted with:
 "DONE"
And additionally, this past week, he tweeted this. And honestly, this seems to be thanking the fans, more like a farewell:
To all that supported me in the independents & OMEGA..

To the fans of Team Xtreme..

To the Mattitude Followers..

To the OUTSPOKEN fans who brought me back in 2005..

To the people who backed me when I was REINCARNATED in pro wrestling..

To the #WOKEN Warriors..

THANK YOU. pic.twitter.com/YkEILcoZh8

— #WOKEN Matt Hardy (@MATTHARDYBRAND) August 1, 2018
https://platform.twitter.com/widgets.js
Speculation of Retirement?
That last tweet really started some rumors. Because of it, fans began to quickly wonder if perhaps Mattitude would be hanging up his boots for good. After all, he is certainly getting older and has a family to care for. But what do you guys think?
Is he really retiring?
Maybe this is just another mind-game he's great at playing? Or, could this perhaps be another complete re-boot of his character?
A Note from the Writer
Ah, but don't forget.
Hardy also has a creative control over his character and storylines. But yes, in the long run, I think he still has to answer to Mr. Meekmahan. Certainly, this run with the WWE has been frustrating for him. However, it is important to remember that all the ups and downs aren't solely Creative's fault. In fact, it is Impact Wrestling's fault for not giving Matt and Jeff their rightful personas sooner.
Overall, though, I'm hopeful that this is not the end. It is my opinion that Matt Hardy should form a stable and become a top heel as his very own "broken" character.
Social Media
Follow us on Twitter:
And follow the writer as well:
//eedr.flickr.m/assets/client-code.js