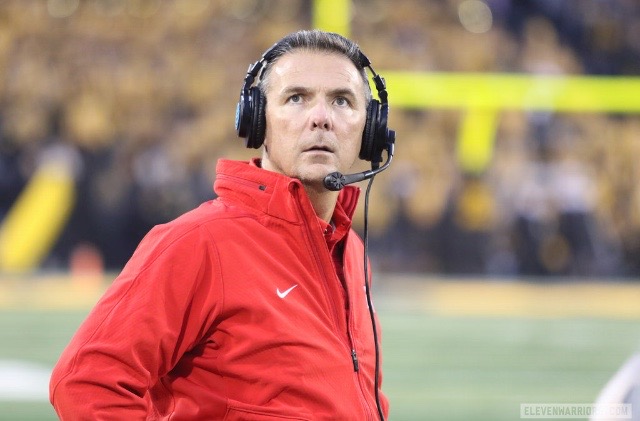 Urban Meyer Is In Hot Water
Urban Meyer is in hot water. The cup of tea started brewing when reports surfaced that former Ohio State wide receivers coach Zack Smith's ex-wife made public that she'd told Meyer's wife in 2015 that Smith assaulted her.
The heart of the matter
Meyer was asked about the situation last weekend at Big Ten media day. He refuted such allegations. However, Courtney Smith, who is Zach Smith's ex-wife, recently spoke about how she told Shelley Meyer (Urban's wife) about the allegations.
In fact, Shelley Meyer also happens to be a registered nurse and instructor at Ohio State. Furthermore, reporter Brett McMurphy obtained text messages from the victim which reportedly have proof that Meyer knew.
Courtney Smith reportedly made the allegations in an interview with digital sports network Stadium.
What's next for Meyer and Ohio State?
Urban Meyer is in hot water. Currently, Ohio State has put Urban Meyer on paid administrative leave while they investigate. Ryan Day will be the team's acting head coach during the investigation.
If Courtney Smith's allegations are true, Shelley and Urban could be in violation of Title IX policy on reporting allegations of domestic violence against university employees. Zach Smith was fired on July 23rd from Ohio State.
Courtney and Zach divorced in 2016. One thing that is worth noting is if Meyer is found to have known and still lied, Ohio State could fire him and not have to owe him anything since the firing would be with cause.
Conclusion
In the end, Meyer is currently on the hot seat. The allegations against Zach Smith date back to 2009 when he was a graduate assistant under Meyer at Florida. While at Ohio State, Smith was wide receivers coach and recruiting coordinator. For now, Meyer is on paid administrative leave. The Buckeyes begin camp on Friday.