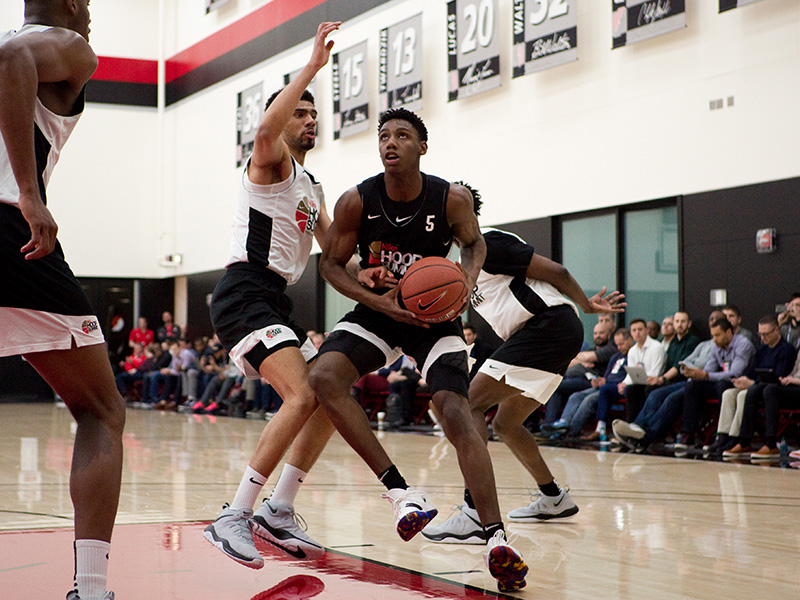 An Inside Look At Potential 2019 #1 Pick RJ Barrett
RJ Barrett is a straight up stud. He dominated during high school and he will look to have the same impact at Duke. He is the #1 overall recruit in the 2018 class.
Breakdown
His stellar play in high school earned him many awards. He was selected as the 2017-18 Gatorade National Boys Basketball Player Of The Year. Barrett won the award while playing at Montverde Academy in Florida.
His 6'7″, 200-pound frame makes him an ideal NBA Shooting Guard. He has the potential to be the star of Canadian basketball for the foreseeable future.
Barrett has a very complete game. He can score the ball in many different ways while being able to make plays on the defensive end as well.
His jump shot has improved a lot. He has shown the ability to be a knock down spot up shooter as well. It will be interesting to see if he can have the same success shooting the ball at the college level.
He has gotten a lot bigger of the years. When you watch tape on him from over the years you notice how much bigger he has gotten. He looks like a grown man out there against other high school guards.
Barrett is a very good finisher going to the rim. He has shown the ability to finish when both hands with needed and doesn't seem to favor one to the other very much.
He has also shown off his improved passing. His ability to find the open down the court is great. He has also shown he can make tough passes in the half court offense.
Barret has shown the ability to get into passing lanes on the defensive end. He is a bit inconsistent on that end but when he's locked in you've gotta make sure you know where he's at when you make a pass.
Looking Ahead
He will be attending Duke University for what is expected to be his lone season in College. The Blue Devils have a lot of other talented players on this team so it may be hard for him to stand out at times.
Their projected starting lineup includes four freshmen. The only non-freshmen starter is Center Marques Bolden.
PG: Tre Jones
SG: RJ Barrett
SF: Cam Reddish
PF: Zion Williamson
C: Marques Bolden
That lineup is talented, they don't have that veteran leader though. They're gonna need RJ Barrett to be one of the leaders for this team. He's thought of as the best player and he's gonna need to show that from day one.
Duke has a case to be preseason #1 because of all this talent. History says teams with freshmen as their focus don't generally win championships. They're gonna need guys to play like veterans if they want to compete.
RJ Barrett handles himself like a pro. He doesn't look like your ordinary pro. He looks like he has been working out in a college program for years. Him coming from Montverde will be good for him because that's about as close as you can get to a college feel while still in high school.
NBA Draft
Barrett is projected to go #1 overall in a lot of mock drafts. His teammate Cam Reddish is the guy I've seen that goes above him.
NBADraft.net has his player comparison as Michael Redd. That comparison makes a lot of sense. Redd was a very good player. They are both lefties and play a similar style on the offensive end.
One of the things that are good for Barrett is that he has played well in the big name events he has played in. The Nike Hoop Summit and The Jordan Brand Classic are just a couple of the events he balled out in.
RJ Barrett is gonna be playing with multiple other lottery picks at Duke. It's possible him and Reddish playing together could hurt both of their chances at being the first overall pick.
Barrett is a monster though. Teams will see how much better he is than the competition. He is going to blow up this season. He's got a shot to led this Duke team to a national title while earning himself a high selection in next years draft.
This article was originally written by former TSJ101SPORTS College Basketball and NBA writer Chris Kern. Due to systems modalities, the article has been assigned to the author tag designation "Former Writers".