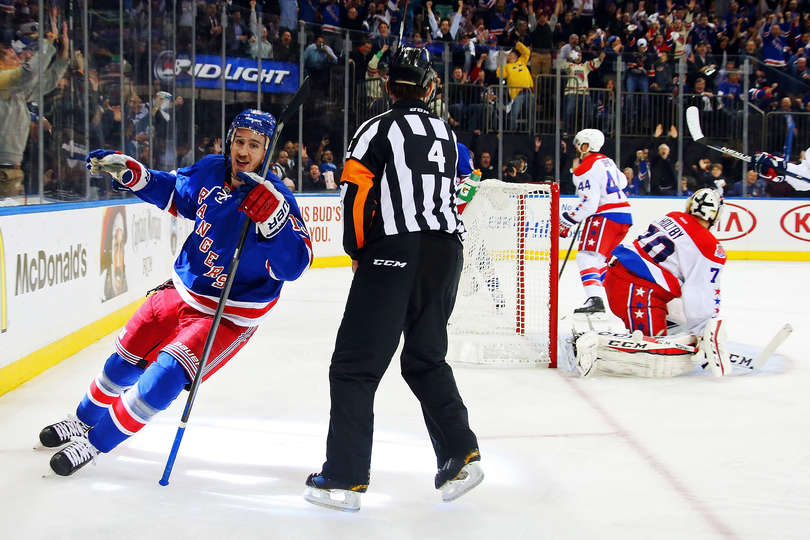 26-year-old Center Joins the Rangers
On Monday, Kevin Hayes agreed to a one-year contract with the New York Rangers. The contract is worth $5.125 million.
According to CapFriendly, the New York Rangers are left with about $9.7 million in cap space. Their current roster consists of 11 forwards, eight defensemen and two goalies. As of now, the Rangers still have a pending ARB case with restricted free agent Ryan Spooner; which is scheduled for August 4th.
Kevin Hayes Stats
Hayes is a 26-year-old centre, who had 44 points in 76 games with the Rangers Last season. Said season also included a career-high for Kevin, consisting of 25 goals. He could become an unrestricted free agent after this season.
Prior to singing the one-year contract, Kevin Hayes was a restricted free agent. He was scheduled to have an arbitration hearing on Thursday.
Currently, Kevin Hayes has 174 points, consisting of 73 goals and 101 assists. The aforementioned points were obtained during 310 regular-season games with New York. In addition to regular-season games, Hayes has 10 points from 34 Stanley Cup Playoff games. Two goals and eight assists from these playoff games were obtained by Hayes.
Fan Opinions
As with any deal, there will be people in favour for it, and others who wouldn't have signed on the player in question. The biggest dilemma that hockey fans had in regards to the Hayes contract is that it was worth too much. Some fans didn't think that Hayes should have been re-signed, while others thought that five million was too much for the 26-year-old; who's expectations appear to be low.
Jeff Gorton what is wrong with you. Why would you give Kevin Hayes 5 million for only 1 year. There are no expectations for this team so he isn't expected to do much. To much of an overpay for a guy that's only getting us 30-40 points as a second line centerman. #NHL #Hayes #NYR

— Charlie Deprimo (@charlie_dp73) July 30, 2018
Prior to the Rangers
In 2010, Hayes was selected by the Chicago Blackhawks during the first round. Overall, being the 24th pick in the first found. He never ended up signing with Chicago, however. In 2014 the New York Rangers signed the centre, as a free agent. Said signing occurred on August 20th, 2014; after Hayes' senior year at Boston College.