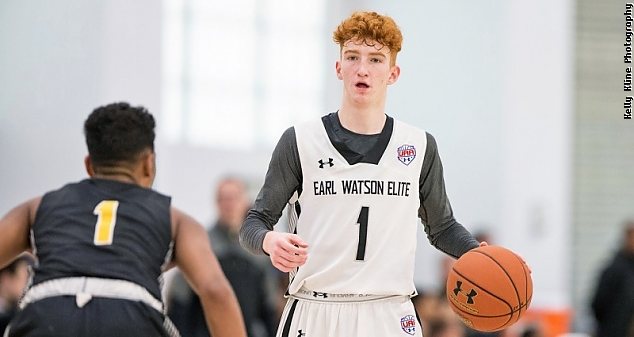 Nico Mannion is a top 20 point guard recruit in the class of 2020. Well, that was at least until earlier today. Mannion took to Twitter to announce that after consideration with his family and coaches he decided to reclassify to the Class of 2019.
After much thought with my family and coaches, I have decided to reclassify up to 2019. Looking forward to a great senior year!! pic.twitter.com/gHuNbMQPIi

— niccolo (@niccolomannion) July 20, 2018
The move makes sense for Mannion due to the fact that he turns 18 years old next March. This means that when he enters college he will be the same age as his peers.
The 6'3" point guard has a long list of colleges vying for his skills. In June he narrowed his list down to his top ten. Some of the schools he is still considering are Kansas, Duke, Arizona, USC, and Villanova.
Nico Mannion's choice to move up a year could affect his recruiting. You have to assume that schools have already had their eye's on Class of '19 point guards. Schools have already offered with the thought in mind that he would be joining the team in 2020. The good thing for him is that moving up a year only increased his position and class ranking.
247Sports has his school prediction at a 100% chance of him choosing University of Arizona. This isn't exactly a surprising choice for Mannion due to the fact that he hails from Phoenix. While leaving high school early to start college would be tough, being right down the road from home would make it that much easier.