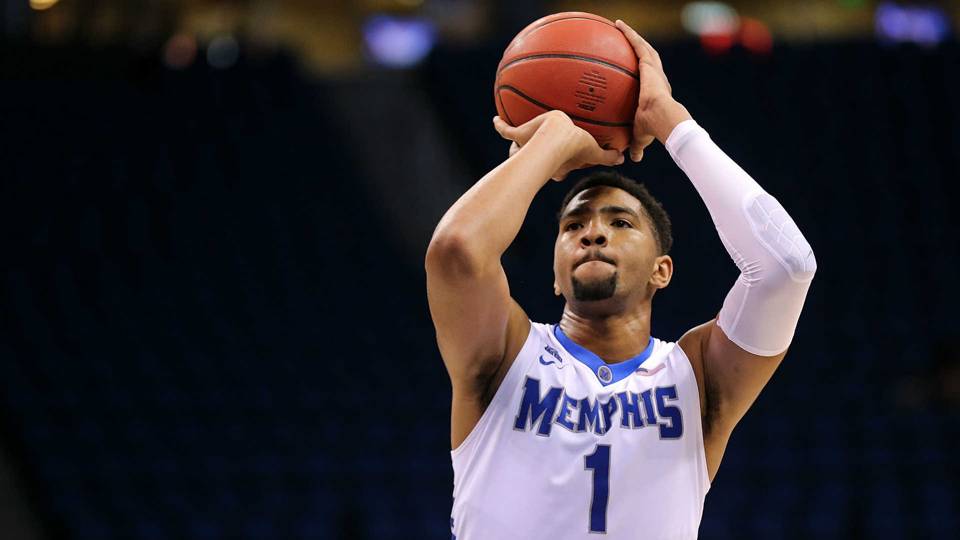 Five Impact Transfers For The 2018-19 Season
There are so many impact transfers for next season in college basketball. These are the big name guys who will be playing at top schools across the nation. They've all shown how good they already are and they'll look to flourish at their new schools.
Dedric Lawson
Dedric Lawson is an elite talent who spent the first two years of his college career at the University of Memphis. He was a dominant player during his time with the Tigers. He averaged 17.5 points and 9.6 rebounds per game during his time there.
Some were surprised when he decided to transfer instead of just going pro due to the fact he had to sit out a year. He learned a lot during his year off and it will help him significantly this upcoming season.
It was hard for Dedric to sit out last season because he knew how badly they needed another post presence on the team. He says it was still a good experience for him and that he'll be ready to go right away.
Lawson is gonna be a starter on this team for sure. He'll be starting alongside Udoka Azubuike in the frontcourt. Those two will be able to impose their will on almost any team's bigs this season.
It's more than the size for Dedric that makes him stand out. He is a very skilled player who's got the ability to score the ball at a high level for this team. His offensive versatility will help this team greatly.
Some think he could even be used as a "point forward" at times, much like Royce White of Iowa St. This team has plenty of good guards so he won't need to do it all the time though.
He's gonna be the focal point of this offense. The Jayhawks have a lot of skilled players but this offense is gonna be running through Dedric next season.
He is likely gonna be the Big 12 Preseason Player Of The Year. If he plays like he's capable, he could even make a run at the National Player Of The Year Award.
Reid Travis
Reid Travis is an absolute monster inside. He seems to get every rebound that bounces off the glass. He will be the enforcer inside for this young, talented Kentucky team next season.
Travis abused so many opposing bigs during his three seasons at Stanford. He averaged 19.5 points and 8.7 rebounds per game last season.
PJ Washington might be the guy most positively affected by Travis on Kentucky. He will help the whole team out, but having a bruiser like Travis will help Washington out as he tries to stretch his offensive game out to impress NBA scouts.
Kentucky is used to getting one-and-done players, but they aren't used to getting graduate transfers like Travis. As Kentucky looks to mesh all this talent together Travis will be a great leader as they progress throughout the season.
Reid Travis has to be one of the strongest players in college basketball. It's gonna be a lot of fun to watch him play for a powerhouse contender like Kentucky.
Travis is gonna be one of the favorites for SEC Player Of The Year. They will likely give it to a more flashy player and maybe deservingly so. Don't get it twisted though, Travis is a beast and he will dominate opposing bigs next season.
Joe Cremo
Joe Cremo is a huge get for the Villanova Wildcats. They lost three key guys in Jalen Brunson, Mikal Bridges, and Donte Divincenzio, and that's just the guards. They also lost a starting big in Omari Spellman.
Cremo is a guy who will step in and contribute for this team. Phil Booth will be a starter, and the other starting guard could be Freshman point guard Jahvon Quinerly.
That could leave Joe Cremo in a backup role this season. That won't limit his impact at all. This team is gonna need Cremo to be one of the leaders this season due to all the losses.
Just because Cremo could be coming off the bench doesn't mean he won't have a huge impact on the team. Just look at DiVincenzio; he had a huge impact this season. He scored 31 points in the national championship game and he wasn't a starter.
Joe Cremo will be one of the best sixth men in college basketball if that's how Villanova decides to use him. People are sleeping on Villanova a lot this season and I don't get it. They won't be a title favorite but this is still a very good team.
If this team gets going and plays the way they're capable of then this is a final four contender for sure. If that's gonna happen Cremo will be a big part of that. Nova has a lot of veteran leaders on this team.
Makai Mason
Makai Mason is a player some may not have heard of for a few years. He really hasn't played college basketball for a couple years. He missed both of the past two seasons due to injuries on both of his feet.
It's hard to say for sure if he'll be the same player for Baylor. If he is, they're gonna be a getting a stud. Mason's performance in Yale's upset win over Baylor in the NCAA tournament was one of the greatest moments of March Madness this decade.
He led the 12th seeded Yale Bulldogs to an upset win over the 5th seeded Baylor Bears. He led the way with a huge thirty-one point, six rebound, and four assist performance.
Now after all that time, he has decided to play for the Bears this season. He averaged 16 points and 3.8 assists per game in that 2015-16 season.
Makai Mason is a bucket getter. His percentages aren't great, but he isn't afraid of the moment. If your team needs a bucket, I trust this guy to get it over most guys across the country.
He has the ability to score in many different ways. He's got a solid shooting touch, while he isn't afraid to go finish at the basket. His toughness going to the rim gets him a lot of free throw chances where he shot 81% from in the 2015-16 season.
The Baylor Bears are gonna need Mason to do a lot for them. They were one of the first four teams out of the NCAA tournament on Selection Sunday.
With the loss of Manu Lecomte, they could ask Mason to have a similar role this season. If Baylor is gonna get back to the NCAA Tournament, it's gonna be on the shoulders of Makai Mason. With his talent, I wouldn't put it past him. Keep an eye on him as a sleeper for Big 12 Player Of The Year.
Marial Shayok
Marial Shayok might be the most interesting player in this article. All the other guys have dominated at their other schools while Shayok never had the opportunity to do that.
He averaged just 8.9 points and 2.4 rebounds per game during his junior season in 2016-17 at Virginia. Virginia just isn't a place where guys can show off their offensive games a whole lot.
That's not a bash on Virginia at all as they are the best defensive team in the country year in and year out. Although it does makes them vulnerable, which is why they lost to 16th seeded UMBC in the NCAA Tournament last season.
That's why Shayok decided to transfer away from Virginia to Iowa St. The Cyclones have a completely different offensive system there. Virginia is a slow style. While at Iowa St. he'll get the chance to play faster and get more offensive looks.
He says he's been working on his offensive game and has improved a lot on that end of the floor. He should still be able to use what he learned at Virginia in regards to being able to have a big impact on the defensive end of the floor.
Shayok needs to show NBA scouts he has a real offensive game if he wants to give himself a shot at being drafted. Iowa St. is the perfect place for him to do that. This team has a lot of talent.
With Lindell Wigginton returning and a guy like Marial Shayok transferring over this team is gonna be much improved. Keep an eye on the Cyclones as they look to get back to the NCAA Tournament.
Marial Shayok is gonna be a different player than he was at Virginia. We finally get to see him unleash his offensive game, so buckle up and enjoy the ride.
This article was originally written by former TSJ101SPORTS College Basketball and NBA writer Chris Kern. Due to systems modalities, the article has been assigned to the author tag designation "Former Writers".