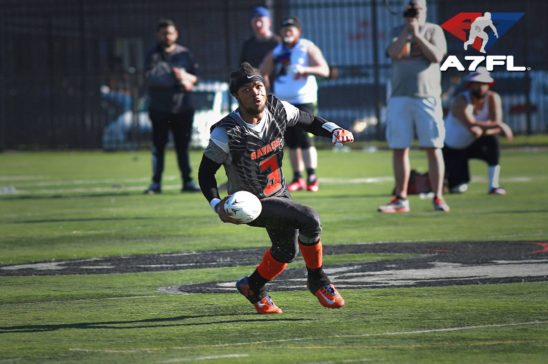 A7FL 2018 MVP Award Nominations
The 2018 A7FL Awards nominations have been announced, as the league is fresh off of crowning new league champions in the Baltimore Gators. This year's crop of nominees includes last year's MVP Award winner; wide receiver "King" Matt Riddick II from the Pennsylvania Immortalz.
Riddick is joined by New Jersey U RB Marques "Hard Body" Dominguez, and league champion Baltimore Gators QB, John "Ace Boogie" Gause. Gause led the undefeated Baltimore Gators to victory against the undefeated Baltimore Vikings; The Vikings went 10-0 before the league championship game, led by Offensive Player of the Year nominee, QB Jamell Mason.
But, Mason will have some competition for the award, as he is joined by Immortalz QB Alsaiah Gross, who led the team to a 7-3 record. They'll also be joined by New Jersey Savage QB, "CP3" Corey Price; who left the 5-3 New Jersey BIC for the 6-4 Savage. They'll also be joined by New Jersey U QB Kareen "Silky Smooth" Moon.
Defensive Player of the Year Nominees…
The list is dominated by teams from the top five in the North East division; as representatives from the Pennsylvania Immortalz, Baltimore Gators, and New Jersey Savage have been named this year's picks.
DE Tyler Affa led the Immortalz in a losing effort in the A7FL semi-finals against the Vikings.
He's joined by Baltimore Gators DE Sherrod Davenport and New Jersey Savage DE Markeith "MDOT" Williamson.
Rookie of the Year Award
This year's nominees wowed fans of the league, and it is no surprise that of the top three rookies in the league, one represents one of the top five teams. WR Kyle Ward represents the New Jersey Savage, and stunned fans and officials alike this season; he has some stiff competition for this year's honors. RB Dion McDaniel of the Baltimore Army has been nominated; as well as WR KJ Williams of the Pennsylvania Dynasty, who is also nominated for the honor.
Voting Starts This Week
The A7FL is slated to open the polls for fans to vote this week, as they will hold voting over on Facebook. Fans can vote on the event page for the poll, which is estimated to go LIVE tomorrow. You can find info at the official A7FL Facebook page and can find out the results through their website, A7FL.com.
Social Media:
You can follow the league on Twitter: @thea7fl
Follow us on Twitter: @T101Sports
And Follow the Writer: @GregNecroBlack