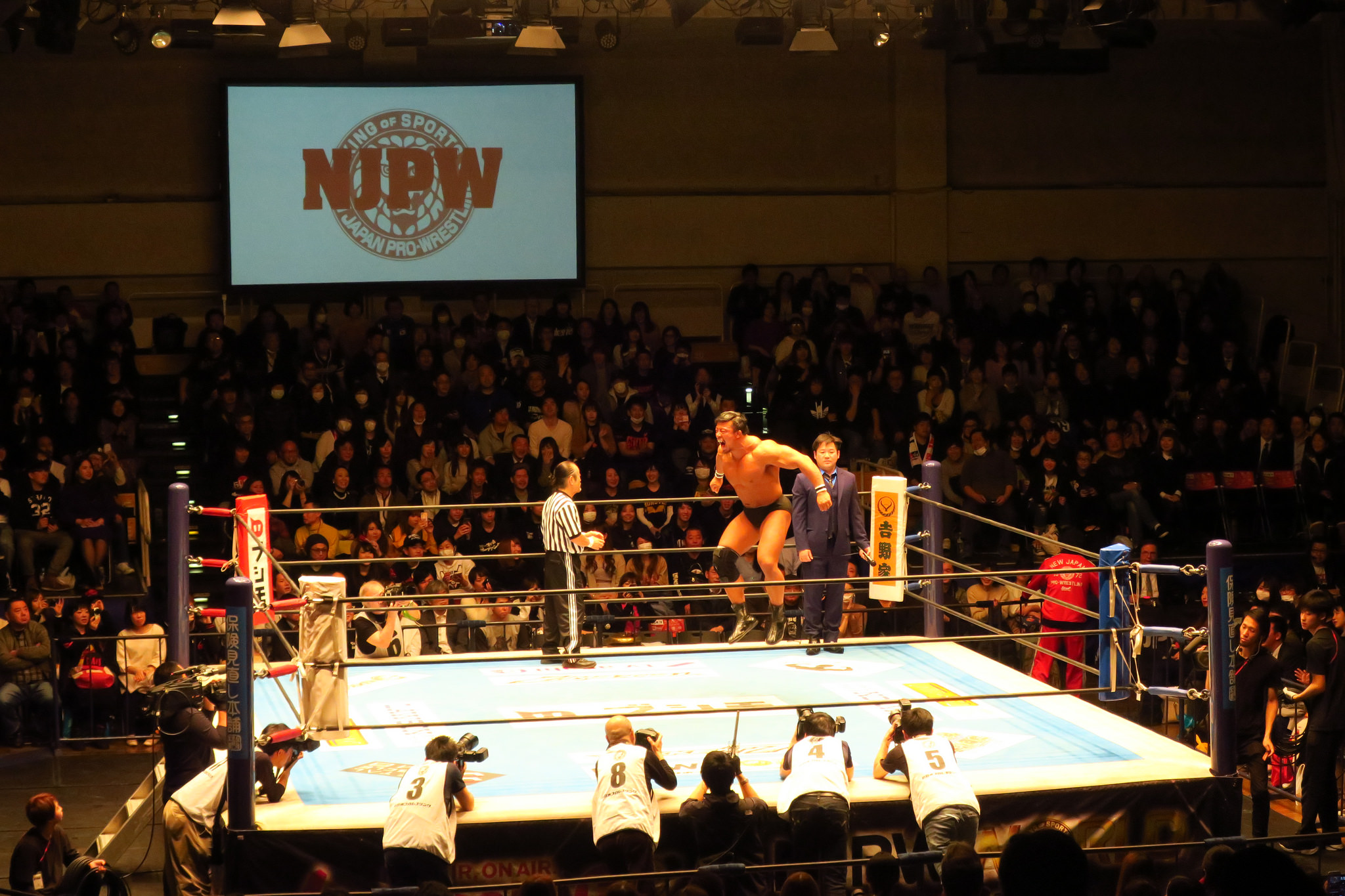 Why WWE Should Fear New Japan
What does WWE do well?
For several years now, WWE has garnered a reputation for providing decent quality matches when they give their talent an opportunity to shine but have also been blasted by the fans for their lack of creativity or long-term planning. They have been in a mode of bringing in talent to bolster their roster including New Japan talent. This has made NXT must-see programming but the mismanagement of call-ups has been a concern.
Matches on the main roster have great potential to deliver every week. The talent pool is so rich that they can depend on virtually all of their stars to try to steal the show at any given time. Unfortunately, the same matches are featured week in and week out which makes their shows sub-par.
What WWE excels at is production value and providing both original content for their network and in the form of pay per views. Not that all pay per views are well done but they offer them on a regular basis which encourages even the most jaded fan to tune in more often than not.
How did WWE get to this point?
The sad truth of the WWE is that they have experienced such a consistent level of success that the product has become secondary and profitability has become the only concern. During the WWF Expansion when Vince K. McMahon took over the company, the talent was tasked with delivering quality matches around the country to facilitate Vince's vision. He was battling a territorial system that had long been a tradition in professional wrestling. This made the need for quality matches paramount.
In the 1990's, especially during the Monday Night Wars, the constant pressures to defeat WCW drove WWE to new heights and propelled new superstars into the stratosphere. The constant ratings war that at different times threatened the survival of each brand made it so that providing quality content was the focal point of creative teams and it pushed them to deliver never before seen content.
In the 2000's, WWE reigned supreme and because of that, they felt the need to show off how amazing they were with matches that will go down as some of the all-time greats. They had incredible feuds like Stone Cold Steve Austin vs. The Rock and Triple H vs. Kurt Angle to bring in viewers.
The Problem Emerged
Along the way, WWE began to lose focus. They were so successful that creativity took a back seat to lazy booking and ratings grab simply to appease advertisers and bring in new television deals. That is understandable as it is a for-profit business. What was lost though is a large percentage of the fan-base.
I have seen the debate tons of times. How can anyone say WWE is losing anything when their profitability is always up? They continue to do well because of a variety of factors including NXT, Original Content on their own network, the acquisition of tape libraries from virtually every significant company from the past, and by branching out into both markets and business sectors not previously utilized (Saudi Arabia, China, & Total Divas).
What is indisputable though is that they have seen significant drops in live event attendance and at televised shows. For a good portion of time last year, they would move fans to the hard camera side of the arena for Smackdown tapings to prevent people from seeing how low attendance was for many shows. They have done little to nothing though to fix their issues with creative. The fact is, WWE doesn't feel any pressure to change anything because there is no credible threat to their business.
What is Changing?
What WWE may not see as a viable threat may be gaining momentum. There is definitely something to fear if you are WWE. They will never cease to exist and they will always be the king of the hill. What they may be missing is the rise and emergence of a legitimate #2 promotion in not just the US, but the World. One that emphasizes giving its talents time to showcase their talents while telling a story in the ring. A company that provides a roster that features arguably three of the top 5 wrestlers in the world. This rising phoenix in New Japan Pro Wrestling.
Why is New Japan Different?
What stands out about New Japan is their commitment to quality matches. The average fan may tune in once or twice a week to WWE programming. It is part of their routine. They don't seek out NJPW on AXS TV. Many are unaware of New Japan. Those who are familiar constantly defend New Japan as having the best overall shows and best worked matches in the industry. The company has made long time wrestling enthusiast and columnist Dave Meltzer create a 7 star match rating scale for the first time because of the insane quality of the matches.
The company has accepted and fostered many factions and cliques that have become the focal point of their shows. The Bullet Club, Los Ingobernables de Japon, Chaos, and Suzuki Gun represent virtually all of the talent and all have experienced periods of dominance in the company.
Booking is planned out months in advance and the use of special rituals make it feel different (post-match interviews, backstage press conferences, and announcing champion title defenses after every match). They incorporate a significant amount of unique offerings including the G1 Climax, the Best of the Super Juniors, the New Japan Cup, and their biggest show of the year Wrestle Kingdom.
The latest addition to the New Japan legacy has been the expansion into North America that has delivered amazing content. Whether it was the first show at Long Beach California or the most recent at the historic Cow Palace, New Japan continues to being incredible action and fresh stars to the American audience. The level of competition at the Cow Palace was off the charts.
All of the top tier talents were there and all delivered in the ring. From the opening match to the Young Bucks retaining the IWGP Tag Team Championship and eventually the insane high spots for Kenny vs. Cody, the show did not disappoint on any level. Even the surprise attack by King Haku and the Guerrillas of Destiny on their Bullet Club Brothers was well booked.
What Should WWE do?
Triple H made it sound like a co-promotional relationship with New Japan was not out of the realm of possibility. He expressed that WWE is open to any arrangement that makes good business sense. The concern for some fans is that after the show at the Cow Palace and with the announcement of 3 more dates in 2018, New Japan is turning up the heat on the North American wrestling scene.
WWE may be more reluctant to bring more eyes to the New Japan product if they see them as competition. Anyone watching the weekly New Japan shows on AXS TV can attest to how well done the matches truly are. Additionally, many die-hard fans are less than impressed with the booking of former New Japan star Shinsuke Nakamura which could be a deterrent as well.
At this point, WWE should focus on WWE. They should be reviewing their methodology for designing creative programs. When you have Sheamus, Cesaro, Bobby Roode, Tye Dillinger, and the Authors of Pain sitting on the sideline of any pay per view then your creative team is lacking.
The phrase "creative doesn't have anything for you" is used so often that you have to begin to question who is allowing these people to sit around and not be held responsible for coming up with something for all of these amazing talents. Why isn't there at least some attraction match (battle royal or king of the Ring Tournament) to use more of these talents?
The Truth
In any event, WWE can't simply sit by and watch the dollars roll in forever. At some point, creative matches, storytelling, and long-term booking need to return to the WWE culture and not the year-long Roman Reigns build to WrestleMania either. WWE could be drawing 4-5 million viewers a week if they were putting out a better product instead of settling for 2-3 million. That would increase revenue in all segments of their business.
In the meantime, New Japan is coming. They are innovative. The matches are exciting. Superstars are provided the canvas to paint their picture. Most of all, they are delivering from the opening match to the main event.
Social Media
Don't forget to follow us on Twitter:
You can also talk with me, the writer:
@FroWrestling on Twitter
Check out the Fro Wrestling Podcast at:
YouTube, Spreaker, Stitcher, and on iTunes.