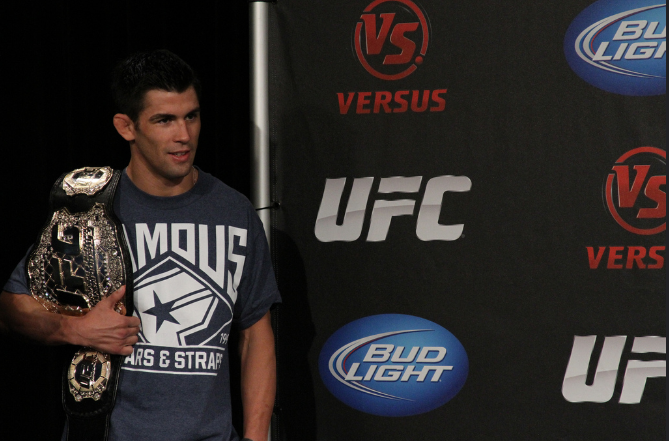 Former UFC Bantamweight Champion Dominick Cruz Talks Brock Lesnar
After a historic UFC 226 card, Daniel Cormier is sitting on top of the MMA mountain. Cormier knocked out the most dominant UFC heavyweight champ ever Stipe Miocic. During the post-fight interview, Cormier called out former heavyweight champ Brock Lesnar. Also, Former UFC Bantamweight Champion Dominick Cruz Talks Brock Lesnar on the Scott & BR Show.
Brock, being in attendance, walked into the octagon and pushed Cormier. While most fans believe this was staged, Cormier insists that it was real. In the post-fight presser, Cormier laid out his plans and conditions for the potential fight between him and Lesnar:
"Brock's gotta be clean. I'm not gonna fight him if he's not clean, We'll do USADA testing and we'll do other testing. We'll do testing above USADA to make sure that this man's clean. I'm not gonna fight him if he's cheating. I've done that on a number of occasions already. I don't want to fight him if he's dirty. Do it the right way.".
Also
Ex-Bantamweight champ and analyst/color commentator Dominick "The Dominator" Cruz chimed in on The Scott & BR Show on 1090 AM (San Diego):
"If he makes it to the fight I'd be shocked, And I just mean that because USADA is the toughest anti-doping system there is on planet Earth, and that guy is absolutely doping. Period. No ifs, ands or buts about it. And he's not been in mixed martial arts, so of course he's been doing that stuff. How they're going to get him to be clean on fight night is beyond me.".
The former champ said what most fans are probably thinking. Most fans thought Lesnar was on PED's during the wild west era of MMA and his failed UFC 200 drug test, Lesnar's track record doesn't look great.
In other news, Cruz won the analyst of the year award for the 4th year in a row.
---
About Me
I am the MLB and MMA Editor as well as a White Sox writer here at TSJ 101 Sports. You can support me by donating me a Ko-Fi with the button below. Thank you for the Support!

You can also follow me on Twitter @brennanfrawley
This article was originally written by former TSJ101SPORTS MLB Department Head and writer Brennan Frawley. Due to systems modalities, the article has been assigned to the author tag designation "Former Writers".