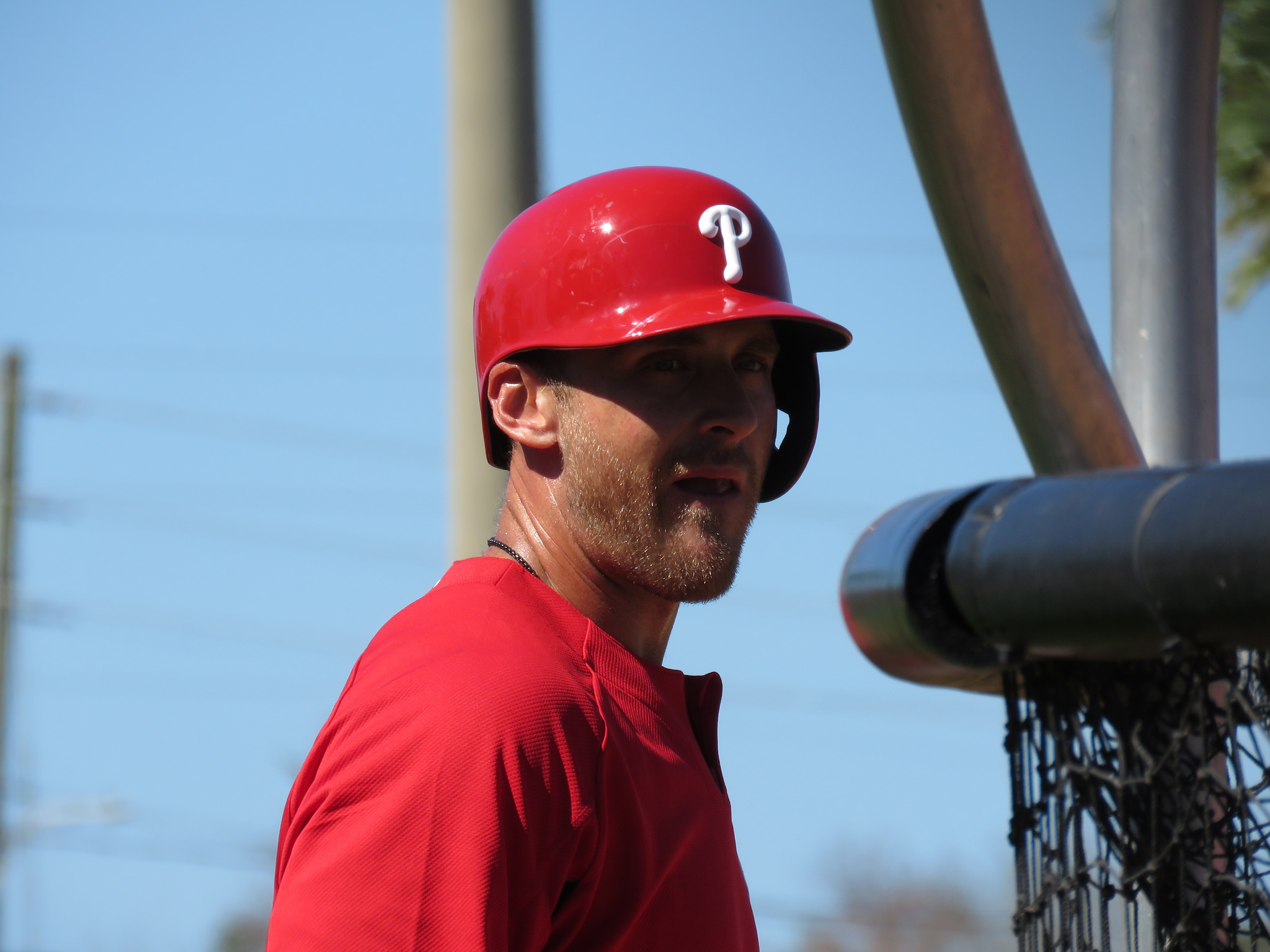 "Baseball is a funny world to be in, almost make believe. It doesn't matter how good of a person you are, because you are judged as a player based on your batting average or era. Just how it is. It's comical at times. If everyone were judged on what they do for a living I think there would be way less internet tough guys."- Will Middlebrooks.
Will Middlebrooks at Career Crossroads
Currently, Philadelphia Phillies Will Middlebrooks is at a Carrer Crossroads. Will Middlebrooks' career is akin to that song "Everywhere Man." Over the course of his short career, he's been traded, released, out-righted off a 40-man roster, optioned to the minor leagues multiple times after sustaining injuries, played infield positions for multiple organizations over multiple years, hit three home runs in a game against the Blue Jays, and won a world championship with the Red Sox at home at Fenway for the first time in 95 years. Middlebrooks muses about his baseball career as if it's already over. Fact is, the former Red Sox world champ and current Philadelphia Phillies infielder has hit highs and lows in his baseball career that pale in comparison to perhaps any other parallel figure. That is perhaps why some call him a 'journeyman third baseman.'
"In my mind," Says Middlebrooks, "Journeyman translates to grinder. I love that I'm a grinder. All the injuries and set backs I've been through have sucked. To just simply say it, injuries have ruined my career. But it is what it is. I wouldn't call it adversity. It's just baseball. I got sent down. It sucked. But at the end of the day, I'm still a professional baseball player with a job to do. So it didn't really affect me. I had several offers." Perhaps Middlebrooks' grinder status convinced him to keep through playing through injuries he otherwise probably shouldn't have been trying to fight through. "Injuries just really set me back. I tried playing through them and just couldn't compete at the highest level when I was hurt."
Philadelphia Phillies Will Middlebrooks was once in the thicket of bats in the middle of a potent lineup of veteran gnats with postseason experience that Boston had pieced together over the 2012 offseason. He was considered to be a first-round draft talent in 2007 but fell to the Red Sox in the fifth round after teams had incorrectly supposed that he would commit to Texas A&M and continue his education.
Philadelphia Phillies Will Middlebrooks Draft Story
The reason for Middlebrooks dropping draft stock had nothing to do with his baseball talent. He was a two-sport star since high school. The young man who had attended Liberty-Eylau High School in Texarkana, Texas, played football as a quarterback, punter, and place-kicker, good enough to be named an All-State punter. In junior year, Middlebrooks realized he qualified for the Major League Baseball draft. He faced a tough decision, he remembers, because he actually preferred football to baseball.
Middlebrooks related, "That was definitely a tough decision for me. Growing up in Texas as a coaches kid, football was everything. Ever seen the movie Friday night lights?… I lived that."
When Middlebrooks was drafted, he learned of Boston's fifth-round choice on him in a very odd manner. In fact, he was quite literally serenaded the news in the middle of a state championship ballgame by the fans in the stands, a game that he was playing in! Middlebrooks had to compartmentalize the news and finish the game before he could really take in the news that the Red Sox had picked him.
"I found out by the crowd," Middlebrooks mused. "All of our home town fans that made the trip to Auston started cheering, my mom ran down and told my dad and then he relayed the message to me really didn't hit me until after the game. Getting drafted by an organization like the Red Sox was something I just couldn't turn down. I felt like it was a once in a lifetime opportunity with one of the most storied franchises of all-time… I was definitely fired up for the opportunity."
 Before Philadelphia Phillies
Middlebrooks first debuted for the Lowell Spinners in 2008. His batting average rose significantly through all the minor league outposts. In Portland, he batted .306 with 18 big flys and 80 runs batted in. He was promoted once again to AAA and the Pawtucket Red Sox, where he batted .161 over the final 16 games of that season. He stated that his manager in Lowell was instrumental to him as he advanced up the system and was promoted therein ever further, and his teammate on the big club who helped him to analyze the game and give him valuable information that would help himself to become more of a cerebral talent.
Middlebrooks cited preparedness as part of what helped him to be in the position he was at the time. He was learning on the fly and admitted previously that he considered himself to be developmentally behind other players because he had previously been playing football and his emotions were all over the place during his ascendancy through the minor leagues.
"I just remember how excited I was, but at the same time there were plenty of nerves! I had a great manager in Gary Disarcina. He helped me with the transition to pro-ball." Later on, when Middlebrooks was the hot corner man in Boston, he said of then-Red Sox third base-coach Brian Butterfield, "'Butter' only gave signs that came from the manager; bunt, hit & run, steal, etc. Butter was great though. Especially as an infield guy, he helped me a lot defensively. The best I ever met when it came to games within the game was (Red Sox Second Baseman Dustin) Pedroia. The guy is a baseball genius."
Training with the Sox
Middlebrooks admitted that had he no idea what to expect when he went into spring training with the Sox in 2013. The team had been expected to repeat their cellar dweller status for a second consecutive year after completing a blockbuster trade with the Dodgers which stripped their roster of hefty contracts and undesirable personalities. Middlebrooks said of the state of the team a couple weeks into spring training, that he knew the Red Sox had a special makeup of characters that all were very tight-knit, and avoided close shaves. In that 2012 season, the Red Sox traded Kevin Youkilis, a long-time fan favorite in Boston to the White Sox and created an opportunity for the young shortstop-turned-third baseman in the middle of the Red Sox lineup. He was called up to Boston and smacked a game-tying grand slam for his first major league home run.
"The first couple weeks in the show were a blur. So much going on.. I was just trying to learn as much as I could, as fast as I could. It was a very veteran oriented team, so I had plenty of guidance from my teammates. The transition went pretty smoothly, and I definitely have to give credit to my teammates for making that so easy for me," Middlebrooks relayed.
Boston Strong
When the Red Sox were on their way to Cleveland on the team bus going to the airport after a walk-off win on Patriots Day, they received news that there had two explosions near the finish line of the Boston marathon; in addition to the presence of multiple casualties. Since April 15th, 2013, after that day, it seemed meant to be to the fans and the hurting city. The message the Red Sox provided was simple; Boston Strong. The team wanted the fans to fans to know that we love as a city, we grow as a city and we heal as a city.
"In a city like Boston, they look at their sports like a religion. We knew how much it meant to them. So we took that and wanted to put the city on our backs," said Middlebrooks.
For the rest of that 2013 year, the Red Sox were the best team in baseball. No deficit seemed too great to overcome. This special dynamic showcased itself one Fenway eve on August 1st with the Red Sox down 7-2 after 'King Felix' pitched a gem. The Red Sox scored 6 straight times in the bottom of the 9th and walked off 8-7, sweeping the M's.
Red Sox' Potential
On paper, the Red Sox stood no chance against any of the teams that they would face in the playoffs. Fresh off two tension-filled, must-win games, a battle-tested Tampa Bay Rays ball-club. But Boston beat David Price and the Rays and sent them packing in the ALDS. The Red Sox faced Detroit in the ALCS and immediately fell behind 0-1 in the series to Anibal Sanchez who took a no-hitter through 6. It was the third straight game that a Detroit starter had carried a no-hitter 6 innings or more.
Max Scherzer in game 2 struck out 13, a career postseason high, through 6 1/3rd innings. But in the bottom of the 8th inning in game 2, David Ortiz stepped up to the plate against Joaquin Benoit, the 4th Tiger pitcher in the inning, with the sacks packs and deposited the first pitch he saw into the Red Sox bullpen for one of the most iconic shots in Red Sox history. It tied the game at the time, and the Red Sox won on Jarrod Saltalamacchia's walk-off single to left in the 9th. Will Middlebrooks was on 3rd base.
"Being on 3rd base for Papi's grand slam against the tigers in the ALCS was definitely the first time I was ever truly speechless in my life. That was so cool. I learned a ton from that guy. He's a role model to me for sure. Great teammate. Worked his backside off. And always treated people with respect regardless of who you were. Winning that World Series was so special on so many different levels. I loved my teammates so much."
Red Sox vs Cardinals
The Red Sox would face the St. Louis Cardinals for the second time in as many years in the World Series. They would win it in 6, with some record-setting endings, including an interference call that Will Middlebrooks was right in the thick of in game 4 that gave the Cardinals a walk-off win, and a pick-off of Kolten Wong by Koji Uehara that gave Boston the win in game 5. Boston went home and won the chip in game 6, led by 2002 World Series hero John Lackey, and a sparkling batting average of .769 by, who else, David Ortiz.
"Nothing can possibly top winning a World Series. Everything the city went thru that year made it that much more special," said Middlebrooks.
From Boston to Philadelphia Phillies Will Middlebrooks
Now five years removed from his World Series win in Boston, Middlebrooks looks reflectively back on his career. In spring training 2018 with the Phillies, Middlebrooks suffered yet another injury. Injuries are nothing new to Will. He has had broken bones in his hand, hamstrings, knee and back strains; all which he attempted to rebound. But according to him, this injury was by far the worst. He was in so much pain, but as he says, he's a grinder.
"The leg/ankle injury this spring was the worst by far. I'm 4 months post surgery now, and it's still a grind. Broke my fibula, dislocated my ankle, and tore the main ligaments that hold my ankle together. They put a 10 inch titanium rod in my fibula and multiple screws and anchors to reconstruct my joint."
The Future is Still Unwritten
A players career does not always go the way they hope it will. Philadelphia Phillies Will Middlebrooks' story displays that. Yet, he is unique; having climbed many mountains to get where he was and is now. Additionally, how many valleys he has had to pull himself out of. Middlebrooks said while he is sure that his career may have been different if injuries had not slowed him, he would not have had it any other way.
"Did my career go how I pictured it? Hell no. But I learned so much… about the game… about myself.. about life. And I wouldn't trade my experience for anything."
When pressed about his future in the majors, Philadelphia Phillies Will Middlebrooks put it this way:
"Will I play again? I really don't know the answer to that. I hope so."
The fans message to Philadelphia Phillies Will Middlebrooks is simple. Keep grinding