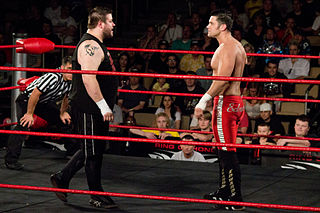 That's Not What We Do Here!
Historically speaking, WWE has always tried to refrain from acknowledging the competition as much as possible. In the 1980s, Vince McMahon tried to monopolize the industry; sign as many key free agents as possible, and cultivate his own intellectual property in new stars he could generate merchandise sales from.
Discussing a talent's previous exploits in other companies was strictly taboo. WWE kept to themselves and made few partnership agreements with outside promotions.
In the 1990s, with the influence of the Monday Night Wars, WCW broke the mold when they would openly reference the WWE on Monday Nitro. They would go so far as to announce WWE match results live on their shows as a means to encourage viewers to stay put instead of tuning out for the competition.
In response, WWE made few references to their competition and instead focused on their own product and developing an incredible talent pool that included Stone Cold Steve Austin, The Rock, Triple H, and Mankind.
Until earlier this year, WWE held firm to their format. They only ever made passing reference to outside accomplishments of their stars. That shifted dramatically as stars who had made a name for themselves in New Japan Pro Wrestling started migrating to WWE.
AJ Styles, Gallows and Anderson, and Shinsuke Nakamura had extensive experiences prior to their WWE careers. It would have made WWE look foolish not to embrace the rich history of some of their budding new stars.
Growing the NEW Brand
WWE started to include smaller promotions in their recruitment and fostering of some of their ambitious booking. WWE sought to develop a new division and held the first WWE United Kingdom Championship Tournament.
This meant they needed talent. That meant incorporating European Style Wrestlers who had been mainstays of companies such as Progress Wrestling, ICW, and wXw. These stars would put on a clinic as they impressed from their first appearances under the WWE banner.
The Evolution of Partnership
Partnerships with Evolve in the United States have led to talent exchanges with WWE seeking to identify future talent at Evolve shows while providing WWE stars to bolster Evolve's mainstream appeal. This eventually led to Evolve matches being held at WWE's WrestleMania Axxess Tour.
The partnership between WWE and Evolve is a strong one and one that continues to allow WWE officials to screen future talent for their NXT brand while keeping them on the Evolve payroll.
Making an Impact!
After several discussions with other promotions, WWE started to shift away from its hush hush mentality. During interviews on the WWE network, Superstars such as Sting, AJ Styles, and Kurt Angle have been able to openly reference their TNA wrestling experiences; even going so far as to have Dixie Carter, the former owner of Impact Wrestling, to appear on camera for documentaries about former TNA stars.
New Japan Making Waves
Insert Kenny Omega and the Young Bucks into the equation and things begin to get interesting. These 3 have never been shy about expressing their desires for facing WWE talent. They have been trash talking about the Revival for years. Despite making a very good living on the independent, ROH, and NJPW circuit, The Elite have never been a significant part of the WWE family.
Omega had a short stint in WWE developmental and the Young Bucks jobbed out to the Usos back in the day but nothing substantial.
Eventually, the Young Bucks and Kenny Omega began to trash talk with WWE mainstays the New Day. This led to the duel at E3 last week where we got to see WWE contracted talents face off with ROH and New Japan contracted talents.
This is revolutionary. The mainstream appeal of the Bullet Club has clearly peaked the interest of the WWE and rumors are swirling that WWE is interested in signing all three of the Elite. To add fuel to the fire, WWE released a video on the WWE Network of Kenny Omega during his short run in WWE developmental under its "Hidden Gems" section.
Perhaps the biggest signal that WWE vs. New Japan dream matches may actually take place could be the comments from Triple H who indicated that he is open to doing business with anyone if it makes good business sense for WWE.
The Deal is Done!
The Breaking News today was that WWE has entered into an agreement with Japanese Wrestling Promotion Pro Wrestling NOAH; which will allow WWE 205 Live star Hideo Itami to return to his old stomping grounds while WWE examines the Japanese talents that can be another talent stream for their collective brands.
This is the first time since the early 1980's that WWE has worked with a Japanese company to this extent. There was the select few matches for Hulk Hogan in 1993 when he faced and then teamed with the Great Muta but that's another story.
This deal is huge and shows WWE's new temperament towards international promotion and its willingness to embrace outside companies when it benefits their programming.
In addition, it is being discussed that WWE may be seeking to develop yet another program for the WWE network that would see non-WWE contracted talent appear from companies; including the aforementioned ICW, Progress Wrestling and the parent company of Evolve Wrestling the WWN.
This would allow independent companies to gain exposure but the wrestling smart marks know what WWE is really doing. They are using the added exposure for the independent companies to build reputations for future talent without paying for it so that they can later pluck those talents to be a part of NXT, 205 Live, Raw, or Smackdown Live.
Reflection on the Evolution
When you think about how far WWE has come with regards to their acknowledgement of other promotions; as well as their willingness to co-promote, and you can see that WWE has learned what the smart fans have been saying all along.
Independent wrestling is the next big boom in wrestling. They are trying to capitalize on it and make other companies lay the groundwork for their future talent pool and fuel their international expansion efforts.
This is a monumental step forward and one that for the die hard wrestling community will hopefully provide us with opportunities for matches like Seth Rollins vs. Kazuchika Okada or Hiroshi Tanahashi vs. John Cena. We may be able to see the Usos vs. the Guerrillas of Destiny or the Young Bucks.
Consider this. WWE has made multiple lucrative partnerships in the past 12 months that have revolutionized the sport. Perhaps we see a true "Super Show" one day with talent from all of the world's biggest promotions.
The likelihood is slim but we can all dream. Rollins vs. Omega, Rollins vs. Okada, Kongo Kong vs Braun Strowman, Young Bucks vs. The New Day, the dream matches go on and on!
Social Media
Don't forget to follow us on Twitter:
You can also talk with me, the writer:
@FroWrestling on Twitter
Check out the Fro Wrestling Podcast at:
YouTube, Spreaker, Stitcher, and on iTunes.