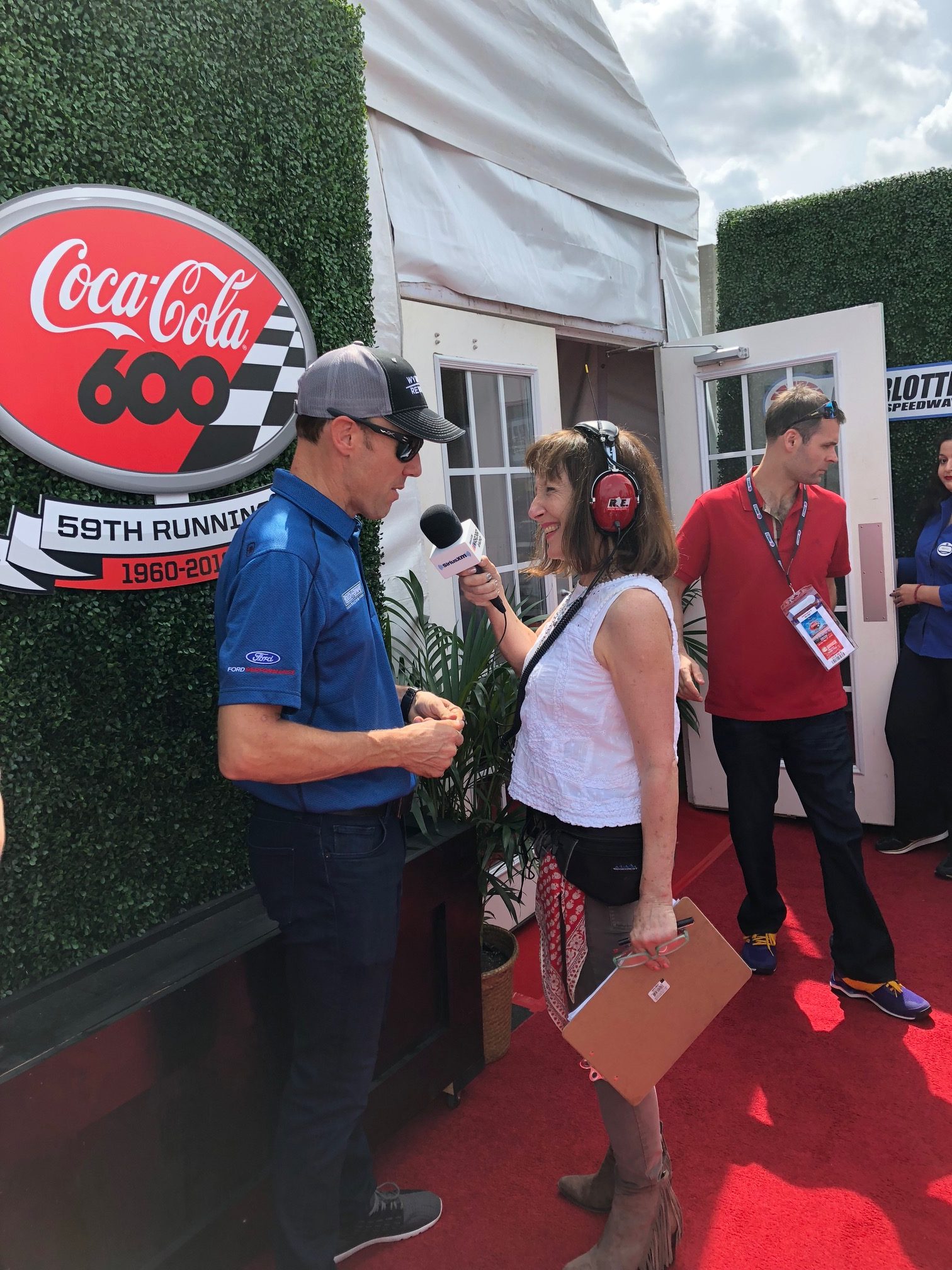 TSJ101Sports Interview With Claire B. Lang
Claire B. Lang is one of the most respected people in the NASCAR garage. Over the years, Claire has been up and down pit road, covering the sport week in and week out. She has proven that hard work and dedication can get you to big places.
When TSJ101Sports writer Noah Lewis reached out to Claire, she was more than happy to answer a few questions. She didn't agree to this interview to make her look better, she agreed to this interview because that's the kind of person Claire B. Lang is.
You can always find Claire on SiriusXM NASCAR Radio hosting her show, "Dialed In." She also co-hosts the Pre-Race and Post-Race shows for the station.
Interview With Claire B. Lang:
My first question went all the way back to the beginning. I wanted to find the root of her career. What first motivated Claire B. Lang to step into NASCAR broadcasting? 
"I honestly believe it was destiny. I was always a writer – even as a child – so  I went to college to be an English teacher – and one day I was visiting a friend at the campus radio station and one of the news broadcasters didn't show up for the early morning shift. I'll admit, I was shy – but was convinced to go down the hall to the studio and read the news – and at that moment discovered that this was my destiny. I changed my major to Journalism with a minor in television during my junior year in college – and I honestly believe I was lucky to find what I was supposed to do with my life. A broadcaster who tells stories, a Journalist who finds out answers and a beat reporter who never sits down (smile)."
I then asked her if she has a particular driver she liked to talk to? Maybe someone funny like Clint Bowyer, or someone very honest like Kyle Busch. 
"I have no favorite driver – It's my job to do a fair job covering all of them and to be honest I like all of them. I've found most of the NASCAR drivers to be funny and passionate about the sport – and have seen all of them at good and bad times. I've seen them at their high when they win and I'm live in Victory Lane – but also at their low when I am speaking with them at the Care Center or in the garage after a crash.
I get asked this question a lot – and to be truthful I'd say I have always liked to interview the younger up and coming drivers before they are famous. When they are shy about trusting and careful about what they say. I find it a challenge to make them laugh, open up and trust me. When that finally happens I am proud that I found what makes them begin to shine in an interview. I like interviews that are real, and honest, and are about success but also are truthful about failure and tough times and fear and challenges and pressure and all that goes into making it as a professional driver."
There is no doubt Claire has been someone who has motivated many people over the years.  When asked about what advice she'd give to an up-and-comer reporter here's what she said: 
"Never give up on your dream. Many could make it if only they didn't give up. Those who make it in life rarely talk about falling or failure or the time they had to dust themselves off to keep on going when others might say well- I'll never be able to do that. Since folks don't do that much, those coming up sometimes give up when the going gets hard, thinking they can't cut it. Don't do that. Work harder – get back up – go after it.
It's not about you – cover the story – don't BE the story.
Be honest – work harder – and also find all sides to a story – It's hard – some stories have 5 different sides and you can never stop at just one or two.
Remember – it's a responsibility to be a journalist… It's an honor to carry that distinction and it's really important – especially today – to be credible and to understand what it means to be handed a microphone and asked to be the eyes and ears for so many who don't have the access but would love to be there."
What is the one thing that any young racing reporter must know before covering their first race at-the-track?
"Watch for cars coming in and out of the garage. First lesson. Honest. Eyes open, listen for the official's whistles that they are coming around the turn, never look away."
What is your favorite thing to do each weekend at the track? 
"Come into the garage as early as it opens. Then I have coffee and chat with the team guys up and down the garage as the day starts to unfold."
I then became curious as to if Claire had a favorite race that she has covered. Jamie Little replied with her first Indy 500 when TSJ101Sports interviewed her, but here's what Claire thinks: 
"Every race. No kidding. I don't have a favorite. Each is a story to tell. Even ones that some might say were less exciting than another – have so many favorite memories. It may be a child born the day before a race – and the team member in Victory Lane is there so excited that their little one will have a photo of dad as a winner. The small things of which there are hundreds every weekend – are not always the biggest photo finish. Every single race weekend is full of so much. I honestly don't think I have a favorite."
Claire is someone who has covered NASCAR on TV as well as Radio.  I was curious about if there is a big difference between the types of media.
"Not sure. I am a writer as a hobby but I've always been a broadcaster. I've done TV but it's the same to me as radio – just with a picture."
What do you think is the best path from journalism school to a career in NASCAR media?
"There is no path. What worked for one person wouldn't work for another. Hesitate to tell anyone how to make it happen. Hard work – contacts – being willing to do what it takes to take small steps to get to the big job.
Work hard is my main mantra. There is no mailing it in – no resting on what might have been good enough. I am lucky that my work ethic and striving for excellence every single day got me to my dream job. I never take it for granted."
Many fans question if they should attempt to speak to drivers, crews, and TV/Radio personalities while at the Track. Here's how Claire feels when asked if fans should say hello to her: 
"Yes! I wish I had more time to set my mic down and just hang out. Many fans come up to me while I am broadcasting which can be a challenge – because I can't really stop and talk. I do my best to carve out what time I have to stop and talk or take a photo. I love giving children my microphone for a photo – they stand up so straight and are so proud to hold it – it makes me happy."
To cap off the interview I wanted to know something off the racing topic. I asked Claire what her favorite thing to do away from the track. It turns out that we both have this one in common.  
"Eat. 🙂 Honestly, I get little free time. I like the few times that I am able to get done early enough to go to dinner  – It doesn't happen often but when it does, I love having the chance to get dinner."
So now you know a little bit more about Claire B Lang. Hopefully, her thoughts about her work ethic and persistence motivate you as much as it does me. Huge thanks to Claire for taking the time to do this interview and for being such a great person in our sport!
Follow the Writer:  Twitter.com/noah_lewis1