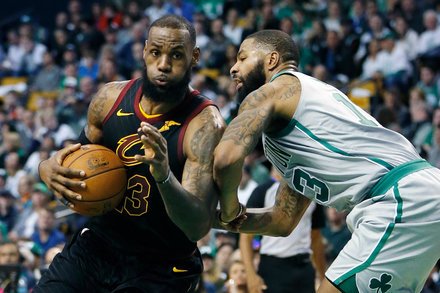 NBA
Eastern Conference Finals: Boston Celtics Take Game 1 
Fresh off of a series sweep of the Toronto Raptors, the Cleveland Cavaliers walked into TD Garden 1.5 favorites to win game one against the Boston Celtics in the Eastern Conference Finals. The problem was, the Celtics didn't get the memo. On the opening tip, Celtics (PG) Jaylen Brown drives to the paint and scores in the first 5 seconds of the game. Setting an aggressive overtone for the Celtics cadre, Boston held Cleveland to only 9 points while on a 25 to 2 run. Ending the 1st quarter with an 18 point lead.
Watching King James and the Cavs struggle to hit open shots while the Celtics went on a barrage of scoring streaks, the reality that this young energetic Boston squad was posing problems for the 3-time Eastern Conference Champs quickly set in. Handing the Cavaliers their first defeat of the series with a 25 point deficit.
LeBron Unfazed by Game 1 Loss: "I have Zero Level Of Concern"
Regardless of James' uncharacteristic 15, 7 and 9 stat line in the Eastern Conference Finals opener, when asked what was his level of concern after the defeat, LeBron responded, "I have zero level of concern, I've been down 0-1 and 0-2 in a series before."
Let's be honest. Over the last 7 years, we've watched Lebron James lead less than stellar talent to the promise land, and the 2017-18 season has proven to be more of the same. At 33 years old and in year 15 of his NBA career, the greatest player in the world is defying the laws of athletic gravity by playing the best post-season basketball any player has played in NBA history.
So why should he be concerned? After all, this is the same guy who overcame a 3-1 series lead against a 73 win Goldenstate Warriors in the 2016 NBA finals…