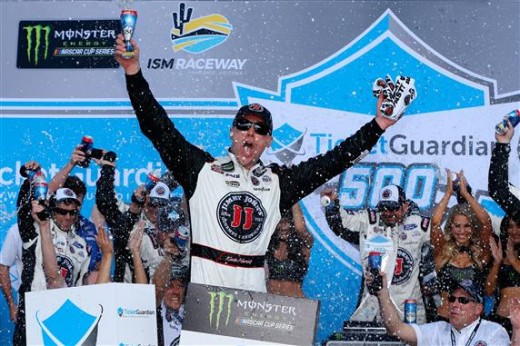 Harvick is Happy in the Heartland, 5th Win of 2018 Comes after Wild Kansas Race
Saturday night racing is always wild and unpredictable, and this past race at Kansas was no different. After a relatively calm first half, the race ratcheted up in craziness, with 3 major wrecks in succession. In the end, Kevin Harvick led 78 laps en route to his 5th win of 2018.
A Tale of 2 Halves, Calm Stages Lead to Wreck-Filled Finish
Races in the 2018 Monster Energy NASCAR Cup Series season have had significantly fewer caution flags. Kansas was no different, as the race's first 237 laps were run without incident. Up until lap 237, the only cautions were for stage breaks or for a competition caution. Polesitter Kevin Harvick, Ryan Blaney, and Kyle Larson all traded the lead during this time. Larson and Blaney won both stages over Harvick. Harvick was looking for his 5th win of 2018, while both Blaney and Larson were looking for their first win of the year.
While both Harvick and Blaney started the race on the front row, Larson was forced to start in the rear. This was due to a spin in qualifying. However, the 42 car was up front by lap 131. Larson was looking to upset the Ford domination that has run rampant throughout 2018. Even with starting in the rear, Larson had a very strong run, leading 101 laps.
Hard Racing Causes Contact in Closing Laps
The race's first caution for contact was brought out on lap 237, when Daniel Suarez hit the wall off of turn 2. He would make contact with Alex Bowman, sending a shower of sparks across the track. This caution came after Larson had worked his way by Harvick for the lead, and was pulling away. However, Ryan Blaney was chasing down Larson from the 3rd position at this time.
The ensuing restart on lap 243 saw Larson choose the low line, placing Harvick to his outside. Harvick got the lead over Larson, but this green flag stint was brief. While racing for 3rd place, Ryan Blaney and Kyle Larson made contact going down the front straightaway. Entering turn 1, Blaney blew a right front tire underneath the 42. Blaney went up into the wall, while Larson continued with minimal damage. However, Larson's shot at the win was gone, as 2 of the night's 3 strongest cars were out of contention. In his interview after the wreck, Blaney took all responsibility for causing the incident. This caution would set up another pivotal restart.
Lap 253's restart saw a split pit strategy, as Martin Truex Jr., Joey Logano, and several others stayed out, while Kevin Harvick had 4 fresh tires in 6th place. The first lap after the restart saw a major crash right behind Harvick, as William Byron spun in turn 4. Byron over corrected, sending the 24 straight into the outside wall, briefly on top of Ryan Newman. Also collected in this melee were Clint Bowyer, Jamie McMurray, Matt Kenseth, Chris Buescher, and Ty Dillon. The red flag would come out for the major clean up efforts needed on the front straightaway.
Late Race Strategy Made The Difference
The final restart of the night came with 9 laps remaining. Truex was out front on old tires, while Harvick and his 4 fresh tires was mired back in 6th. Harvick made a daring move in the high line on the restart, flying through the field and trying to catch Truex. Larson made a similar move, making his way back up to 4th place. Coming to the white flag, Harvick passed Truex on the high side in turns 3 and 4, with his 4 new tires being superior to Truex's. Harvick would hold off a late charge from Truex to get his 5th win of 2018 by 4 tenths of a second.
Historic Start to the Season for Harvick
In the first 12 races of the 2018 season, Kevin Harvick has an astounding 5 wins. A start this hot has not been seen since Jeff Gordon's incredible run in 1997. At his current rate, Harvick is in the running for a double-digit win total for 2018, as his team is appearing unstoppable. Only time will tell if they can win their second championship, or if others can stop the 4 team's charge.
Other Headlines Following Kansas
As Harvick was making his way past Truex for the lead, Ricky Stenhouse Jr. and Chase Elliott were racing hard for a position in the top 10. Stenhouse made a daring slide job on Elliott, forcing the 9 to check up. This led to the 18 of Kyle Busch passing both of them. Chase was not happy about that move after the race, as the 2 drivers made contact on the cool down lap, and had a discussion on pit road. Stenhouse and Elliott went on to finish 11th and 12th. After a season-high 5th win, the 4 team is the clear championship favorite heading into the All-Star Race.
After rallying back from the contact with Ryan Blaney to finish 4th, Kyle Larson's car was a center of post-race controversy because of rear window damage. One would assume that this damage was from the contact with the 12. The 42 car had significant rear end damage from Blaney's blown tire. However, 3 other drivers have had major penalties this year from similar rear window infractions. We should all know by Wednesday whether NASCAR deems the 42's window damage as a product of racing or a result of cheating.
In his first race back in the Cup Series since Homestead last November, Matt Kenseth had an eventful night. For much of the night, the 6 car was running around the 25th position until Kenseth was in the lap 254 crash. This led to a dismal 36th place effort in Kenseth's first race of 2018.
How to Watch the Next Race
The next stop for the Monster Energy NASCAR Cup Series will be Charlotte Motor Speedway, for the All-Star Race on Saturday night. TSJNASCAR will be on hand at Charlotte Motor Speedway for all of the weekend's activities. This race will also debut a new aero package for the Cup Series, so expect it to be quite the show.