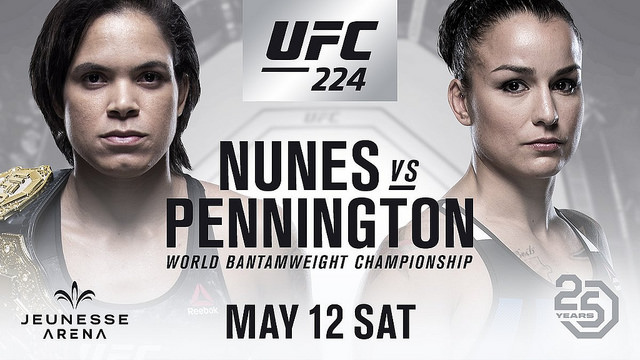 MMA
The Highs And Lows Of UFC 224
To most fans, on paper UFC 224 looked like a rather lackluster card. Despite this, the card had some great finishes and fights. Let's take a look at my highs and lows of UFC 224.
MacKenzie Dern: Low
After all the pre-fight drama settled, MacKenzie Dern missed weight by 7 pounds. This was the 3rd time Dern missed weight in her MMA career. The UFC is likely to force her to move up to flyweight now. The fight itself was alright, as Dern dropped her opponent Amanda Cooper and followed her to the ground to sink in the rear naked choke for a win. Despite the win, this is still a low for the card and Dern. She came in 7 pounds overweight, which isn't even close.
Former Bantamweight Champion Dominick Cruz commented on this during UFC Tonight:
"That weight is a huge advantage, There's a reason, ladies, and gentlemen, why we have weight classes. When you're seven pounds over a weight class, that is not trying to make weight. That is creating yourself an advantage to win. Because in the end, how sad was Dern about the weight loss or being too heavy? She was just happy to have the win.

"That's the point of this sport to win and when you come in with that big of a weight advantage, being a 45'er to a 35'er, being a 35'er to a 25'er, being an 85'er to a 70 pounder, that's an advantage. That's a huge advantage and it's basically cheating in my opinion."
Dern pushed her record to 7-0 and was fined 30 percent of her fight purse as a result of missing weight.
Lyoto Machida vs Vitor Belfort: High
Two Brazilian stars and former champions faced off on Saturday and it was pretty good. There were some early flurries from both sides to keep things interesting while both fighters were figuring each other out. Then former lightweight champion Lyoto Machida landed a beautiful front kick, reminiscent of Anderson's Silva's front kick back in 2011, knocking Belfort out cold.
Although Vitor took the loss, he finished a decorated career in front of the home crowd in Brazil. He left his gloves in the octagon signaling his retirement from MMA. After the fight, Lyoto Machida called out former Middleweight Champion Michael Bisping, who is also considering one more fight before retiring. This is another awesome fight for the future, could Machida ruin another retirement fight? We'll have to wait and see.
Amanda Nunes vs Raquel Pennington: Low
In the main event of the evening, Raquel Pennington faced off against the champ Amanda Nunes. Although Pennington fought hard, she was simply overmatched.
Nunes was taken down in the first, but after that was in control for most of the fight. Nunes' striking was strong in the first two rounds, but she got a bit sloppy in the third. Pennington was overmatched after taking Nunes' shots, which broke her nose. Pennington told her corner she was done, but the corner pushed her to fight the fifth and final round, where she was TKO'd.
Although Nunes got the win and has now won 7 straight, many question whether Pennington was the best choice of competition. This does not exactly boost Amanda's resume, and the fight played out as many fans and experts had predicted prior to the fight. So, unfortunately, in the highs and lows of UFC 224, the main event ranks as a low.
This article was originally written by former TSJ101SPORTS MLB Department Head and writer Brennan Frawley. Due to systems modalities, the article has been assigned to the author tag designation "Former Writers".