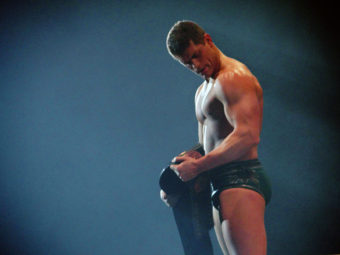 The Backdrop
Since the closing of WCW, no wrestling promotion, outside WWE, has sold out a show in North America to the tune of 10,000 fans. Despite the amazing in ring action that is the hallmark of promotions like Ring of Honor and Pro Wrestling Guerrilla, the ability to sell out a major arena has alluded the independent wrestling scene.
Enter Cody Rhodes and the Young Bucks. The Bullet Club has been a force to be reckoned with in both Ring of Honor and New Japan Pro Wrestling and has caught on like few other factions in recent memory. When you take into account the lack of a marketing machine like the WWE, the fact that Cody and the Young Bucks have been able to garner mainstream attention and negotiate merchandise deals at major retailers including Hot Topic is a testament to their success.
With those reputations come expectations for great matches by their loyal fans which is something they deliver on in virtually every appearance. With that quality of work and the growing popularity of the Bullet Club, why not take on the challenge of selling out a 10,000 seat arena for an independent show? Why not bring in the best of the best in independent talent? And that is exactly what they intend to do with their "All In" Event scheduled for Saturday September 1, 2018.
The All In Lineup
With WWE scooping up so much independent talent, on the surface, you may have the impression that Cody and the Young Bucks have a daunting task at hand. In what may be a surprise to many mainstream wrestling fans, who are not avid followers of independent wrestling, is that there is a veritable pantheon of amazing wrestling talent to draw on for the show. The question remains whether those stars, not having the benefit of the mass marketing appeal in WWE, can draw fans in.
The card is already shaping up to be amazing. Already advertised to appear are Cody, The Young Bucks, IWGP World Champion Kazuchika Okada, Kenny Omega, Marty Skurll, Hangman Page, Jay Lethal, "Arrow" star Stephen Amell, Tessa Blanchard, Rey Fenix, Pentagon Jr, Chelsea Green, Joey Janella, Penelope Ford, Brandi Rhodes, and So Cal Val along with special appearances by Tony Schiavone, Eric Bischoff, Jerry "the King" Lawler, Bruce Prichard, X-Pac, Road Warrior Animal, Colt Cabana, and Sean Mooney.
It wouldn't be a shock to see Ring of Honor and New Japan talents including Christopher Daniels, Frankie Kazarian, the Guerrillas of Destiny, The Briscoes, Silas Young, Hiroshi Tanahashi, Bad Luck Fale, or a host of others added to "All In" ahead of the show.
The Anticipated Results vs the Potential Let Down
The action will be amazing. Story lines will be compelling. The talent level will rival anything WWE can produce. Unfortunately, that doesn't always translate into box office results. Early ticket sales for New Japan Pro Wrestling's July Fighting Spirit Unleashed show were lackluster at best. Could the "All In" show see similar results? Perhaps there will be a slight spike in sales resulting from the seat pricing chart being shared on Twitter. The show can be seen from ringside for $153 and general admission balcony seats start at just $28. So why wouldn't these tickets fly out the door? Cody and the Young Bucks were so confident that they were going to have a sell out on their hands. There is still plenty of time but to pull it off, they will need an injection of excitement to really put the show over the top.
The Possibilities
Rumors have swirled for months about the possible inclusion of a major star on the card to draw in the casual fan. The addition of CM Punk, who is close friends with the Young Bucks, could be the draw to put the show over the top. Bringing in talents from more promotions could be the key as well. With Cody having a previous relationship with Impact Wrestling, Global Force Wrestling, and various other promotions both in the United States and abroad, the potential for once in a lifetime dream matches is high.
Could Rey Mysterio be an option coming off his strong responses at both the Royal Rumble and the Greatest Royal Rumble? Perhaps they make an overture to Batista who has expressed the desire to do something special recently would garner more attention. Using the Impact Wrestling world champion Austin Aries may be an option. If we are all lucky, Neville will finally be set free by WWE and he could be a boost to the card. Could Chris Jericho be the perfect fit for "All In"?
In any event, the show has a strong resemblance to the first ECW One Night Stand show. There are no established feuds for the majority of the talent. There is a chance that we will see unique matches that have never taken place before. More than all of that, there is a chance that you get that once every generation organic wrestling feeling that die hard fans are seeking. In the end, for it t be a success, we need 10,000 fans to be "ALL IN".
Social Media
Don't forget to follow us on Twitter:
You can also talk with me, the writer:
@FroWrestling on Twitter
Check out the Fro Wrestling Podcast at:
YouTube, Spreaker, Stitcher, and on iTunes.