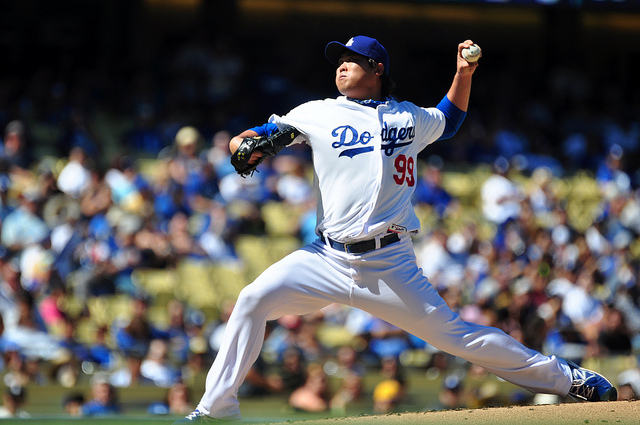 The Dodgers Injury Plague Continues!
The Dodgers can't seem to catch a break lately, as the Dodgers injury plague continues with left-handed pitcher Hyun-Jin Ryu. Ryu exited last night's game, in the bottom of the second inning, with a groin injury. According to Dave Roberts, Ryu tore the muscle off his bone, so it's a significant injury. Ryu is not expected to return until after the All-Star Break. This injury isn't new to Ryu, as he suffered a similar one in 2016. Ryu's absence is a major blow to the Dodgers pitching staff, as he has a 3-0 record and a 2.12 era.
Walker Buehler To Replace Ryu
In response to Ryu's injury, Dodgers top prospect Walker Buehler will be taking over his spot in the rotation. 23-year-old Buehler has had two impressive starts this year. He is currently  1-0 with a 1.88 era. Buehler's fastball averages in the high 90's and can touch 100mph. He also throws a very hard slider. In addition, he has a true 12-6 curveball and although he doesn't throw it much, an extremely hard 91mph changeup.
Other Notable Dodger Injuries
The Dodgers disabled list was already pretty full before the addition of Ryu. Earlier this week it was announced that shortstop Corey Seager will miss at least the rest of the 2018 season, to undergo Tommy John surgery. Seager has been suffering from elbow inflammation since at least late last season. According to Seager, "I was pretty good through spring, and pretty good through the beginning, but then — like I said — this weekend I had a few bad throws that really irritated me." That led Seager to get an MRI and the discovery of the need to repair a sprained ulnar collateral ligament in his right arm. Seager won the 2016 Rookie Of The Year Award. In addition, he also won the Silver Slugger Awards the last two seasons. Other notable Dodgers on the disabled list are Justin Turner, Julio Urias, Rich Hill, Yasiel Puig and Logan Forsythe.
A Positive…
On a positive note, the Dodger bullpen stepped up last night. Baez, Hudson, Cingrani, Fields, and Janson combined to get the 2-1 win against the division-leading Diamondbacks.