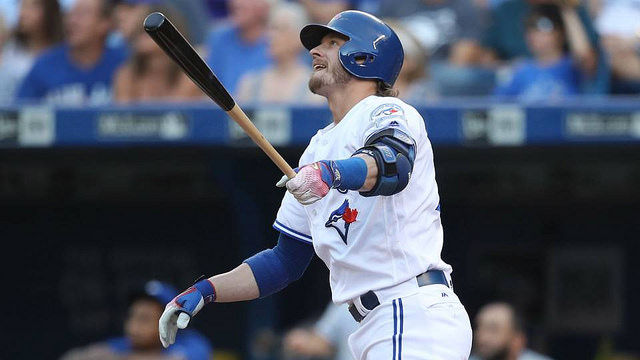 Solarte Power, Donaldson Rain Help Toronto Beat Cleveland In Game 1
Solarte power, Donaldson rain helped Toronto beat Cleveland in game 1 of yesterday's doubleheader. The two infielders combined to go 12-21. Although the Jays ultimately fell in game 2, it wasn't for lack of Solarte or Donaldson effort.
Solarte Power
Have a day, Yangervis Solarte. The 30-year-old infielder almost had to leave the game in the third inning. He appeared to trip while advancing from second to third, and face planted into the dirt. Man, am I glad he was good. The man had a career day, going 5-6 with a game-winning grand slam in game 1. It certainly bears mentioning that his 11th inning dinger was the first grand slam of his career. That wasn't even close to the end of his day either. After a short break, he was back, going 3-4 in game 2, including a solo shot. And if his personal bests weren't enough, he also set the Blue Jays franchise record for hits in a doubleheader with 8.
Donaldson Rain
The Bringer of Rain spent 21 days on the disabled list, but you wouldn't know it from looking at his game stats from yesterday. The starting third baseman had 2 doubles and 2 home runs in his return. When he's been in the lineup for a few days and had some more at-bats, his numbers will climb as he settles back into his role on the team.
Extra Inning Magic
The Solarte power, Donaldson rain was not the only difference makers in yesterday's game. In 2016, the Jays were 4-8 in extra-inning games. In 2017, they were 5-14. So far in 2018, they are 4-0, but I'm still afraid. Two full seasons of fear-inducing extra innings games are hard to overcome. I'm not ready to suddenly abandon my hesitation, but I can say I'm getting more comfortable when the games go beyond the ninth. We'll see if that continues. I know very well that this is a VERY different team than the one that went 8-17 last April, but give a girl some time to recover.
Former Blue Jay Update
Jose Bautista signed a minor league contract with Atlanta on April 18. Tonight, he will join the team as their everyday third baseman. For those of us who hoped he would retire in our beloved blue and white, this is both a curse and blessing. The Braves arrive in Toronto for a two-game series on June 19, and the irony of that is not lost on me. I was there for his send-off series, and you can bet I'll be there for his return.
Written by Susannah Schmidt
Follow us on Twitter @T101Sports and @T101SportsMLB
Follow me on Twitter @SusannahElyse