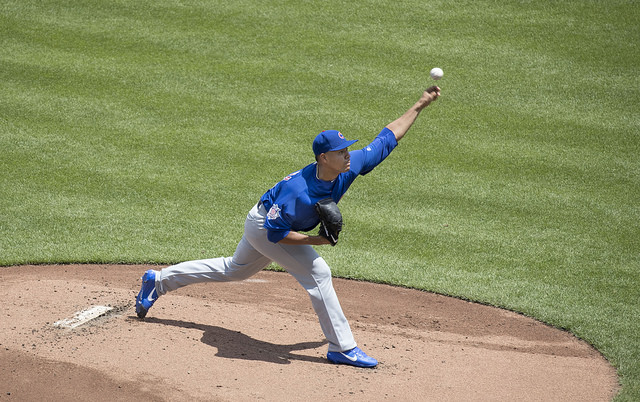 Cubs Open A Three-Game Series Against St. Louis
After dropping the Colorado series, The Cubs open a three-game series against St. Louis. It's always exciting when these two teams meet, a closely contended matchup that never ceases to amaze. Jose Quintana will get the nod for the Cubs tonight, coming in with a 3-1 record and an ERA of 5.74. The Cardinals who have digressed this past couple of weeks slightly is looking to win their third straight game. As Miles Mikolas goes for the Cardinals tonight. Sporting a 3-0 record with a 3.27 ERA, he will be a formidable matchup for Q tonight.
Starting Pitching
Jose Quintana will get the start tonight for The Cubs and looks to keep things rolling like he was last time he started. Going 7.0 IP, 2 H, 0 R, 0 ER, 1 BB and 7 SO shows me that Q is starting to get into his groove. Which is something that is much needed at the moment seeing that our offense has had trouble scoring in nearly every game. This is the time for the starting rotation to step up and prove their worth.
Jose Quintana Final Line(prediction)- 7.1 IP, 3 H, 2 R, 2 ER, 0 BB and 6 SO
Starting Line-Up
The Cubs announced their line-up, and there are some changes in the line-up, and I'm curious as to how the moves will work out. For The Cubs, tonight leading off is Ben Zobrist he's a very reliable bat that can take his walks and hit to all fields.
I would still like to see Almora get more time leading off, but Joe wants to give Zobrist a chance. Bryant is moved up from the three hole to the two spot. Kris has been struggling since coming back from that terrifying hit by pitch. Almora is playing today in center and is oddly batting sixth. It could be a move by Joe to get the middle of the order hot. It would explain why Baez is hitting eighth in today's game. To say this is a different line-up is an understatement. However, I'm sure Joe knew what he was doing and made the correct moves.