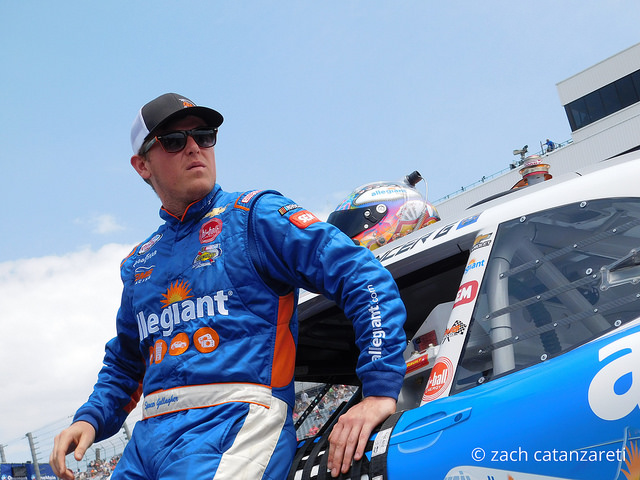 Days After his First Career Win at Talladega, Spencer Gallagher Indefinitely Suspended for Substance Abuse
Sad news struck the NASCAR world on Wednesday morning. Spencer Gallagher is indefinitely suspended for substance abuse. This comes days after his first career Xfinity Series win at Talladega on Saturday. Both Gallagher and GMS Racing were quick to issue statements of apology.
Prior Career Highlights For Gallagher
Gallagher, 28, is an Xfinity Series driver from Las Vegas. He piloted the number 23 Allegiant Airlines Chevrolet for GMS Racing. This was his second season in the Xfinity Series, after 2 full years in the Truck Series. To date, Gallagher has 7 Xfinity Series top 10s in addition to 15 top 10s in the Trucks.
This past Saturday saw Gallagher hold off the field in overtime for his first career win at Talladega. This win was the first for GMS and would have put Spencer in the Playoffs. However, with the news of his suspension, NASCAR said it would not grant Spencer a Playoff-eligibility waiver.
NASCAR's Strict Substance Abuse Guidelines
Throughout any season, any NASCAR driver, crew member, or other official is subject to a series of random drug tests. Most notably, tests are run by a third-party source, and results are sent to NASCAR. These follow a mandatory preseason drug test, which is part of NASCAR's Hard Card approval process.
Upon failing a drug test, a NASCAR driver or official can choose to enter the series' Road to Recovery program. Gallagher said in his statement on Wednesday that he plans to enter this program. If Gallagher can complete this program, expect to see him reinstated in a few months.
For legal reasons, NASCAR did not disclose which substance Gallagher took, or when he took the drug test.
The most recent precedent for a driver completing the Road to Recovery program is AJ Allmendinger. Allmendinger was suspended for substance abuse in July 2012 and was back on track in October.
Xfinity Series Shakeup
As a result of his Talladega win, Gallagher was the third driver to make the Xfinity Series Playoffs. His Playoff spot is no more since he will be unable to attempt to qualify for each race. Gallagher was also a Dash 4 Cash driver for this weekend's Dover race. Gallagher is also no longer Dash 4 Cash eligible, and his status will go to Ryan Sieg.
Substituting for Gallagher in the 23 Xfinity Series Chevrolet will be Johnny Sauter. Sauter is a Truck Series driver for GMS and has 205 prior Xfinity Series starts.
Gallagher's Future Outlook
Spencer Gallagher is in a unique position as a driver. Both his team owner and his primary sponsor have family ties. As a result, it appears that his place at GMS Racing is secure upon reinstatement. The team owner for GMS Racing is Gallagher's father, Maury Gallagher.
Consequently, news of this kind is never positive for any of the involved parties. Spencer Gallagher clearly made a mistake, and he has appeared to own up to it so far. If he is cooperative in the Road to Recovery program, then he deserves a second chance to compete in NASCAR.