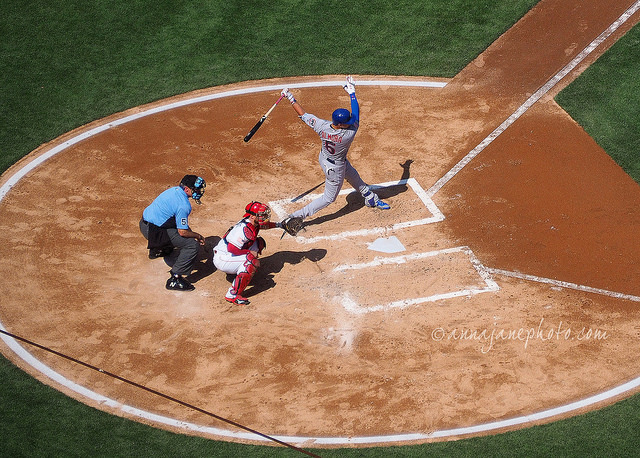 The Chicago Cubs Offensive Struggles In The Early Season
Offensive Struggles for The Chicago Cubs have been a major issue throughout the early season. A lot of us thought "Hey it's early in the year this team will come around" and they did. Well kind of, The Cubs did win five straight, but in those victories, they were only able to score no more than three runs. And some guys that frequently produce that aren't doing a lot to help out the team. There are some things in mind that I would like to see, and I will share with you as well.
Batting Jason Heyward Ninth
I think this would be an excellent move, historically in the past, Heyward has been able to produce in the nine-hole consistently. And even though it's not a lot of at-bats per year, it's something with which I feel comfortable. Also noting the Cubs pitchers ability to hit makes this a viable option as well. There may have to be a slight change in the lineup for Lester, but for all the other starters it's a lineup that could work.
Keeping Albert and Javier in the 1 & 2 Hole
In April, Almora and Baez was a very impactful 1-2 duo to start off a game. Now it's hard to keep that kind of consistency from month to month. Although these are two very young prominent stars. Batting leadoff Almora has a .294 AVG with 20 Hits and 6 RBIs. I would like to see him build on that and see what that can lead to after a full season. Also, his defense isn't a bad thing to have in the outfield. For Javier Baez, his stats in the two hole are astonishing. A .320 AVG with 2 HRs, 10 RBIs, and 16 Hits.
Batting Ian Happ Ninth
Now I know I said it wouldn't be a bad idea to bat Heyward in the nine hole. After looking at Ian Happ's stats in the nine-hole, even he would be a perfect option to have at the bottom of the order. To be able to turn it back over to the leadoff man, and just like Heyward, we have the pitchers who can hit. Happ from the nine spot is hitting .333 with 2 HR and 4 RBIs, so it could be a good choice to have at the bottom of the order.
Ultimately, nothing we say about the team will ever get to the team themselves. And I have complete faith in Joe and the front office to figure things out and get the ball rolling. Offensive Struggles shouldn't last much longer, and I think we will see the team that we know and love.