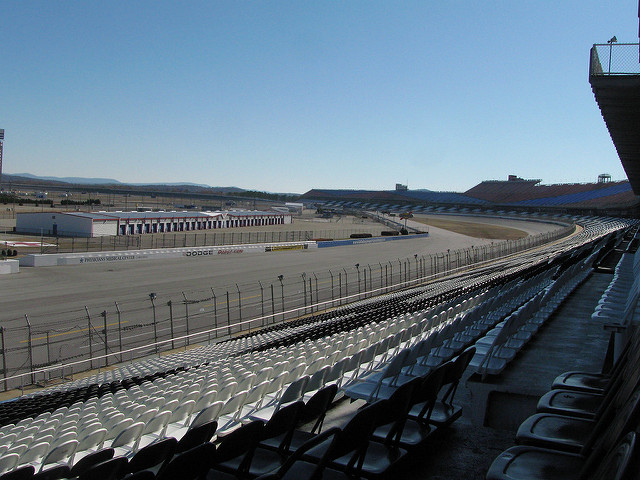 Year-Long Winless Streak Over for Joey Logano in Dominating Performance at Talladega
At this time 1 year ago, Joey Logano and the Penske 22 team had a win at Richmond that would become the center of controversy. After the race, their win was ruled encumbered, and they were removed from the Playoffs. Team 22 did not win again in 2017, missing the postseason. Up until now, Logano has had his longest winless streak since joining Team Penske. The 22 team was able to put together a near-flawless performance to win at Talladega.
Prerace Weekend Highlights
Race weekend began for the Monster Energy NASCAR Cup Series with practice on Friday. In the first session, Jamie McMurray was quickest. Minutes after posting quick time, McMurray had a crash on the backstretch that saw him go airborne, flipping several times after losing a tire. His car took off after contact from Ryan Newman. Jamie would hit the inside fence, destroy his car, but walk away with minor injuries. As a result, NASCAR mandated slight modifications to the restrictor plates for Sunday.
In qualifying on Saturday, the Ford teams would show their plate-track dominance that has been evident for several years. Kevin Harvick would start on pole, after teammate Aric Almirola wrecked in the final round of qualifying.
Early Race Recap
Much like last week in Richmond, this race had few cautions early on, causing long green flag runs. All 55 laps of Stage 1 went green, with the stage win going to Brad Keselowski. Brad was a pre-race favorite, with 5 prior Talladega wins.
Stage 2 was much of the same, except for a 5 car wreck that brought out a yellow on lap 73. Coming out of turn 2, Erik Jones appeared to get loose, and was turned off the bumper of Jamie McMurray. Consequently, Trevor Bayne, Kyle Larson, and Martin Truex Jr. were collected, ending their shots at the win. After racing hard in the closing laps against Joey Logano, Paul Menard picked up his first career stage win.
Pit road speeding penalties would be a major player in Talladega, as a number of drivers were caught going too fast in the pits. Denny Hamlin was caught twice, as he was too fast while serving his drive-through penalty.
The Big One Strikes
Every driver dreads racing at Talladega because of The Big One. Although the race's first 2 stages were calm, carnage ensued on lap 167. In turn 4, Jimmie Johnson, running inside the top 10, spun in front of William Byron. This would trigger a 14 car wreck, as Keselowski and Bowyer saw their days end. Others involved were Ryan Blaney, Austin Dillon, Kyle Busch, Paul Menard, Michael McDowell, Bubba Wallace, AJ Allmendinger, Brendan Gaughan, Cole Whitt, and Kasey Kahne. All of these driver's chances at ending their 2018 winless streak came to an abrupt end.
Closing Laps
The final restart of the day came on lap 172, with 17 laps remaining. Up to that point, Logano's 22 Ford had spent over 50 laps out front. While the top spot never changed hands, Logano had plenty of hungry drivers behind him. Kurt Busch, Ricky Stenhouse Jr., Aric Almirola, and David Ragan were all looking to end their respective winless streaks. Chase Elliott was also a late frontrunner, seeking his first career win.
The last lap saw Kurt Busch try to pass Logano for the win, getting around Kevin Harvick for 2nd place. However, Logano was able to block each run at the top spot, and held on to win. Logano led a race-high 70 laps en route to his win. This win ends a 36-race winless streak for Logano, is his 3rd at Talladega, and 19th overall. Logano is the 6th different winner in 10 races this year, becoming the first winner of 2018 for Team Penske.
The top 10 finishers from the Geico 500 at Talladega were Logano, Kurt Busch, Chase Elliott, Kevin Harvick, Ricky Stenhouse Jr., David Ragan, Aric Almirola, Alex Bowman, Ryan Newman, and Daniel Suarez.
Major Differences Between Daytona 500 and Talladega
Compared to the last restrictor plate race, February's Daytona 500, Talladega was much calmer and saw fewer torn up racecars. Daytona saw 8 cautions, while Talladega only had 6, with 4 being for stage breaks or debris. In my opinion, the lack of chaos and turmoil was the drivers not wanting to cause major wrecks, and instead of waiting to attack at the stage breaks and the end of the race.
How to Watch the Next Race
The next stop for the Monster Energy NASCAR Cup Series will be the Monster Mile, Dover International Speedway. The AAA 400 Benefiting Autism Speaks will be live next Sunday, May 6 at 2 PM EST on FS1, MRN, and SiriusXM NASCAR Radio.