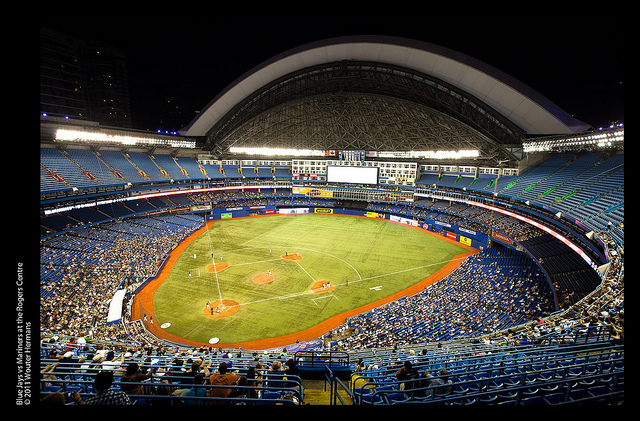 Blue Jays Welcome Texas Rangers To Rogers Centre
The Blue Jays welcome the Texas Rangers to the Rogers Centre and in case anyone forgot, there's bad
blood between the Texas Rangers and the Toronto Blue Jays. The Blue Jays beat the Rangers in the 2015 ALDS on a bat flipping amazing walk off. They would ultimately fall to the eventual WS champion Royals. In May 2016, following a Bautista slide into second, Rougned Odor let Bautista know that Texas hadn't forgotten his antics. It was titled "The punch heard around baseball".
Although neither Bautista nor Odor will be participating in this weekend's matchup, expect lots of drama. Bautista is now on a minor league contract in Atlanta and Odor is on the DL.
What's up for Toronto
Toronto leads the Rangers in their season series 2-1. The Blue Jays are coming off their second consecutive series loss (second of the year). After winning game 1 in extras, the Sox bested them in the last two games. Stroman will take the mound in game 1 against Texas. After his best career season, Stroman has struggled in the early days this year. His ERA is 8.55, his record is 0-2, and he has walked 14 in 20 innings. He is looking to get last season's form back tonight in a rubber match against LHP Mike Minor.
Offense
Offensively, the Blue Jays have had success early on. The newcomers to the team have had the most success. Teoscar Hernandez is currently batting .311, a number good enough to earn his spot on the roster. Lourdes Gurriel Jr. had 2 hits and 3 RBI in his debut. He is currently batting .222. Curtis Granderson has earned his lead-off spot and proved to be a good pinch hitter. Many players are still looking to hit their stride.
Bullpen
The bullpen as a whole has been good in the early stages of the season. Their performance against the Red Sox was an anomaly. If needed, Roberto Osuna will make his first appearance since his first blown save this year. He will be looking for his 7th save.
No matter the outcome, it's always an exciting series between these two teams. Fans might miss the booing of Odor each at-bat, but the game itself will hopefully make it up to them.
Written by Susannah Schmidt
Follow us on Twitter @T101Sports and @T101SportsMLB
Follow me on Twitter @SusannahElyse